Man on a mission
In his first interview with Taiwanese media, Briton Lee Chapman explains how a humiliating public apology prompted him to campaign for the UK government to recognize Taiwan as an independent country and how he hopes to get the issue debated in the British parliament
Not many people can travel halfway around the world and be recognized on the street by complete strangers but this was the surreal experience Briton Lee Chapman had on a recent trip to Taiwan.
Chapman owed his pseudo-celebrity to the petition that he initiated in January on the UK Parliament's e-petition Web site calling on his government to recognize Taiwan as an independent country. It has already garnered more than 20,000 signatures, as well as generating widespread interest in Taiwan in both the media and online.
The 28-year-old, who is married to Naomi Li, a Taiwanese, was amazed to discover that the petition had made the headlines in his wife's homeland and was a hot topic for social networking groups.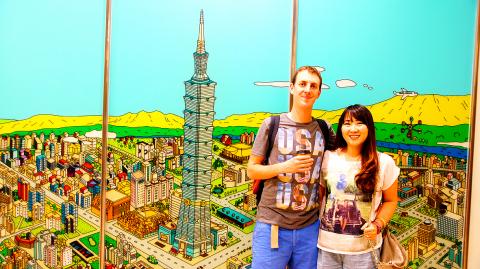 Lee Chapman and his wife Naomi Li are pictured at Taipei 101 last July.
Photo courtesy of Lee Chapman
In the UK, apart from an interview with his local newspaper, life went on as usual for Chapman, who lives in London and works for an airline.
"For me it was a bit of a shock … It's quite normal to start a petition in the UK, so it was quite funny how it developed in Taiwan and how it was covered there," he says.
Having long been sympathetic to the idea of Taiwanese independence, Chapman felt obliged to take action after 16-year-old Taiwanese Chou Tzu-yu (周子瑜), of the South Korean pop group TWICE, apologized in January for displaying a Republic of China (ROC) flag on a variety show.
"To say to people … that they can't express who they are, I think it's just a little bit too much," Chapman says.
Within days Chapman's petition had thousands of signatures and soon the 10,000 threshold, at which the UK government is obliged to offer a response, was reached.
In stark contrast, a counter-petition called "Always Oppose Taiwan Independence," initiated on Feb. 1 on the same government Web site, had received nine signatures by early March.
Only British citizens and UK residents can create or sign a petition.
The UK government's response to Chapman's petition reiterated that it did not recognize Taiwan as a nation:
"The 1972 Joint Communique between the United Kingdom and China set out that: 'The UK acknowledges the Chinese position that Taiwan is a province of the People's Republic of China and recognizes the People's Republic of China as the sole legal government of China.'"
"The United Kingdom believes that the Taiwan issue should be resolved through dialogue, in line with the views of the people on both sides of the Taiwan Strait."
It added: "The United Kingdom and Taiwan have a strong but unofficial relationship, based on dynamic commercial, educational and cultural ties and facilitated by The British Office, Taipei, and the Taipei Representative Office in London."
Chapman says he wasn't surprised by the response. "Obviously they have to be quite careful in the way that they try to show how important Taiwan is to the UK and vice versa. I think it's quite good that they've kind of said, 'Look we have an unofficial relationship but we do have a really good relationship with Taiwan.'"
Chapman's next target is 100,000 signatures, the threshold at which the petition may be considered for parliamentary debate. The deadline is July 18, six months after the initiation of the petition.
As well as providing more information on Facebook and Twitter, the main means by which Chapman has been promoting the petition, he also intends to use YouTube to get his message across.
However, he feels that regardless of what happens, the petition has already done some good by highlighting Taiwan's situation to the British public and by prompting a similar petition in the US.
"I don't think a lot of people really know where Taiwan is," Chapman says. "They've seen things made in Taiwan but don't really understand where it is or don't have a lot of interest, so I think it's quite hard to illustrate that to people."
Comments will be moderated. Keep comments relevant to the article. Remarks containing abusive and obscene language, personal attacks of any kind or promotion will be removed and the user banned. Final decision will be at the discretion of the Taipei Times.