LAB Space looks to the future
Producer and director Brook Hall discusses last year's performances and the theater troupe's program for this year
Reflecting on LAB Space's repertoire of plays last year, director and producer Brook Hall wryly comments, "One of the surprises we had was in the play A Perfect Ganesh. It was not our most successful or most popular play, but according to our surveys, it really rang true to a certain demographic of our audience, namely that of middle-aged women. Perhaps they were experiencing their own life journey."
Hall's words express challenges any theater group faces: to seek out and to meet the needs of diverse audiences. The LAB Space, which began in 2014 in response to a lack of performance space for small theater companies, produced four performances last year and plans to produce as many this year.
A YEAR IN THEATER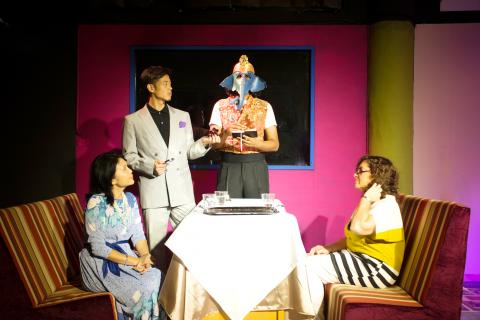 The LAB Space's version of A Perfect Ganesh was popular among middle-aged women.
Photo courtesy of Fabian Hamacher
So what other "surprises" worked for Hall and his cohorts this past year? He said that Wait Until Dark was the most popular play because it "had drama, danger and suspense as the three conmen sought to outwit a blind woman and find their 'stash' unknowingly placed in her apartment." How she discovered this and successfully fended them off appealed to the widest audience.
Tuesdays with Morrie, on the other hand, turned out to be most popular among students and Taiwanese; it had the added benefit of the appearance of Morrie's real-life son, who came from Japan to speak after a couple of the shows. Santaland Diaries, of course, fit well into an audience geared up for the Christmas holiday mood, while Sylvia, the show about a lovable dog, was most popular with foreigners.
"We want to grow with our audience in 2016," Brook said. From the looks of their schedule, LAB Space will also push the envelope a tad.
THIS YEAR'S LINEUP
The LAB's season opens next month, with a series called Ives' Shorts, six delightful little short comedies by David Ives in which six actors and actresses take different parts and roles in different scenes and where language, wordplay and the lighter side of existentialism come to the fore.
Following that will be a dark comedy, Yasmina Reza's The God of Carnage. Here the over-sized egos and class differences of two sets of parents turn a rational attempt at conflict resolution between their children into an escalating irrational struggle. A guest director currently working in Thailand will direct this play.
The summer promises a different twist for Taiwan audiences with what is called a 24-hour festival. This is a one-day, one-shot festival; all or nothing; either you experience it in that day or you don't.
Beginning in the evening of the day before, eight script writers will be chosen to come up with scripts in 12 hours that eight directors and over 50 selected actors and actresses will memorize, rehearse and perform by the end of the following 12 hours.
"It is do or die. The audience will either see a tremendous amount of talent or witness a train wreck," Brook said.
Then there is the season finale, The Bomb-itty of Errors, definitely something for the young and the young at heart who are into hip-hop and rap. Patterned after Shakespeare's Comedy of Errors, where two sets of identical twins are separated shortly after birth and end up in different cities, this comedy plays on mistaken identity. As was true in Shakespeare's time, the female roles will be played by men.
"This will blow the roof off of Taipei." Hall said.
For more information about the LAB Space, go to: www.thelabtw.com.
Comments will be moderated. Keep comments relevant to the article. Remarks containing abusive and obscene language, personal attacks of any kind or promotion will be removed and the user banned. Final decision will be at the discretion of the Taipei Times.