The accidental illustrator
British artist creates detailed, artistic maps of various sites in Taiwan and abroad, with work on display in Taipei
Starting from a simple desire to decorate his bedroom wall in Taipei, Tom Rook spent about a year drawing a detailed map of a large portion of the city, complete with bridges, buildings and open spaces.
At the time, Rook, a UK native, was an English teacher with no intentions of becoming an artist. But after he posted the finished piece on his Facebook page in early 2013, his friends "went crazy" asking him for prints. One friend who worked for a cultural magazine then interviewed him and posted it online.
The next day, Rook woke up to find that the magazine's post had been shared more than 1,000 times, and his Facebook was flooded with thousands of messages and friend requests.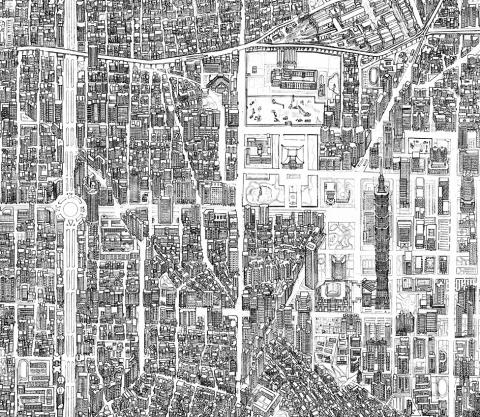 An aerial view of eastern Taipei.
Photo: Tom Rook
Rook was shocked, as he says he never even expected people to see his work in the first place.
"I thought, 'I could actually stay here and feasibly do this as a second job,'" he says.
Two years and numerous projects later, some of Rook's maps are now on display at The Jen Gallery (真書軒) in Taipei until Oct. 18. He'll also be featured in an upcoming contemporary cartography book, Mind the Map.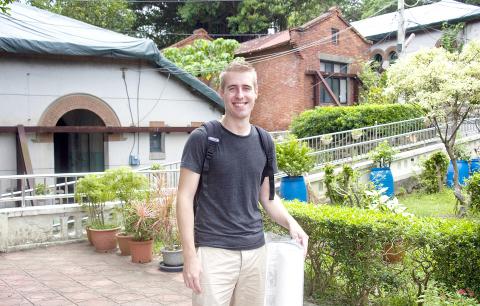 British map artist Tom Rook poses for a photo at the old site of the Losheng Sanatorium.
Photo: Han Cheung, Taipei Times
A NATURAL TALENT
Rook's work is done in pencil or fine point pen, transposing 3D buildings and details on top of a 2D surface. The attention to detail is astonishing, and so is the accuracy of the scale.
Rook says his work lies somewhere in between art and cartography, since they're not exactly tools for wayfinding.
"It's like a bird flying over it," he says. "A lot of people actually think I'm flying, but I do most of it from the ground. I can just make my mind know how it looks like from that angle — that bit's automatic."
Rook says he is partially inspired by 15th-century style European maps, which he had always been drawn to since he was young.
"I like how you can see everything in this style, how everything just fits together," he says.
Rook's first Taipei map covers the area from the Tamsui River (淡水河) to the Taipei 101 area. He works by referencing online aerial photos or by visiting the roof of tall buildings and also taking photos while walking through the site. The Taipei map was drawn over the course of wandering the city's streets and alleys for one year.
For smaller projects, such as the old site of the Losheng Sanatorium (樂生療養院) in New Taipei City's Sinjhuang District (新莊), which consists of about 40 buildings, Rook can methodically snap photos of each building in the site and make a rough sketch while referencing Google Maps.
The smaller the site is, the more close-up the map will be. Rook says he will have to include trees in the Losheng project, which he didn't have to do in the Taipei map. He usually has an idea of what the finished product will look like before he begins, and he simply has a "feel" for the scale and proportions.
"I decide what I want to put in it and then I go as close up as I can go with as much I can fit in, but something that won't take me longer than I'm interested in it," he says. "I don't want to spend one year drawing every single little thing."
Yet, when Rook is focused on drawing, he says it can have a meditative quality.
"Time passes and it's just very nice and peaceful," he says. "That doesn't always happen though, sometimes there's a part I have to keep erasing and doing over."
EVOLVING WORK
After finishing maps of various sites such as Taichung and Taipei's Dadaocheng area (大稻埕), Rook decided to step into history and recreate 1945 Taipei, using a mix of aerial and street photos during that period.
He chose that period because it is a part of history most of his friends had no idea about, including the Taipei Air Raid on May 31, 1945 when the US bombed the city, when Taiwan was ruled by Japan.
"The map pretty much shows the moment just before the bombing," he says. "I'm thinking about doing a post-bombing one and maybe one from the 1960s or 70s."
Rook also started looking at sites with social issues, such as Losheng, which has been the center of controversy for the past decade, as protesters have tried repeatedly to halt the Taipei City Department of Rapid Transit Systems' plans to demolish the site and build an MRT maintenance depot.
"If there's some kind of struggle happening, I'd like to shine a light on that," Rook says.
Rook's work has also taken an abstract turn of late with his "insect series," where he draws cityscapes that make up shapes of insects found in Taiwan. His "tower series" takes various facade details in Taiwan, stacking them to create imaginary, sci-fi style towers.
"They exist in an alternate Taiwan, but one which still holds the originality and quirkiness I've seen in reality here," he says. "I wanted to switch it up a bit. With the [1945 map], I drew a place that no longer exists. What's next?"
Publication Notes
EXHIBITION NOTES
What: Capture the City by Tom Rook
Where: The Jen Library (真書軒), 2F, 59, Xinyi Rd Sec 3, Taipei City (台北市信義路三段59號2樓)
When: Until Oct. 18, open every day from 9am to 7pm, closed on Oct. 5
On the Net: www.overthecity.asia
Comments will be moderated. Keep comments relevant to the article. Remarks containing abusive and obscene language, personal attacks of any kind or promotion will be removed and the user banned. Final decision will be at the discretion of the Taipei Times.