The mysterious Mr.R is back and searching for utopia
The Body Expression Dance Theater (BodyEDT, 體相舞蹈劇場) returns to the Experimental Theater in Taipei tonight for four performances of founder Lee Ming-cheng's (李名正) latest work, Mr.R2.0-Utopia (Mr.R2.0-烏托邦).
For more than a decade, Lee's works for his 15-year-old troupe have largely centered on what he labels "contemporary urban consciousness."
In 2012 he premiered Mr.R, a combination of digital programing, holographic projections, LED lighting and dance that told the tale of a rabbit without a face, lacking an identity and forced to survive by wearing a mask in order to prove his existence.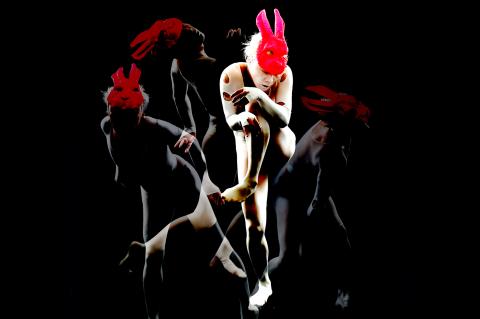 The Body Expression Dance Theater performs founder Lee Ming-cheng's Mr.R2.0-Utopia at the Experimental Theater in Taipei for four shows, starting tonight.
Photo Courtesy of Body Expression Dance Theater
Mr.R was about the process of looking for recognition and existence, about transformation. The show won rave reviews last year in France, where it was performed at the Festival d'Avignon off, and won Lee a technology research award from the Ministry of Culture.
Lee has brought the rabbit back to life this year for his six-dancer company, only this time Mr.R is not searching for his own identity, but for a utopia in contemporary society. The question of whether utopia exist or if it just an ideal that we carry in our hearts that can never be real is at the heart of Lee's hour-long work.
For those who wonder why he chose a rabbit as the central figure in the two shows, Lee has a simple answer — it is all about the ears.
A rabbit's large ears project an image of a creature that is always listening, able to tune in to the quietest of conversations.
Lee told Performing Arts Review magazine that on television, there are so many talking heads, everyone has so many opinions, but few people are actually listening to others. He said he hopes that through Mr.R's ears, people will be able to hear different ideas.
Publication Notes
Performance Notes
WHAT: Mr.R2.0-Utopia
WHEN: Tonight and tomorrow at 7:30pm, tomorrow and Sunday at 2:30pm
WHERE: Experimental Theater (國家戲劇院實驗劇場), 21-1 Zhongshan S Rd, Taipei City (台北市中山南路21-1號)
ADMISSION: Tickets are NT$600, available through at NTCH box offices, online at www.artsticket.com.tw or at convenience store kiosks. Tonight's show and Sunday's are sold out
Comments will be moderated. Keep comments relevant to the article. Remarks containing abusive and obscene language, personal attacks of any kind or promotion will be removed and the user banned. Final decision will be at the discretion of the Taipei Times.