As American as can be
Taichung's annual US Independence Day festival is fun for the whole family, while eating contests are on the celebratory menu in Taipei
In many countries, an American away from home would have to get creative when celebrating the July 4, also known as Independence Day, doing things like cutting out makeshift American flags from magazines and planting them on hot dogs cooked on a stove because grills are not allowed.
There seems to be no such problem in Taiwan — there's even a free, open to the public July 4 festival where people can go listen to country and rock music, eat burgers, drink beer and pretend for a second that they're in America.
Taichung American Chamber of Commerce's 21st annual American Independence Day Celebration takes place from 12pm to 9pm at the Calligraphy Greenway (草悟道商圈). Attendees can sample a variety of all-American fare and international cuisine and listen to the eight scheduled musical acts while their children play in a game area.
A scene from last year's Taichung Amcham Independence Day Celebration at the Calligraphy Greenway.
Photo courtesy of Basil Hall
"We like to refer to it as the longest running international celebration in Taichung," organizer Douglas Habecker said. "To my knowledge it's the only public, large-scale (US Independence Day) celebration in Taiwan."
Habecker said the event, which attracted between 3,000 and 4,000 people last year, is made possible with local and American corporate sponsorships and help from the Taichung City Government. TGI Friday's is creating a special "All-American" food area, the first time the event has had such a partnership.
"One of our main goals is to introduce a fun, traditional American day of celebration to the community here in Taichung, including Taiwanese and foreigners alike," Habecker said, adding that people also arrive from around the country.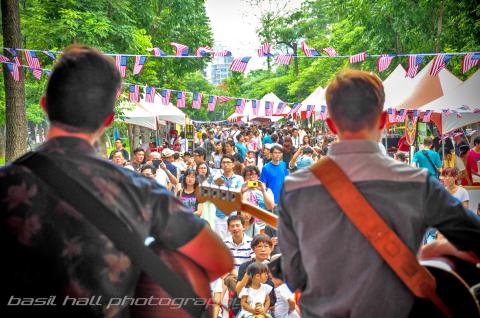 A scene from last year's Taichung Amcham Independence Day Celebration at the Calligraphy Greenway.
Photo courtesy of Basil Hall
EATING CONTESTS
Eating contests, for whatever reason, are also a staple of Independence Day celebrations in the US — most notably Nathan's Hot Dog Eating Contest in Coney Island, New York, now entering its 43rd year.
At least two bars in Taipei are following suit. The Brass Monkey (166, Fuxing N Rd, Taipei City, 台北市復興北路166號) is hosting an Independence Day BBQ party starting from 3pm on July 4, and following Nathan's tradition, they are hosting a hot dog eating contest. Participants may want to follow former Nathan's champion Takeru Kobayashi's (64.5 hot dogs and buns in 12 minutes) method: dip the bun in water, split the frankfurter in half, and stuff both parts into your mouth.
It's a bit ironic that British pub On Tap (21, Alley 11, Ln 216, Chunghsiao E Rd, 台北市忠孝東路四段216巷11弄21號) is celebrating US independence — after all, they were the ones who lost the war. Nevertheless, at 10pm, the venue is hosting two opportunities to stuff your face and make bank: take on an entire 24-inch pizza or a giant watermelon for the chance to win NT$5,000? Totally worth it.
Publication Notes
Event notes:
What: Taichung Amcham
Independence Day Celebration (美國獨立紀念日慶祝活動)
Where: Calligraphy Greenway (草悟道商圈), corner of Guanqian and Gongyi roads, Taichung City (台中市館前路與公益路交叉口)
When: July 4, 12pm to 9 pm
Admission: Free
On the Net: www.facebook.com/AmChamTaichung
Comments will be moderated. Keep comments relevant to the article. Remarks containing abusive and obscene language, personal attacks of any kind or promotion will be removed and the user banned. Final decision will be at the discretion of the Taipei Times.