Art exhibition listings
Bluerider Art is currently experiencing a Chicago Invasion with artwork from five American artists hailing from the Windy City — Amy Van Winkle, Brigitte Wolf, Cesar Conde, Corinna Button and Zore. Some of the artists are transplants and others were born and bred in Chicago. Collectively, their work explores the diverse array of themes that characterize big city life, from lowlife street culture to racial issues and high fashion. While some of the artwork like Van Winkle's monochrome paintings inspired by her travels around the world are calm and introspective, others such as Conde's series of black-and-white depictions of African Americans wearing hoodies elicit ghastly fear. By contrast, Wolf's colorful abstract paintings of crowds accurately portray the messy yet enticing allure of social gatherings. In a similar vein, Button's paintings and sculptures inspired by noble women and fashion icons evoke a forbidden flair. Lastly, Zore's charcoal spray paintings have a masculine, gritty feel — "graffpop" is what he calls it.
■ Bluerider Art (藍騎士藝術空間), 9F, 25-1, Renai Rd Sec 4, Taipei City (台北市仁愛路四段25-1號9樓), tel: (02) 2752-2238. Open Tuesdays to Saturdays from 9am to 6pm
■ Until June 27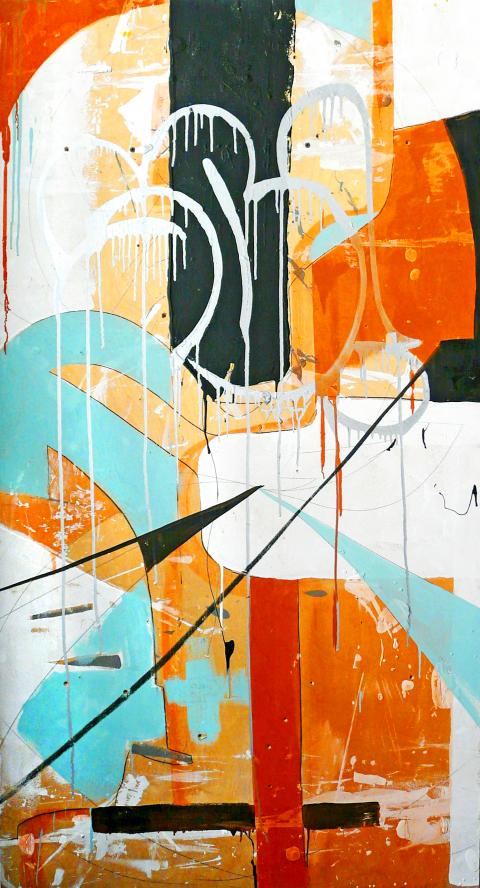 Zore, Cubism (2015).
Photo courtesy of Bluerider Art
Chengdu-born Chinese artist Peng Xiancheng (彭先誠) held his first exhibition in Taiwan in 1990, and to commemorate this anniversary, Tina Keng Gallery is currently featuring The Accidental Grace of Ink, 1990-2014 (墨骨靈韻, 1990-2014). A vast selection of Peng's water-and-ink paintings will be on display, including those of landscapes, animals and Tang dynasty ladies. Peng is known for his use of the mogu (boneless) technique — a way of painting that renders forms in ink and color washes rather than through outlines. Elegant and controlled, his paintings, which have a simple yet regal feel, look like they could have been created centuries ago rather than in the present day.
■ Tina Keng Gallery (耿畫廊), 15, Ln 548, Ruiguang Rd, Taipei City (台北市瑞光路548巷15號), tel: (02) 2659-0798. Open Tuesdays to Sundays from 10am to 7pm
■ Until June 28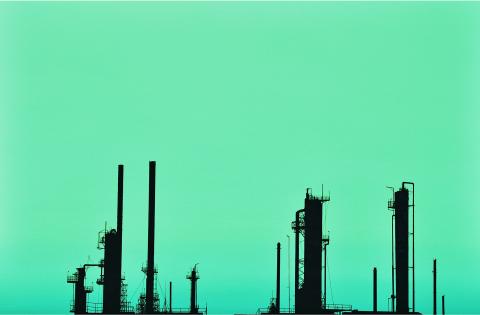 Tsai Meng-chang, Factory 47 (2010).
Photo courtesy of Taipei Fine Arts Museum
German philosopher Karl Marx once said, "All that is solid melts into air." Modernity as we know it changes as times change and new ideas, theories, philosophies and "facts" are constantly introduced. The latest exhibition at the Museum of Contemporary Art in Taipei probes the notion of "modernity" as experienced in the era after post-colonialism in Asia and, in particular, within the Taiwanese context. Entitled M.E.L.T.Ing Project — One Year Conversation: Thread, Ghost Story, Escape (梅爾汀計畫 — 一年對話實踐:縫線、鬼故事、逃離), the exhibition, as its name suggests, is a one-year culmination of artwork that explores the three-tiered theme of dialogue — apparently, dialogues begin with threads, turn into ghost stories and then, words somehow escape and dissolve into thin air. Moreover, to add to the confusion, M.E.L.T. stands for meeting, encounter, lost and trace, because these are all supposedly processes that occur naturally during conversations we have in our everyday lives.
■ Museum of Contemporary Art, Taipei (台北當代藝術館, MOCA), 39 Changan W Rd, Taipei City (台北市長安西路39號), tel: (02) 2552-3720. Open Tuesdays to Sundays from 10am to 6pm
■ Until June 28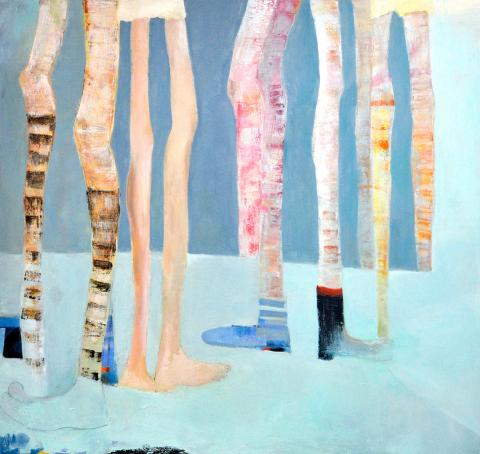 Brigitte Wolf, Can't see the Forest (2015).
Photo courtesy of Bluerider Art
The Kuandu Museum of Fine Arts is currently showcasing a solo exhibition by Kuo Chuan-chiu (郭娟秋). Entitled One Piece Room, the exhibition includes a series of her contemplative, dream-like paintings filled with warm, deep-set hues. Using both abstract and realistic elements, Kuo's paintings fuse depictions of nature with illustrative snippets of what she says are her inner thoughts. For instance, a realistic painting of a mountain will morph into vast green dreaminess or an orange pit of angst. Kuo's idea, ultimately, is to become one with nature. Or, as the gallery notes state, "the landscape thinks itself in her and she is its consciousness."
■ Kuandu Museum of Fine Arts (關渡美術館), 1 Xueyuan Rd, Taipei City (台北市學園路1號), tel: (02) 2896-1000 ext 2432. Open Tuesdays to Sundays from 10am to 5pm
■ Until July 5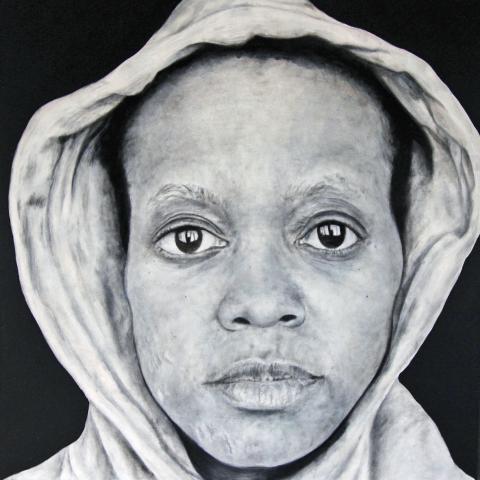 Cesar Conde, In The Hood: Portraits of African American Professionals Wearing a Hoodie, 2 (2013).
Photo courtesy of Bluerider Art
In the past, the Taipei Fine Arts Museum has exhibited artwork that takes a social or environmental bend. Their latest exhibition is no different. Lacking fossil fuels, Taiwan relies on foreign imports for 90 percent of its energy. Make Sense (製造×意義) is a joint exhibition by 18 local artists that explores the negative effects of Taiwan's petrochemical industry on the natural environment. A mish-mash of paints and installations, the artwork includes people plowing through overturned plastic boxes, beach umbrellas brightening up gray wind turbines in the background and washed-up boats covered in grime. Despite the bleak narrative, there are glimmers of hope in each of the artwork — for instance, colors appear effervescent through smog or pretty trees and mountains are still visible through spaces in between tangled garbage.
■ Taipei Fine Arts Museum (台北市立美術館 TFAM), 181, Zhongshan N Rd Sec 3, Taipei (台北市中山北路三段181號), tel: (02) 2595-7656. Open Tuesdays to Sundays from 9:30am to 5:30pm and until 8:30pm on Saturdays
■ Until Aug. 30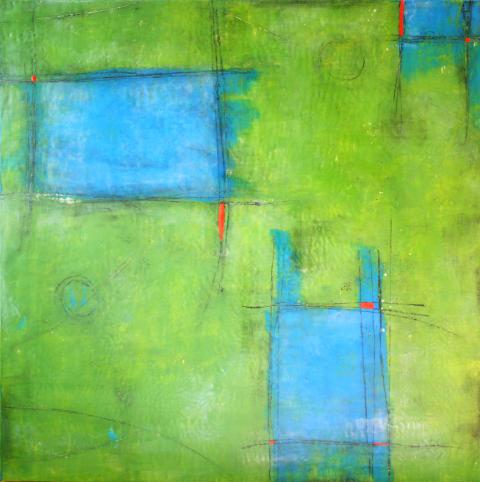 Amy Van Winkle, Living For Today (2015).
Photo courtesy of Bluerider Art
Comments will be moderated. Keep comments relevant to the article. Remarks containing abusive and obscene language, personal attacks of any kind or promotion will be removed and the user banned. Final decision will be at the discretion of the Taipei Times.