Art exhibition listings
If Art Taipei and Art Kaohsiung haven't yet satisfied your art fair fix, Art Tainan (台南藝術博覽會) is back this spring with a stellar lineup of contemporary art from local and international artists. Taipei galleries like Mind Set Art Center, Liang Gallery, Chini Gallery, Soka Art Center and Bluerider Art, feature prominently this year. Amongst the quirky is Lo Chiao-ling (羅喬綾) who is represented by Liang Gallery (尊彩藝術中心). The artist is known for her cute paintings of chubby cherubic cartoon figures which walk the line between escaping and facing reality. Another artist to be displayed is Israeli painter and sculptor David Gerstein, who is represented by Guan Xiang Art Gallery (觀想藝術). Gerstein's colorful sculptures of giant lips and butterflies were instrumental in shifting perceptions of pop art as a predominantly American style of modern art.
■ Tayih Landis Hotel (大億麗緻酒店), 660, Shi-men Rd Sec 1, Tainan (台南市西門路一段660號), tel: (02) 2742-3968. Open today to Saturday from 12pm to 7pm, Sunday from 12pm to 6pm. Regular admission: NT$150
■ Until March 30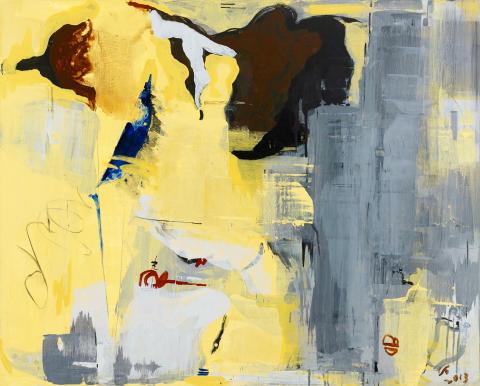 Yen Chu-sheng, Impermanence (2013).
Photo courtesy of ArtDoor Gallery
Artist Yeom So-jin who hails from South Korea, the land where "couple culture" runs supreme, has an exhibition of her paintings of Taiwanese couples at Cafe Showroom. Entitled Ironic Happiness (痛並快樂著), Yeom captures the irony of happy couples posing for wedding photos in front of historical sites, such as Tamsui's Fort Domingo, which recall the nation's colonial past. On a deeper level, her paintings, which also include cohabiting couples and gay couples, question whether the institution of marriage is for everyone. "Some couples are not happy with marriage, some couples are happy without marriage," she says in the gallery notes.
■ Cafe Showroom (場外空間), 462 Fujin St, Taipei City (台北市富錦街462號場外空間), tel: (02) 2760-1155. Open daily from 11am to 9pm
■ Until April 19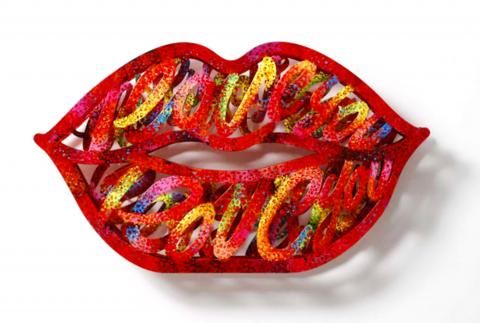 David Gerstein, Read My Lips (2007).
Photo courtesy of Taiwan Art Gallery Association
Dichotomies seems to be the theme of the day for many of Taipei's art galleries this spring. Immerge, Emerge (沉潛.萌生) is a solo exhibition held at ArtDoor Gallery by expressionist painter Yen Chu-sheng (葉竹盛). Using the dynamism of the ocean and its marine life as his prime metaphor, the Kaohsiung-born, Spanish-trained artist explores the concepts of life cycles, endings and beginnings, destruction and rebirth. While his paintings seem calm and zen-like from a distance, closer inspection of the flowing brushstrokes hints at an underlying chaos.
■ ArtDoor Gallery (藝境畫廊) 639, Ruiguang Rd, Taipei City (台北市瑞光路639號), tel: (02) 2658-5268. Open Tuesdays to Sundays from 11am to 7pm
■ Until April 26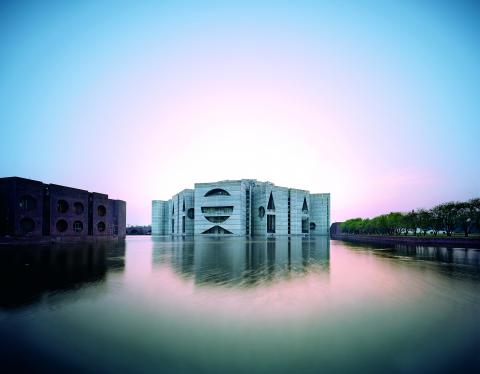 Louis Kahn, National Assembly Building in Dhaka, Bangladesh (1962-1983).
Photo courtesy of Taipei Fine Arts Museum
Conception and Perception (念念: 觀念和心念) is a joint exhibition at Art Issue Projects featuring Taiwanese, Chinese and Korean artists who are known for creating "Western-style" abstract art from traditional materials found in the East. The artworks instruct viewers how to approach art-viewing with an open mind because certain things may not appear to be what they are on surface level. In other words, perceptions are constantly shifting as we are introduced to new concepts and elements.
■ Art Issue Projects (藝術計劃), 32, Ln 407, Tiding Blvd Sec 2, Taipei City (台北市堤頂大道二段407巷32號), tel: (02) 2659-7737. Open Tuesdays to Sundays from 11am to 6pm
■ Until May 10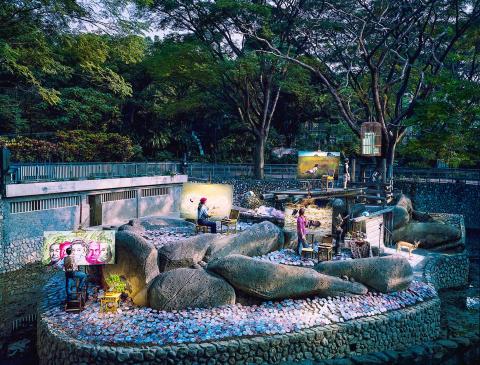 Chou Ching-hui, Animal Farm No. 5 (2014).
Photo courtesy of Museum of Contemporary Art, Taipei
"We're all animals." How often have you heard that phrase? For photo-journalist Chou Ching-hui (周慶輝), zoos are his muse. Chou traveled around Taiwan for the last five years studying the arrangement of various zoos. Theatrical sets were then set up and actors were recruited to pose for photos. The results, which are on display at Taipei's MOCA starting tomorrow in an aptly named solo exhibition Animal Farm (人的莊園), gives a sense of humans as experimental specimens to be observed from behind a protective film. It's unclear whether Chou was influenced by George Orwell's 1945 book, Animal Farm, but the exhibition does indeed evoke a dystopian (and depressing) environment.
■ Museum of Contemporary Art, Taipei (台北當代藝術館, MOCA), 39 Chang-an W Rd, Taipei City (台北市長安西路39號), tel: (02) 2552-3720. Open Tuesdays to Sundays from 10am to 6pm. Admission: NT$50
■ Opens tomorrow. Until May 17
Louis Kahn's name is widely known within architectural circles in the US, and the Taipei Fine Arts Museum is recognizing his important contributions in Louis Kahn – The Power of Architecture (建築之境:路易.康). The University of Pennsylvania architecture professor was known for combining the solid and durable forms of architecture he saw during visits to ancient ruins in Greece and Egypt in 1950, with more modern design elements. Pictures of his designs from around the world, including the National Assembly Building in Dhaka, Bangladesh, the Steven and Toby Korman House, Fort Washington, Pennsylvania and the Yale University Art Gallery are on display at the exhibition. They evoke a rustic grandeur infused with timeless modernity.
■ Taipei Fine Arts Museum (台北市立美術館 TFAM), 181, Zhongshan N Rd Sec 3, Taipei (台北市中山北路三段181號), tel: (02) 2595-7656. Open Tuesdays to Sundays from 9:30am to 5:30pm and until 8:30pm on Saturdays
■ Opens tomorrow. Until July 5
Comments will be moderated. Keep comments relevant to the article. Remarks containing abusive and obscene language, personal attacks of any kind or promotion will be removed and the user banned. Final decision will be at the discretion of the Taipei Times.