Live Wire: For new shores
There are two different kinds of bands. One breed sits back and waits for opportunity to come knocking. They hold out hope that one day a label will send them out on tour, take care of all the organizational logistics and hold their limp-hanging hands through the whole inevitably short-lived process. Should that not happen, well, Kinko's is always hiring. The short road to the middle is flat, straight and safe.
The other kind of band goes out and makes their own chance. When an opportunity presents itself, they seize it regardless of whether or not it makes economic, logical, or any kind of sense whatsoever, and take everything on themselves, DIY style. Why? Because the old cliche, "no risk, no reward," is there for a reason.
Windsor, Ontario-based instrumental progressive rock group What Seas, What Shores resolutely falls into the latter category. When a chance meeting with a Kaohsiung bar manager evolved into talk of touring Taiwan and Japan, the band quickly decided to self-finance the eastward jaunt.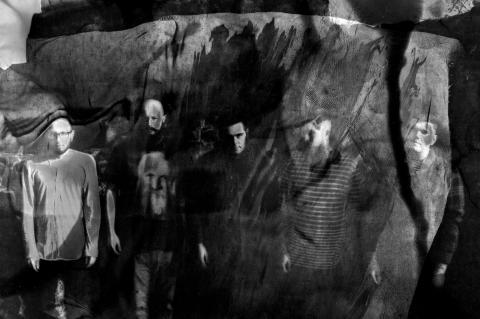 For Californian post-hardcore band Being As An Ocean, faith is only a small part of the overall equation.
Photo courtesy of Being As An Ocean.
"Caleb's (Farrugia , drums) uncle played in a band, Teaze, that was pretty successful in parts of Asia in the late seventies and we would talk about touring over there as if it were a pipe dream," says guitarist Colin Wysman.
"It's always been on our radar but was never something that we thought could be viable. To make a long story short, we met Mike Vair-Haley from Kaohsiung's Rocks at a show out of town last summer and through the ensuing conversations, he convinced us that audiences in Taiwan and Japan would be incredibly receptive to our music and that we would have a great time out there."
The band may find the relatively short distances they have to cover between gigs to be a refreshing change from the long-haul drives they've had to undertake on their many Canadian tours over the course of the past decade, as guitarist Kyle Mandleshander says.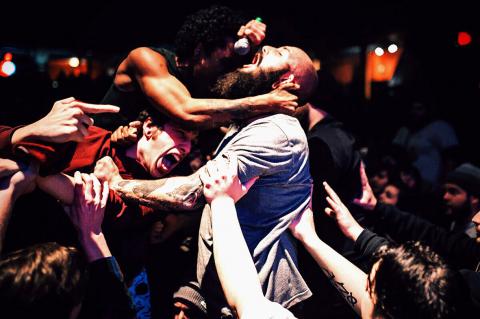 Though some members of the band identify themselves as Christians, Being As An Ocean would prefer it if the narrow Christian-hardcore label went away.
Photo courtesy of Being As An Ocean.
"There are not a lot of cities to play in proportion to the size of our country. You are lucky to be able to book gigs that are closer than eight hours apart from one another. Touring Canada can be very daunting in that sense."
One of the pluses of being an instrumental band is that there is no language barrier to overcome in terms of lyrics when heading overseas. This tour will likely be the last for What Seas, What Shores prior to the release of their third full length album, Spiritual Nap Machine.
On the record, the band's dark brand of prog rock is described as being by turns rhythmic and aggressive, with lots of odd time signatures. The music has the ability to inspire personal reflection in the listener by virtue of instrumentation alone, and the meaning of each song is left completely open to individual interpretation, rendering the tracks virtually limitless.
"Since we're an instrumental band, we aren't necessarily writing songs about things, but we try to evoke some emotional responses and insinuate a type of vibe to our audience," says Mandleshander. I think your lived experience will be reflected in the music you are making whether you are writing lyrics or not, as long as the music comes from the heart."
■ What Seas, What Shores kicks off a string of dates in Taiwan on Thursday at Revolver, 1-2 Roosevelt Rd Sec 1, Taipei City (台北市羅斯福路一段1-2號). Single-day tickets will be available at the door for NT$400. Doors open at 8pm and shows begins at 8:30pm.
Also hitting town next week will be California post-hardcore band Being As An Ocean. The group has enjoyed a somewhat meteoric rise since their formation in 2011, in part due to a certain savvy when it comes to fan interaction online. Such is the level of devotion to the band that fans often flood Being As An Ocean's Tumblr page with original artwork inspired by the group's songs and lyrics.
"I would hope that the music and lyrics are what they are reacting most to," says vocalist Joel Quartuccio, "but I think our fans have made a pretty incredible community for themselves. People seem to really bond over our band and for that I can only be humbly grateful."
One of the things the media has seized on with each of the band's releases is the Christian faith of some of the members. Being saddled with the Christian-hardcore label was never something the group intended, but Quartuccio realizes it's not going to disappear.
"As much as I would hope the narrow perceptions would go away, I have to be honest with myself and realize that that is just an impossibility. I, myself, am a Christian; although I hold personal beliefs that some Christians may not agree with, it is part of my life and being. Faith will always be present, but I have always tried to make it relate-able to everyone, no matter how you believe."
Some may find the juxtaposition of Christianity and hardcore incompatible, but it's clear Quartuccio takes a more modern and logical approach to melding the two worlds. For example, the group has spoken out against the undercurrent of exclusion in faith-based music, such as bands that rail against homosexuality. As always, hardcore has been about finding a place to belong, especially for those who feel they don't fit in anywhere.
"In music, especially punk and hardcore, it shouldn't matter what you look like, what you believe, or where you just came from. It is the music that is the common ground."
■ Being As An Ocean plays on April 3 at The Wall, B1, 200, Roosevelt Rd Sec 4, Taipei City (台北市羅斯福路四段200號B1) as part of Projekt: Ground Zero Vol. 6. Tickets are NT$900 in advance, NT$1,200 at the door. Doors open at 7:30pm and the show kicks off at 8pm.
Comments will be moderated. Keep comments relevant to the article. Remarks containing abusive and obscene language, personal attacks of any kind or promotion will be removed and the user banned. Final decision will be at the discretion of the Taipei Times.