Restaurant review: Wo Ai Ni Hsueh Tien 我愛你學田
Former Democratic Progressive Party (DPP) politician Luo Wen-chia (羅文嘉) has completely revamped the concept of farm-to-table dining at his organic restaurant Wo Ai Ni Hsueh Tien (我愛你學田). Luo, who served as an assistant to ex-president Chen Shui-bian (陳水扁), might be a high profile figure, but his restaurant flies under the radar of health-conscious connoisseurs.
The restaurant does not have an English name, but could be roughly translated as "I love you." After retiring from politics, Luo took over the management of Buffalo Books, Co (水牛文化事業) on Ruian Street (瑞安街) in September 2012, revamping it into a thriving bookstore-cafe-spa. The restaurant, which originally started as a weekend farmers' market, was a later addition and connects to Buffalo Books through a back door.
The space is essentially a reflection of the social issues that Luo is passionate about. The library contains books covering topics ranging from cross-strait relations to the ethics surrounding green farming, while the restaurant is supplied by organic produce and freshly harvested rice shipped from the farms in Greater Taoyuan, Luo's hometown.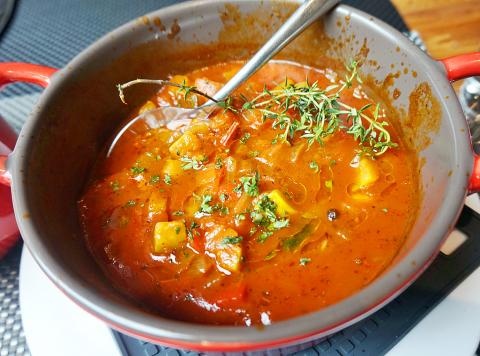 The Provence-style vegetable stew with tomatoes, capsicum and onions is soaked in a rich tomato-based sauce and enlivened with hints of rosemary.
Photo: Dana Ter, Taipei Times
Luo has certainly achieved his goal of keeping it a low-key local scene. There are no English-language blogs or write-ups about the restaurant (though there's plenty of information on Chinese-language blogs and media) and the menu and signage are completely in Chinese. If a tourist were to stumble upon the place, he or she would be at their wits end trying to figure out what this hybrid entity was.
On weekends, the atmosphere is particularly jovial. Children gather in Buffalo Books for book-reading sessions while their mothers gossip in the restaurant over steaming pots of vegetable stew and glasses of red wine. Luo — who is a humble person despite his eloquent, charming facade — says he wanted the place to have a close-knit community vibe.
The first floor of the open air space displays produce brought in from Taoyuan such as tomatoes and potatoes. A discrete narrow staircase leads to the second floor dining area which has a country-inn feel with wooden walls, tables and chairs. Luo says he handpicked the decorative items, including the corkscrews on the ceilings, the sunflower paintings and napkins with various vegetable patterns. The pictures on the walls are of farmers that Luo knows from Taoyuan and they are holding the kinds of ingredients that are being used in the kitchen.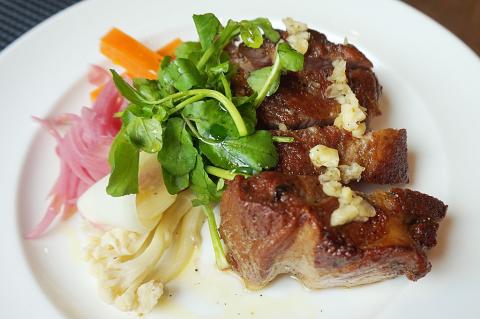 Hsueh Tien's pork chops with watercress is a delicate rendition of an Yilan County delicacy.
Photo: Dana Ter, Taipei Times
Since the ethos of the restaurant is farm-to-table dining, there are few choices on the menu. In contrast to a mass-production approach, each dish at Hsueh Tien is cooked individually and the chefs make the utmost use of vegetable and herbal garnishing. Much of the gastronomic delight comes from the leafy garnishing as well as the main dish itself — whether pork, chicken or duck.
The Provence-style vegetable stew (普羅旺斯燉蔬菜, NT$550) is a hearty concoction for a wintery day. Served in a pot large enough to feed two, it contains various types of tomatoes, capsicums and onions soaked in a rich tomato-based sauce. The allusion to Provence, however, is unclear since the stew, which lacks zucchini and basil, does not resemble ratatouille or any type of French stew. Nevertheless, hints of rosemary enliven the stew by adding a tad of savory to the sweet tomatoes and giving the dish a slightly minty, aromatic taste.
Equally impressive in taste and presentation is Hsueh Tian's rendition of black pork chops, a delicacy originating from the Kamalan Aboriginal people of Yilan County (宜蘭葛瑪蘭黑豬排, NT$680). A cross between chunky western-style and crispy Taiwanese-style pork chops, the medium done meat is tender, chewy and light all at the same time with dollops of ginger sprinkled on top. The sides of cauliflower, radish and carrot mixed in vinaigrette sauce helps to add a more robust flavor to the pork chops, livening up the palate and giving it a pickled, savory kick. The watercress is a pleasant surprise. Mildly spicy with a bitter zing, this healthy vegetable, rich in antioxidants, is a nice complement to all the other flavors.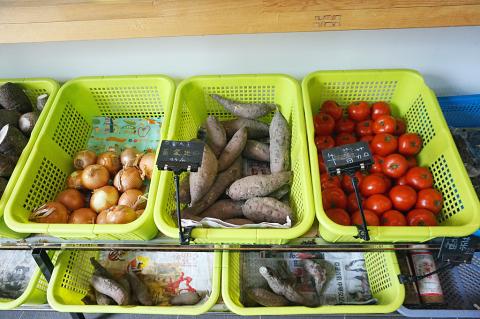 In line with their farm-to-table philosophy, Hsueh Tien displays their fresh produce brought in from Greater Taoyuan.
Photo: Dana Ter, Taipei Times
It's somewhat surprising that the restaurant has not been covered by English-language food blogs, because for foodies seeking a holistic reprieve from their gastronomical (mis)adventures, Hsueh Tien is the ideal find. The dishes are not completely vegetarian so it's suitable for diners who want to eat healthy but need their meat fix. Luo is often at the bookstore or restaurant entertaining guests, so there's always the possibility of talking politics and green farming with him — both perfect dinner table topics.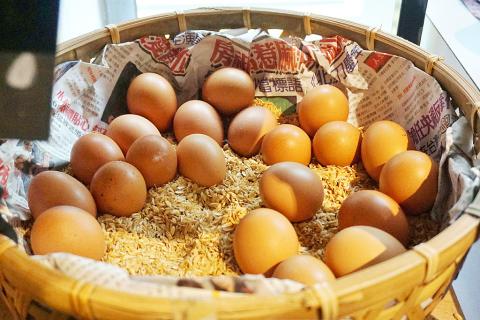 Eggs are displayed in a basket in Hsueh Tien, former DPP politician Luo Wen-chia's organic restaurant where the ethos is farm-to-table dining.
Photo: Dana Ter, Taipei Times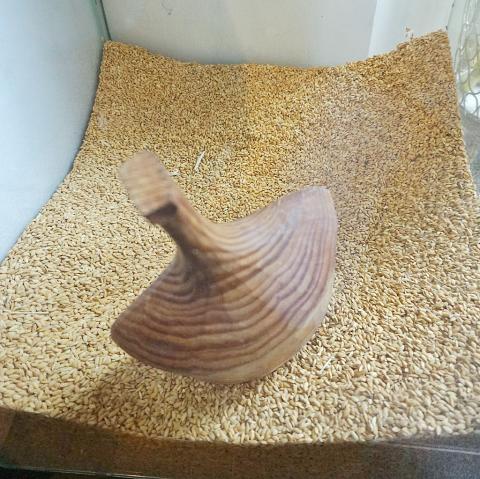 Freshly harvested rice shipped from the farms of Greater Taoyuan provides for interesting window-dressing at Hsueh Tien.
Photo: Dana Ter, Taipei Times
Publication Notes
Wo Ai Ni Hsueh Tien 我愛你學田
Address: 224, Ruian St, Taipei City (台北市瑞安街224號)
Telephone: (02) 2755-7392
Open: Daily from 11:30am to 2pm and 5:30pm to 9pm
Average meal: NT$500 to NT$800
Details: Menu in Chinese
On the net: www.facebook.com/ShuiNiuWenHuaShiYe
Comments will be moderated. Keep comments relevant to the article. Remarks containing abusive and obscene language, personal attacks of any kind or promotion will be removed and the user banned. Final decision will be at the discretion of the Taipei Times.