Into the Beijing woods
Madeline Lan, a young thespian from Taipei, is getting her shot at Broadway fame — in Beijing
Madeline Lan (藍紫綾) is only 17 years old, but she's already dipping her feet into Broadway musicals — in Beijing.
A graduate of Fuxing Senior High School (臺北市立復興高級中學) in Taipei, Lan is currently in Beijing playing the Chinese-speaking and singing role of Little Red Riding Hood in a revival of the 1987 hit Broadway musical Into the Woods (森林誘惑) with music and lyrics by Stephen Sondheim.
Bernadette Peters' performance as the witch and Joanna Gleason's portrayal of the baker's wife brought acclaim to the production during its original Broadway run. Into the Woods has also been made into a movie this year starring Johnny Depp and Meryl Streep.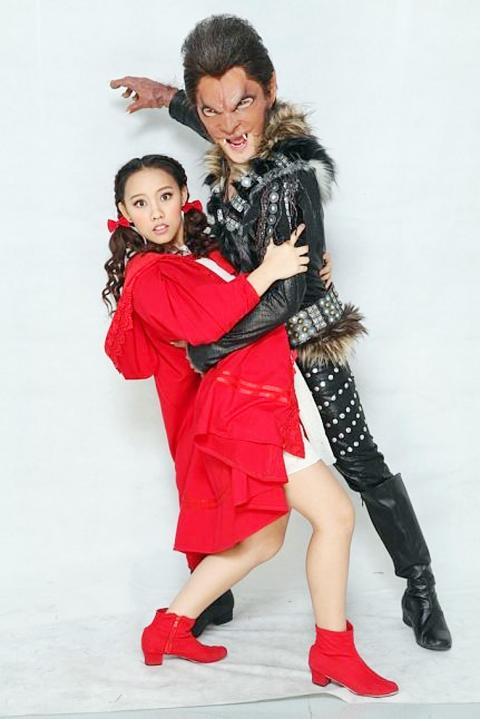 Madeline Lan, left, stars in the Beijing rendition of the 1987 hit Broadway musical Into the Woods.
Photo Courtesy of Madeline Lan
Although Beijing's temperatures are dipping well below zero, Lan feels warm inside and couldn't be happier with the way things have turned out for her.
"I'm making some good money, and when the show's over I plan to use my savings to spend a month in New York going to see my favorite Broadway musicals there. Then I'll come back to Taiwan and see what the future has in store," Lan told the Taipei Times in an e-mail.
"Both my parents work in theater in Taipei, so I grew up in the theater life, and as a teenager, participated in many drama performances, commercials and television shows," Lan said, adding that she knew at age 15 that she wanted to pursue a career in acting.
At Fuxing High School, Lan majored in drama and took voice lessons for musicals from Hsieh Shu-wen,(謝淑文), a well-known music teacher who studied in New York.
"My wildest dream is to appear one day in a Broadway musical in Manhattan, or to sing and perform in Disneyland," Lan said. "But my parents are not rich so they can't afford to send me to study musical drama abroad. So after graduation, Hsieh suggested that I should send my resume out to some musical companies in China, since she knows the scene there well."
One of Hsieh's other students was in the Chinese version of the musical Mamma Mia in Beijing, playing the leading role of Sophie, Lan said.
Encouraged by the support Hsieh was giving her, she scoured the Internet for opportunities in China.
Lan finally stumbled upon a Beijing Web site that was holding auditions for young actors to star in the Chinese-language production of Into the Woods.
"So I sent in my resume, the Beijing people asked me to fly over for an audition, and I got the role," Lan said.
"[I'm] in the middle of a three-month run, eight shows a week. It's a dream come true."
Comments will be moderated. Keep comments relevant to the article. Remarks containing abusive and obscene language, personal attacks of any kind or promotion will be removed and the user banned. Final decision will be at the discretion of the Taipei Times.