Myanmar's landless: playthings of the powerful
The end of most Western sanctions are fueling a scramble for territory in the resource-rich nation
Left destitute after the army said they were squatting, hundreds of families have found themselves caught in a bizarre tug of war involving Myanmar's ruling party and an armed ethnic group in a case that highlights the country's acute land challenges.
When military officials with loudhailers told Aye Aye Win and her neighbors that their village near the central Bago mountains was about to be razed, the bulldozers were already at their doors.
"We were so frightened," she told AFP, choking back tears as she recounted the day in March when the army declared the village of Thameelay illegal.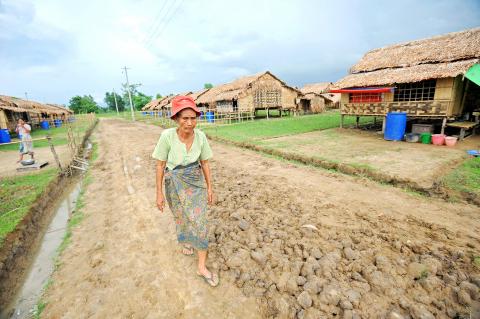 A woman walks past a house donated by the Union Solidarity and Development Party, at the Thameelay new housing ward on the outskirts of Yangon in June.
Photo: AFP
Land is among the most contentious issues in Myanmar as reforms and the end of most Western sanctions fuel a scramble for territory in the resource-rich nation.
The problem is widespread in the country, where the state legally owns all land and the army stands accused of rampant land grabbing.
A commission set up to deal with disputes has struggled to resolve even a small fraction of the tens of thousands of complaints that have flooded in.
Men build a fence for their homes, which were donated by the Union Solidarity and Development Party, at the Thameelay new housing ward on the outskirts of Yangon in June.
Photo: AFP
Homeless and helpless, Aye Aye Win and over a thousand others from a cluster of 10 local hamlets soon found themselves buffeted between some of Myanmar's most powerful forces — from the military to the clergy, political heavyweights and armed ethnic groups.
In the face of bureaucratic inertia, aggrieved ordinary people across the nation are taking matters into their own hands.
Farmers barge through barricades to plough their former fields, displaced villagers confront businessmen and placard-wielding protesters flock to towns and cities in rallies that flare across the country on a weekly basis.
Hundreds of protesters have been arrested this year alone.
But Aye Aye Win and her neighbors were afraid.
"They told us they would take legal action against us if we complained," said the 52-year-old as she sat surrounded by her extended family and a few salvaged possessions in her new home — a one room bamboo hut in a field on the fringes of Yangon.
JUNGLE ORDEAL
Many from Thameelay ended up in a monastery in the remote Bago countryside. But they could not stay long.
Authorities again demanded they move on and it was then, as their plight filtered into national news, that two unlikely organizations stepped in to offer help — the military-backed ruling party and the Democratic Karen Buddhist Association (DKBA) armed group.
The DKBA, former rebels in eastern Karen State who struck a deal to join forces with the previous-junta government, appeared eager to show their magnanimity.
They arrived in 12-wheeler trucks brandishing promises of lush land plots in the insurgency-wracked jungles near the Thai border.
Some 200 families took them up on the offer.
Villager Than Htwe told AFP that life with the fighters, who have never released a motive for their uncharacteristic act, was not quite as advertised.
After a grueling four-day journey to the frontier region, the villagers were met with suspicion and restrictions.
"We were basically locked up as soon as we arrived," said Than Htwe, 42.
His family of three decided to cut their losses and return to central Myanmar where relatives, including Aye Aye Win, had chosen to throw their lot in with the ruling Union Solidarity and Development Party.
The USDP, the well-funded vehicle for Myanmar's former generals to relaunch themselves as civilian politicians, had bought 12 acres of barren farmland for around US$200,000 and created new Thameelay village from the scrub along the lonely highway north of the commercial hub Yangon.
Around 200 stilted huts now stretch across the field in neat rows reminiscent of the country's many displacement camps. "We gave them a lease saying that they can live here and pass it on to their children. But they cannot sell their plot," said USDP village leader Myint Myint San.
There are plans for a factory, promises of government loans and a new village hall has recently been completed.
During controversial 2010 elections the USDP was accused of various vote-winning tactics, including half-building roads and promising to finish the work only after they were elected.
In next year's crucial polls the party will face a greater test — competition from Aung San Suu Kyi's opposition, which is running in its first general elections since its 1990 victory, which was ignored by the junta.
"People do not need to be USDP members to stay here," Myint Myint San told AFP when asked about the party's motivation for its largesse.
"But everyone here was already in the party before they came."
LAND DISPUTES
Some 70 percent of Myanmar's population — mainly the rural poor — rely on the land for their living.
The government is drawing up a new land use policy that will underpin fresh legislation as part of reforms since the end of outright military rule in 2011.
But researchers at the Transnational Institute think tank have warned that the proposals look to please large investors, potentially to the detriment of small farmers.
Khine Maung Yi, a member of a parliamentary commission on the issue said land appropriation remains a chronic problem, even as the government struggles to return property taken under the junta.
Of 26,371 letters of complaint received, only some 9,000 had been forwarded to the relevant departments as of September. But most of these have yet to be dealt with.
"The amount of seized land returned is still just tiny," he told AFP.
Comments will be moderated. Keep comments relevant to the article. Remarks containing abusive and obscene language, personal attacks of any kind or promotion will be removed and the user banned. Final decision will be at the discretion of the Taipei Times.