Bangladesh's 'mystic minstrels'
Despite daily attacks, the country's minstrels, known as Bauls are becoming more popular among those seeking peace and salvation
After giving up all worldly possessions, they wander the Bangladesh countryside dressed in white robes, singing of peace and love for all with their single-stringed ektaras.
Bangladesh's "mystic minstrels" have long been dismissed as hippies and even attacked and killed after being branded heretics in the Muslim-majority country.
According to their leaders, Bangladesh's minstrels, known as Bauls, are growing in popularity, even attracting members of the rising middle class with their ethos of inclusion and rejection of consumerism.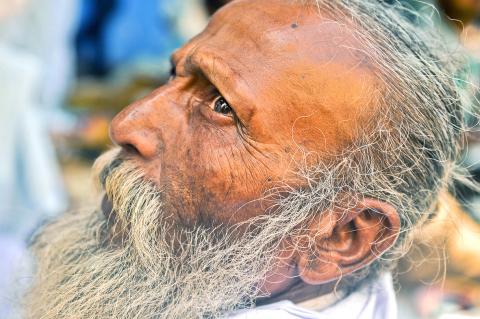 A Bangladeshi Baul, or minstrel, visits the shrine of one of Bangladesh's revered poets and Sufi mendicants in the village of Chheuri.
Photo: AFP/Munir uz Zaman
"More and more people are drawn to Baul philosophy and its humanism despite the attacks and daily humiliation," said Mohammad Aynuddin, 35, an English teacher at a state school who describes himself as a Baul enthusiast.
Originating in Bengal in the 17th century, the sect was popularized by musician and social reformer Lalon Shah whose moving songs of religious tolerance inspired poets and thinkers of the time.
Many ascetic Bauls renounce the modern world and travel on foot from town to town singing and begging alms, staying at ashrams, but have no fixed address. Others choose to remain in their homes, but live a quiet, secluded life of music and worship.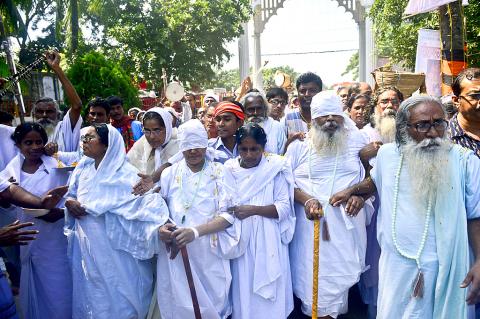 Bangladeshi devotees, blindfolded and wearing shrouds with their hands tied, are led to the shrine of one of the country's most revered poets and Sufi mendicants in the village of Chheuria, near Dhaka.
Photo: AFP/Munir uz Zaman
Strongest in west Bangladesh and across the border in India's West Bengal, the sect's philosophy is a mix of Hinduism and Sufism rather than one specific religion — angering some Islamic hardliners.
Last month, suspected Islamist militants hacked to death a popular sociology professor who had held weekly meetings on Baul philosophy and also pushed for a ban on the full-face veil on campus.
Although police are still investigating, the professor's son and his colleagues believe both moves enraged religious fanatics.
In August, Muslim villagers also attacked a group of wandering Bauls, hacking off their beards and hair and forcing them to recite Islamic prayers, according to the Daily Star.
'TODAY I'M A BEGGAR'
But such attacks failed to dent the mood recently at Lalon's shrine in a remote western village, where sect members new and old, gathered to mark the 124th anniversary of the singer's death.
Blindfolded, with their hands tied and draped in white death shrouds, new recruits Aftab and Saleha were led around the shrine, while dozens sang and played their ektaras and drums, in a lively initiation.
The 70-year-old husband and wife, who both use only one name, have handed over their prosperous restaurant in Dhaka to their children, to spend the rest of their lives roaming the country singing.
"Today I'll become a beggar. I'll live by begging and won't care about worldly affairs," the worshippers sang as the pair — dressed in the shrouds to symbolize their "last journey as free souls" — walked around the shrine seven times.
Thousands of Bauls took part in five days of singing and other celebrations for Lalon in late October in the border town of Chheuria where he once established an ashram for his followers.
"From now on their religion will be humanism. They'll be neither Muslim, nor Hindu or Christian," said Banat Ali Fakir, who became a Baul seven years ago, as he watched the initiation. After taking a two-day vow of silence, the new recruits were expected to beg rice and other food from adjoining neighborhoods to host a feast for their fellow followers.
"In the past only a few hundred people would visit the shrine daily," shrine caretaker Mohammad Ali Fakir told AFP.
"Now there are days we see 2,000 to 5,000 people. More and more people are becoming Bauls as its core message is humanism. It does not differentiate between peoples or castes," he said.
'WON'T FIGHT BACK'
Some Bauls expressed concern about the recent attacks, saying that, with just a musical instrument, they are vulnerable and unable to defend themselves as they travel around singing.
"They ask us: why don't we say our Islamic prayers or fast during the month of Ramadan? They warn that nobody will join our funeral prayers," Baul enthusiast Aynuddin said, describing the response of his Muslim fellow villagers.
But Baul researcher and writer Saymon Zakaria said the attacks are "nothing new" although he conceded they are growing amid a rise in the number of "hardline Islamists in rural areas who see the Bauls as a threat".
"Most Bauls simply ignore these attacks and live a quiet life among villagers. They are mainly pacifists who won't fight back," he said.
Bauls are growing in numbers in cities because of their "pastoral appeal" although there are no official figures.
Baul philosophy is even spreading to Western countries like Japan because "it's a kind of rebellion against consumerism. It is also a new fashion," according to Zakaria.
"People are tired of straight jacket rituals. They seek peace and salvation and they find that in Lalon Shah's songs and Baul lifestyle," he said.
Comments will be moderated. Keep comments relevant to the article. Remarks containing abusive and obscene language, personal attacks of any kind or promotion will be removed and the user banned. Final decision will be at the discretion of the Taipei Times.