Girls who play Go
Females at the top of the game are a rarity, and senior adjudicator Hsiung Po-ti says it's because old stereotypes die hard
Miho Chen (陳美帆), a sixth grader with hair pinned back by barrettes, is beaming at the end of day one of the Rung San Cup (榮三盃), a national Go tournament for youth.
"In the past I've even thought about quitting Go, because I kept losing and losing," she says.
Not today. Today Miho won five out of five games and advanced into the finals, where she will vie with 16 players in her age group for a NT$50,000 prize. She is among 48 out of 379 players who advanced, and one of the only two female finalists.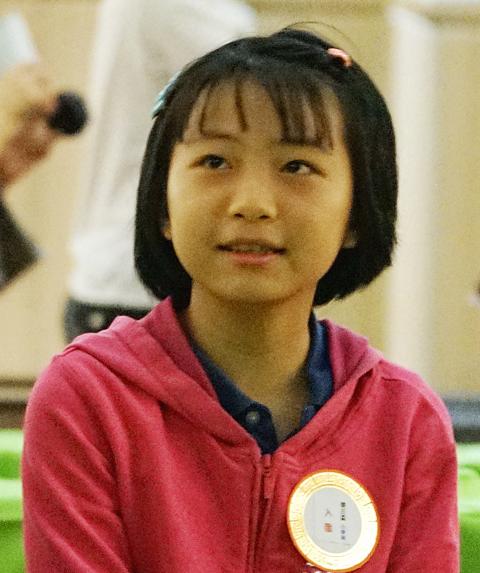 Miho Chen is one of the only two female finalists of this year's Rung San Cup for Go.
Photo: Lu Young, Taipei Times
The other, Sharon Yang (楊子萱), is a serious-faced 11-year-old with an ambition to go professional. Like Miho, she is a sixth dan, an advanced amateur. And like Miho, she played her winning matches at the Rung San Cup against boys.
"I prefer it that way," Sharon says. "Playing with boys is more challenging."
GIRL SHORTAGE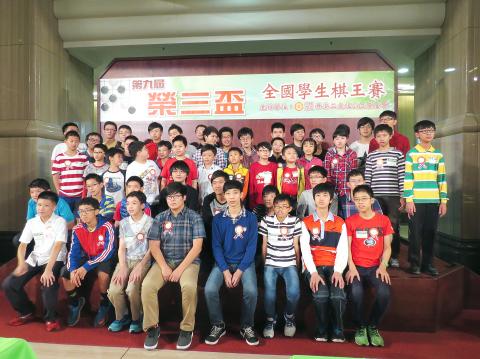 Finalists pose on day one of the Rung San Cup.
Photo: Enru Lin, Taipei Times
It is true that most of the best players in Taiwan's Go world are male.
For every Hsieh Yi-min (謝依旻), there are a dozen male stars like Chou Chun-hsun (周俊勳), but it's not because girls are intrinsically bad at the game.
"With all students, how far they get depends on how they are taught. In the right conditions, girls can be quite excellent," says Hsiung Po-ti (熊波迪), the tournament's chief adjudicator.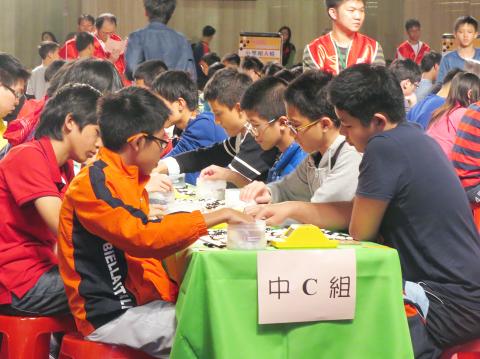 Boys compete at the 9th annual Rung San Cup, a national Go tournament.
Photo: Enru Lin, Taipei Times
The underrepresentation of females at the top has more to do with player ratios. Male players greatly outnumber female players, and a larger population tends to have more people in any given subset.
At the Rung San Cup, the scarcity of female players is apparent. Twenty-four of the 379 players are girls, a little over 6 percent.
Hsiung, who is also director of the Taiwan Weichi Education and Development Association (台灣圍棋教育推廣協會), says there are many variables that could explain why girls don't learn Go or drop out of training early. He thinks that an important one is parents.
"It's not that girls don't like to play. Whether they participate is mainly up to the parents," he says.
It is usually boys, not girls, who are encouraged to attend Go classes. To many parents, Go is a strategy game played by male retirees at the park or by boys with spectacles.
Another cause is the gendered distribution of family resources, Hsiung says. When parents must trim a budget, they may keep girls enrolled in math or English tutoring, but take her out of lessons unrelated to school performance.
"For boys, parents don't always cut the extras, especially if he expresses an interest. I can think of many examples … of a son being allowed to continue with Go, while his sister is not, even when she likes it more," he says.
"Traditionally our society has prioritized boys over girls. That thinking still exists to an extent, it absolutely does."
LESSONS FROM GO
At the Chung Hwa Go School (中華棋院), lessons are NT$5,000 for ten and not inexpensive.
Miho is one of its students. She requested lessons after seeing the game played in a movie, says her mother, who adds that Miho is an only child who also enjoys soccer, basketball and kendo.
Miho practices Go for two to three hours a day, either online or with opponents at the school.
"At the school she can play against older people. They don't only teach her Go. They teach her how to be a good person," her mother says. "For example, she's learning that when you lose, you can't get frustrated. Her tolerance for failure is increasing."
Hsiung says Go does tend to cultivate certain traits, which include a strong memory, self-discipline and the ability to make decisions.
He says the game follows a tactical process — survival, development, transformation and feinting (生存發展 變換騰挪) — that's also a way to manage an enterprise and has been cited by Acer founder Stan Shih (施振榮).
"Often, parents think, Go is a way to train a boy and to exercise his brain," Hsiung says.
"They think sons should learn that, while daughters should learn something else, but I believe the game is suitable for girls, too."
Comments will be moderated. Keep comments relevant to the article. Remarks containing abusive and obscene language, personal attacks of any kind or promotion will be removed and the user banned. Final decision will be at the discretion of the Taipei Times.