The next big bike
Gearlab, winner of a Golden Pin Design Award, is backing the commuter bike as the next star of Taiwan's bicycle industry
In Taiwan's bicycle manufacturing industry, research and development is concentrated in road bikes, which enjoy a high profit margin. Ninety percent of Giant's catalog is mountain bikes, road bikes and racing bikes, and last year leaders like Merida vied to release lightweight racers for export to western countries.
However, Henry Chang (張博翔) and Cesare Sun (孫崇實), whose bike design won this year's Golden Pin Design Award, believe that the future of the industry is not in road bikes.
"A focus in urban cycling will be the next trend of bike development," says Chang, an industrial designer. "The [road] bike market is already saturated."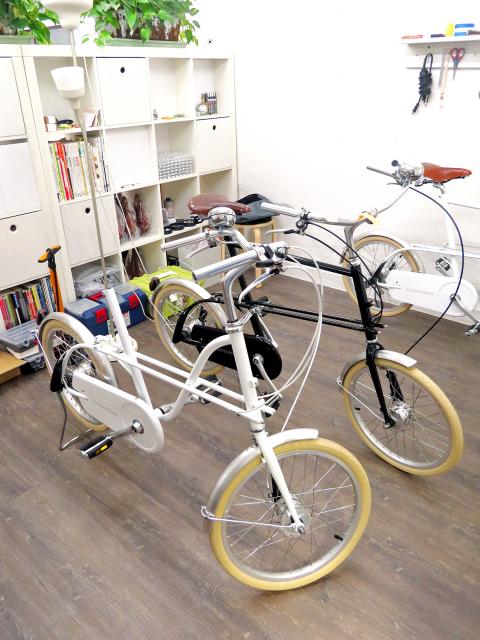 The Espresso, a winner of this year's Golden Pin Design Award.
Photo: Enru Lin, Taipei Times
Last year was notably tough for Taiwanese manufacturers. Exports to the US — a main market — fell 8 percent, costing manufacturers an estimated US$43 million in lost sales at wholesale, according to the US Department of Commerce.
In their race to bring road bikes to western markets, Taiwanese industry leaders have ignored the potential of the commuter bike aimed at the urban Asian market, the designers say.
They argue that using a road bike for urban commuting is overkill and a source of dangerous problems. For example, the handlebars of a mountain bike force the cyclist into a forward-leaning position, which partially obstructs the view of traffic.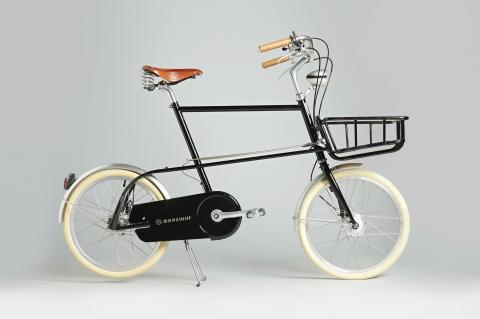 The Espresso, a winner of this year's Golden Pin Design Award.
Photo courtesy of Gearlab
"Holland and Denmark do make bikes that are perfect for riding to work. But because Caucasian and Asian bodies are proportioned differently, those bikes aren't a good solution for us," Chang says.
"So there's a huge market opportunity here, but not many people are looking into it," Chang says.
TWO MEN AND A BIKE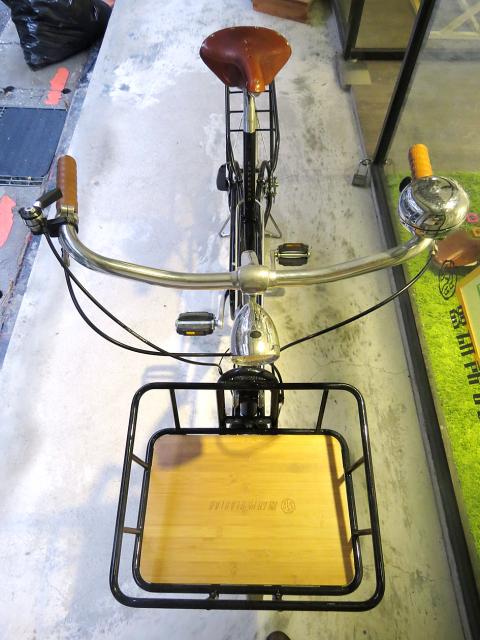 The Espresso, touted as a commuter bike, features a basket custom fit for a notebook case.
Photo: Enru Lin, Taipei Times
Chang and Sun stood out as the only two designers in a sea of engineer hires at local computer manufacturer Asustek Computer Inc (華碩). Later, they drew notice as enthusiastic eco-conscious young men who rolled up to the office on bikes.
"Commuting in cities by bike is really a point of pride," Sun says.
Chang agrees. After three years at Asustek, the two were hired at the same time by Demos Chiang's (蔣友柏) Dem Inc to design bikes under contract for Giant.
"That's all we wanted to do — [design] bikes," Chang says.
"First of all, it was our personal interest. Secondly, bikes are a tremendous challenge, because the appearance is the structure … When you change the appearance of the frame, you change its structure and you get a completely different effect."
In 2008, Chang and Sun left Dem Inc to start Gearlab, named for its mission to become a star bike-design studio. For the first few years, they designed mostly teapots and mugs, struggling to build capital for developing their dream bike. In between, they conducted market research.
"We considered the different options for a long time. It wasn't until 2011 that we knew what bike we wanted to go with," Sun says.
Manufacturers like Giant, Merida and Fritz Jou make mid to high-end bikes for sport use that are purchased by athletes — and by urban consumers who don't see a better option for commuting. The fold-up bicycle's popularity in cities peaked around 2009 and, Chang says, is unlikely to return because "an easy-to-ride bike is hard to fold, and an easy-to-fold bike is hard to ride."
This year, he and Sun put their first bike on the market. The Espresso is a non-foldable bike designed for the East Asian market, and it's been named a winner of this year's Golden Pin Design Award.
Unlike a mountain bike, the Espresso permits pedaling in an upright position for a better view of traffic. It also comes with a large kit of accessories tailored for the urbanite: a kickstand, chain guard, LED lights, bike lock, a cargo rack that doesn't move with the handlebar and a bell with a jaunty two-tone ring so "pedestrians will think you're funny instead of getting mad when you use it," Chang says.
THE ROAD AHEAD
Chang and Sun say that for Taiwan's bicycle manufacturing industry, the commuter bike is a very promising product that needs more development. Giant currently makes some of the best road bikes in the world, but its city-friendly bikes are far less competitive because in-house designers are hired for their background in high-performance engineering.
"Giant finds it hard to extricate itself from the [road] bike mindset. For example, in one lifestyle bike we were designing for them, we suggested adding a chain guard to prevent pant stains … Giant thought it didn't look sporty or it would add too much weight," Sun says.
A large company like Giant needs a fundamental shift in approach before it will be able to develop a superb commuter bike. And for a smaller design studio, the task is even tougher, Chang says.
After two years of accepting bicycle design contracts, Dem Inc wanted to move on. That's because in the design industry, much of the money is elsewhere — for instance in gifts for exhibitions, where contracts are generous and frequent. Designing one bike, in comparison, is time-consuming and rarely cost-effective.
"It's hard to earn money developing bike concepts," he says. "As a result, while Taiwan manufactures many bikes, very few people are designing them."
Comments will be moderated. Keep comments relevant to the article. Remarks containing abusive and obscene language, personal attacks of any kind or promotion will be removed and the user banned. Final decision will be at the discretion of the Taipei Times.