Reflections on love and other of life's mysteries
Tom Waits and Iguazu Falls in Brazil are among the disparate sources of inspiration for a collaboration between two improvisationally-minded Taiwanese dancers
Yu Yen-fang (余彥芳) has been a member of the improvisational dance troupe Ku & Dancers (古舞團) for a number of years now, and she and colleague Su An-li (蘇安莉) had been looking for an opportunity to work on a project together.
The results of that search, I'm Still Here (愛情如是繼續), will be unveiled tonight at the Experimental Theater in Taipei.
Yu and Su are good friends, having known each other for 12 years. Yu said they share a common background and points of view about dance, though their styles differ.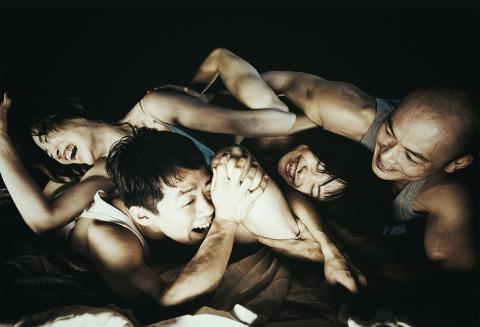 Ku & Dancers members Su An-li and Yu Yen-fang collaborated on the choreographing of I'm Still Here, which will be performed at the Experimental Theater in Taipei for four performances this weekend.
Photo Courtesy of Chen E-tang
"Our pieces are very different. I'm more political, An-li more personal," Yu said in a telephone interview on Tuesday.
"It has been a long and interesting process," Yu said when asked about the collaborative effort.
The piece was originally going to center on Su, and reflect her voice, Yu said, but eventually they decided they both would be in the piece. Her decision to perform came after the two women asked actor/director Derrick Wei (魏雋展) to join their team.
However, they felt they still needed another dancer, someone more "masculine" and perhaps slightly older, maybe 30 to 40, which turned out to be harder than they had anticipated.
In the end, they found John Tu (涂展鵬), whose resume includes work with several choreographers in the US as well as Cloud Gate Dance Theatre (雲門舞集), who now has a "real job."
"We're still living the artist's life, but he has a real life. Now he is half project manager for a transport company and half performer," Yu said.
Finding a subject — and then exploring it — turned out to be a lot more complicated than either Yu or Su had expected, even after Su decided she wanted to explore her romantic life.
"At first, I thought I could go in as an outsider, an independent eye, but as the process went on, it became an exchange of four performers. The past half year, we have gone from knowing a little bit about each other to knowing everything," Yu said.
She said a crucial element came about just by chance, as she was "Googling, going through YouTube."
"One day I heard a Tom Waits song, I'm Still Here. It's absolutely beautiful — talking about his relationship with a person. It's a piece about me as a person to love, I thought," Yu said, adding it made her realize that each relationship leaves a some kind of emotional trace.
"We are not the same person anymore, the other person has left an impact on us" just like they leave a shirt or other items in our house, she said.
A trip to Brazil this summer was another source of inspiration.
"Looking at Iguazu Falls made me think of different timing … for even as the water has been falling since before I was born, it is falling now and will still be falling after I am gone," she said, adding that it gave Su and herself the idea of about two moments in time at one moment, and the idea of "foreverness."
Yu said I'm Still Here will be a journey for the audience, because stage designer Wu Chi-tsung (吳季璁) came up with the idea of wheeled platforms that will be moved around during the piece, meaning audience members will have different perspectives on the work, depending on where they are at any given moment — not that they will have much say in the matter.
"Just when you think 'Oh, I want to get a closer look at this, you are pulled away, and when it becomes violent and you think 'I don't want to get any closer' you are pushed closer," Yu said.
She said it will be like sailing in a boat along a long river, where "the landscape is not 'performing' for you, you are simply watching it from start to end."
Yu said she loved the idea of movement, but it had been a nightmare for the show's lighting designer Kao Yi-hua (高一華) because there are no set sightlines.
While Waits' song was the inspiration for the 75-minute show, it will not be heard. Su and Yu opted to use two young DJs instead, who have some set songs, but will do a lot of improvising during the show.
Publication Notes
Performance Notes
What: I'm Still Here
When: Tomorrow and Saturday at 7:30pm, Saturday and Sunday at 2:30pm
Where: Experimental Theater (國家實驗劇場), 21-1 Zhongshan S Rd, Taipei City (台北市中山南路21-1號)
Admission: NT$700; only tickets left are for Saturday's matinee. Available at NTCH box offices, online at www.artsticket.com and at 7-Eleven and other convenience store ticket kiosks
Additional Performances: Nov. 15 at 7:30pm and Nov. 16 at 2:30pm at Kaohsiung Tsoying Senior High School Dance Hall (高雄左營高中舞蹈劇場), 55 Haigong Rd, Greater Kaohsiung (高雄市海功路55號). Tickets NT$400; available online at www.artsticket.com and 7-Eleven ibon and other convenience store kiosks or at the door.
Comments will be moderated. Keep comments relevant to the article. Remarks containing abusive and obscene language, personal attacks of any kind or promotion will be removed and the user banned. Final decision will be at the discretion of the Taipei Times.