Taipei: the new hub for Asian art?
Back in Taipei this weekend for its 21st year with the theme Dear Art, Art Taipei takes a huge stride by bridging communication between the world of high art and the public.
"We are aiming to be the new hub of Asian art," said Eva Lin (林怡華), the director of Art Taipei.
This year's exhibition will showcase a variety of artwork created by Taiwanese and foreign talents, alongside educational and interactive workshops open to the public. Lin told the Taipei Times that in addition to the usual contenders from China, Japan and Korea, there will be more representation from Southeast Asia this year.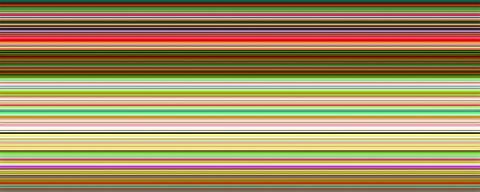 Gerhard Richter, Strip (2012).
Photo courtesy for Taiwan Art Gallery Association
"People normally come to Taiwan expecting to see Chinese art, but Taiwan is also in a great location geographically to feature artwork by Southeast Asian artists," she said.
Lin says that compared the Northeast Asia, artwork from Southeast Asia tends to be more vivid and distinguishable. Viewers who are not necessarily art critics can more easily tell if this piece is from Thailand or Malaysia. Such is not the case for Taiwan — at least in the eyes of international art community, Taiwanese art is still somewhat of a subcategory of Chinese art.
However, it doesn't bother Lin that art critics and buyers are flocking to cities like Shanghai, Hong Kong or Singapore. These places may be where all the big bucks are flowing, but Taipei has something invaluable in the world of high art — soul and authenticity.
"We are not emphasizing a commercial, McDonalds-like approach," Lin said.
Lin added that the Hong Kong approach to selling art might be "very western and very international," but she says that art fairs like Art Taipei are trying to emphasize more inclusivity.
"Art is like therapy," Lin says, "everyone has different ways of communicating with art and if a piece makes you feel uncomfortable, it is simply not the right piece of artwork for you."
When faced with commentary on how Taiwan's art scene has to become more "international" in order to succeed, Lin says the term "international" can be subjective and she prefers to use the phrase "internationally aware."
In other words, Taiwanese artists should be aware of what other artists around the world are doing, but there is no need to repackage the entire art market here such that it will fit better for global consumerism.
As Lin said, "there are two values of art, one is the market value and the other is the educational value."
Art Taipei aims at developing the educational value in hopes that greater public understanding of art will ultimately drive up its market value.
Publication Notes
Exhibition notes:
What: Art Taipei 2014 (2014台北國際藝術博覽會)
When: Friday to Monday, from 11am to 7pm; closes at 6pm on Monday
Where: Taipei World Trade Center, Exhibition Hall 1 (台北世界貿易中心展覽大樓一館), 5, Xinyi Rd Sec 5, Taipei City (台北市信義路五段五號)
Admission: Tickets available online (tickets.books.com.tw), NT$200 to NT$500
On the net: art-taipei.com
Comments will be moderated. Keep comments relevant to the article. Remarks containing abusive and obscene language, personal attacks of any kind or promotion will be removed and the user banned. Final decision will be at the discretion of the Taipei Times.