The piano avant-garde
Nils Frahm plays four pianos — sometimes with toilet cleaners. On Saturday, he'll kick off the P Festival, a two-week series of performances by contemporary pianists, at Legacy
Nils Frahm does some very interesting things with the piano — or to be more exact, with four pianos. For his stage performances, he currently uses a grand piano, an upright piano, a Fend Rhodes electric piano and a Juno synthesizer, jumping from one instrument to another, sampling and looping their sounds through a computer and creating engrossing compositions with a very broad appeal.
Frahm is not only making a splash in the staid world of contemporary classical, but also drawing hoots and hollers from young listeners who otherwise identify more with electronic dance music or indie rock.
This autumn, the 32-year-old German will tour to some of the world's best known concert halls. He has already sold out October shows in the Sydney Opera House and the Barbican in London and will play a wide variety of other stages, including churches, contemporary art centers and arts festivals in Europe, Australia and North America.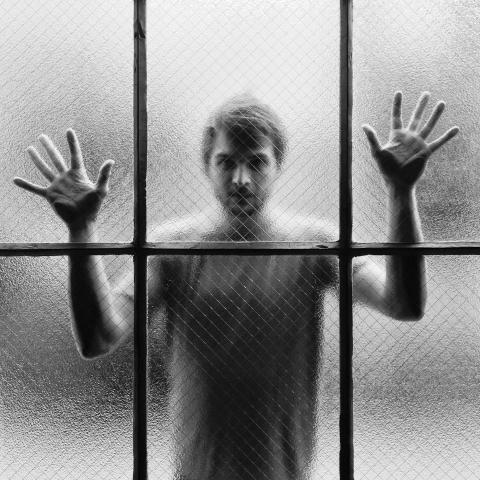 Nils Frahm's music verges on the scatalogical .
Photo courtesy of White Wabbit Records
Frahm's only performance in Asia will be Saturday in Taipei in a warehouse converted to an indie rock live house, Legacy. The concert will open up the P Festival — the "P" is for "piano" — a two week series of performances by contemporary pianists including international names like Frahm, Rachel Grimes and Hauschka along with local cross-genre standouts like Lu Yi-chih (盧易之) and Cicada.
ACCESSIBLE SOUND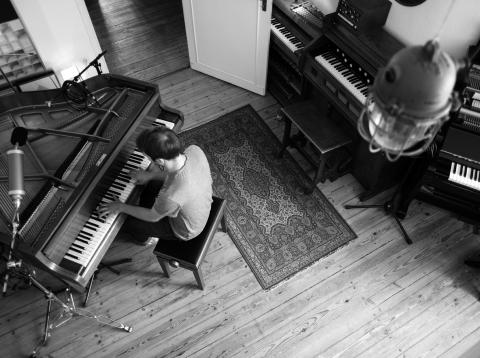 Photo courtesy of Legacy
Frahm's music is by turns complex, emotional and widely accessible. It can at times be extremely down to earth and even quite funny, like his recent composition, Toilet Brushes — More, which begins with Frahm banging directly on the strings of an open grand piano with the titular bathroom cleaners. (There is a fantastic video of a performance of the work at London's St John-at-Hackney Church on YouTube. Frahm is a big fan of YouTube and quickly uploads videos of many performances to the site.)
The idea to use toilet brushes was fairly spontaneous.
"When you go to IKEA you always buy a lot of crap you didn't intend to," says Frahm, speaking over the phone from his studio in Berlin. "I was browsing and I saw the toilet brushes, but they were only selling them in a pack of two. That didn't make any sense to me, because I think that most people who buy things at IKEA don't have two bathrooms ... So why would you need to buy two toilet brushes?"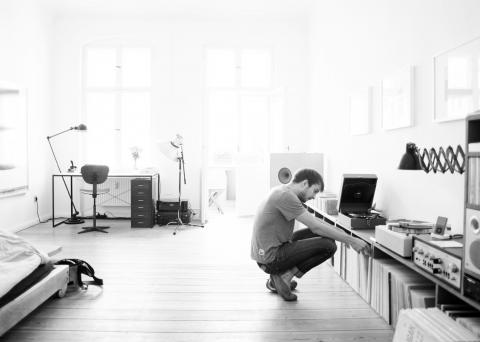 Photo courtesy of Legacy
Frahm notes, however, that the toilet cleaners "looked like drumsticks to me, and I thought, 'Okay, now I know why I need two of them.'"
He says he took the brushes directly to a gig and used them instead of musical mallets.
"What interested me was seeing the ridiculousness of what I'm doing paired with the grandness and hugeness of the sound it produces. The sound is kind of sinister and sincere. By having to laugh while listening to something really dark — it creates a nice tension in the concert," says Frahm.
"It's like defining the borders of my universe. On one side I have that kind of lighthearted, goofy, jokey elements, which is just part of my persona. I'm making these silly jokes between songs and so forth. But then two minutes later, you are listening to something heart-breakingly sad and tragic, musically."
The toilet brushes may be a quirky innovation, but it should not be confused with mere noise or other types of abstract or experimental music.
Each piece by Frahm is conceived very much as a composition, and works manage to synthesize ideas from traditional chamber music, medieval music, avant-garde 20th century composers like John Cage, Steve Reich and Terry Reilly and also contemporary rock, pop and electronic music, which composes much of "the couple thousand records in my record collection, which I love."
Frahm's more fundamental purpose in using the toilet brushes was to pull some percussive sounds out of the piano. Because even though he uses electronics, he believes the sounds he produces must all be produced by him playing the actual instruments, even if those sounds are later looped or modulated by delays or other electronic effects.
"It's obvious that all the motions and movements I'm doing are connected to the sound, and that's kind of exciting for people to watch, rather than just have an iPad and pressing play. Then there is this big wall of sound and you play piano on top," he says.
"I'm struggling for sounds," Frahm adds. "Since I'm not using a computer, which can reproduce twelve million sounds, I'm using a limited set."
The limitations of the piano's sonic palette also got Frahm to start using a synthesizer in his concerts about two years ago.
"I was playing only piano concerts, and I felt I needed a very loud element between sections, so that the surrounding songs would feel different," Frahm explains.
"You have to know what comes before a certain passage determines that passage. For me it's very important that a concert flows from start to finish, and that one song helps another song become stronger by putting them in the right direction."
It also amounts to an exciting new direction in music. You can hear it for yourself this weekend in Taipei.
Nils Frahm plays with Lu Yi-chih (盧易之) on Saturday at Legacy, 1, Bade Rd, Sec 1, Taipei City (台北市八德路一段1號). Tickets are NT$1,650 through www.artsticket.com.tw. P Festival runs from Oct. 4 to Oct. 19. For more info: www.pfestival.tw.
Comments will be moderated. Keep comments relevant to the article. Remarks containing abusive and obscene language, personal attacks of any kind or promotion will be removed and the user banned. Final decision will be at the discretion of the Taipei Times.