Amour, amour
This year's Taipei Documentary Film Festival offers a creative blend of documentary films and video art
Love in all its variety comes under the microscope at this year's Taipei Documentary Film Festival (國際華人紀錄片影展), which opened yesterday and runs through Oct. 5 at Spot Huashan Cinema (光點華山電影館). In a stroke of ingenuity, the timeless topic is tackled not only through cinema but artistic endeavors that are usually seen only in galleries and museums.
"A documentary film has a beginning and an end, a kind of narrative, whereas video artists strive to break conventions. The two have completely different ways to approach the same topic ... Audiences are encouraged to go to the [video art] exhibition between film screenings to see how the works [at the two venues] are connected and different," festival curator Lai Chen-lin (賴珍琳) told the Taipei Times.
Fourteen video art pieces are on view along with a lineup of 42 documentary, animated and short films put together by festival organizer Chinese Next, or CNEXT. Initiated in 2006 with the aim of recording the evolution of Chinese-speaking societies, the nonprofit funds a growing number of documentary projects. Films that are produced in collaboration with CNEX are screened annually at the festival alongside documentaries from across the globe.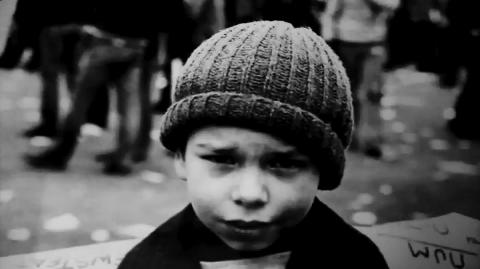 Kao Jun-honn, Dual 1984.
Photo courtesy of CNEX
This year's selected films dwell on subjects ranging from romance, sex, parental love and friendship, to community, society, culture and humanity.
The Between Me and I section, for example, is dedicated to films about one's quest for happiness, meaning and values. The idea of sex and love is explored in The Special Need, in which filmmaker Carlo Zoratti embarks on a road trip with his good friend Enea, a 29-year-old autistic virgin, in the hope of having him deflowered.
On a much grander scale, Expedition to the End of the World follows an epic expedition led by a group of scientists and artists to the northeast of Greenland, a landscape that has not been visited by humans since prehistoric times and is now being rapidly altered due to global warming. Facing the barren land, the crew become philosophical, contemplating existential questions of life on the three-mast schooner.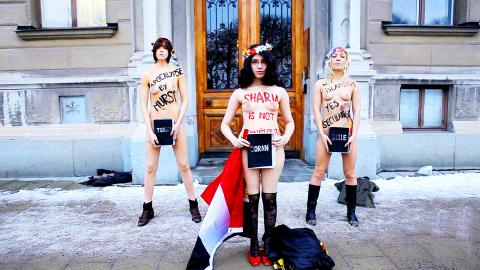 Arash and Arman T. Riahi, Everyday Rebellion.
Photo courtesy of CNEX
sunflower movement
Taiwan's film festivals have generally featured films related to issues raised by the Sunflower movement. CNEX is no exception, turning its attention to nonviolent resistance.
Everyday Rebellion brings together a series of movements including Occupy Wall Street, Arab Spring, the Syrian struggles and FEMEN, formed by Ukrainian topless activists, to explore how non-violent forms of protest and civil disobedience are formulated and put into action.
Lai says that since this year's theme is very much a part of everyday life, she chose audience-friendly works that connect more with viewers than festival juries. Many films have a strong personal feel to them as the directors are often very close to the individuals they film.
A Mile End Tale can be thought of as a kind of cinematic therapy for a friend of filmmaker Jean-Francois Lesage. Lesage films his friend, who has just broken up with his girlfriend, wandering the streets of Montreal asking strangers questions about loyalty, betrayal and jealousy.
In Matt Shepard is a Friend of Mine, director Michele Josue revisits the shocking murder of her gay friend, Matt Shepard, and commemorates his short life through the testimony of family and friends.
EXHIBITION
The exhibited works were chosen to reflect or contrast the films. Vietnamese filmmaker Phuong Thao Dong contemplates love with Grandfather, a 10-minute short about the director's grandfather, who suffers from Alzheimer's disease. Believed to have lost the ability to recognize and respond to others, the facial expressions captured by the filmmaker's close-up shots suggest otherwise.
Taiwanese artist Kao Jun-honn (高俊宏) examines globalization and neoliberalism with Dual 1984 (兩個1984), a video that interweaves images, interviews and footage from two mining events in 1984. One is the mass miners' strike in the US; the other is the explosion at the Haishan Coal Mine (海山煤礦) in Taiwan.
The occupation of the Legislative Yuan is given a different take in Yuan Goang-ming's (袁廣鳴) The 561th Hour of Occupation (佔領第561小時). Shot two days before protesters withdrew, the work shows the space but digitally erases the protesters, leaving behind an eerily empty chamber, filled with laptops, sleeping bags, backpacks and instant noodle bowls among other traces of the occupation.
On Oct. 5, artist Yuan will talk about his work at a forum jointly held by academic Sing Song-yong (孫松榮) and filmmaker Cheng Li-ming (鄭立明), whose Looking for Siraya (尋找木柵女) is also on display.
Based on a photo showing an Aboriginal woman and her child, photographed by Scottish photographer John Thomson during his trip to Taiwan in 1871, the work is a personal exploration of the nation's past. It also examines how history is represented and memories retrieved.
Lai says the works in the exhibition section are interesting because they all involve reality but break the boundary of documentary filmmaking.
The video art exhibition is located on the second floor of the Spot Huashan Cinema. Admission is free. More information about the festival can be found at the event's Web site at tw.cnexfest.org.
Publication Notes
Festival notes
What: 2014 Taipei Documentary Film Festival (2014國際華人紀錄片影展)
When: through Oct. 5
Where: Spot Huashan Cinema (光點華山電影館), 1, Bade Rd Sec 1, Taipei City (台北市八德路一段1號)
Admission: NT$120 per screening, NT$60 for senior citizens aged 65 and up and people with disabilities, available through 7-Eleven ibon, FamilyMart (全家) FamiPort and Hi-Life (萊爾富) Life-ET kiosks and ERA ticketing or online at www.ticket.com.tw
On the net: tw.cnexfest.org
Comments will be moderated. Keep comments relevant to the article. Remarks containing abusive and obscene language, personal attacks of any kind or promotion will be removed and the user banned. Final decision will be at the discretion of the Taipei Times.