What's inside Jason Wu's office
The Taiwanese-Canadian fashion designer invites a reporter into his workspace
Where does a collection begin? In the mind and imagination of a designer, of course, but also in a physical space, an insider sanctum that is seldom seen by consumers: the office and atelier. In many ways, these private spaces reflect the choices and points of view that inform fashion as much as any runway show. If in doubt, simply consider the outtakes from a series of behind-the-velvet-curtain videos in which designers from New York to Paris invited The New York Times into their professional lives. First up: Jason Wu (吳季剛), who opened his namesake label in 2006 and shot to fame as the designer of Michelle Obama's inaugural gowns, in his New York office. (This interview has been edited and condensed.)
Q: How long has this been your professional home?
A: I've been in this office three years. I always wanted to be in the garment district because I make 90 percent of my production here, so I thought it was really important that I was very close to the work, and am still close to the work, and part of New York. It feels really very New York to me. You have people hauling fabric at 8am, and tons of delivery trucks, and loud sirens.
Jason Wu shot to fame in 2009 as the 26-year-old designer of US first lady Michelle Obama's inauguration gown.
Photo: Reuters
Q: And you moved here because you outgrew your previous space?
A: My last studio was 3,000 square feet (278.71 square meters), and this one is 10,000 square feet, plus I have another floor, so it's six times the size maybe. My previous office was very primitive. I had painted the walls myself. I did charcoal gray and white. It was very minimal, not because we wanted it to be minimal, but because at the time we couldn't afford anything. With this office I got to kind of explore and play. When I first moved here, it had red walls with gray carpet. It was some sort of a trading firm and it was like 10 offices on this floor, so we had to take everything out.
Q: How did you choose your personal corner in this space?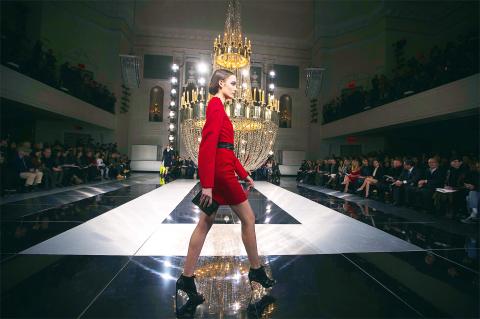 A model presents a creation from the Jason Wu collection during New York Fashion Week last Feb. 8.
Photo: Reuters
A: This nook felt like the most private place in the office. It felt like it was calling my name.
Q: Is it important to you to have a place to retreat?
A: Yes. My daily life is a lot of hustling and bustling, and a lot of insane moments, especially during fashion week. But sometimes you need that moment of quietness where you put the drapes up and kind of like have five minutes of "do not disturb." Not that it really ever happens. But I do start the day everyday here with my coffee. Email, phone calls — it all happens here.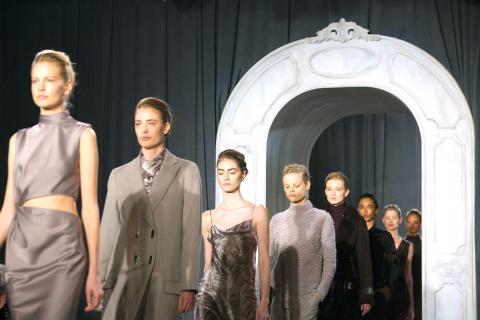 Models present creations from the Jason Wu 2014 Fall/Winter collection during New York Fashion Week on Feb. 7.
Photo: Reuters
Q: How did you choose your desk?
A: This is a vintage desk. I like that it's kind of classic and wood and not your typical work desk. A lot of me is very traditional. I like old bones and classic furniture, and this kind of represents me very well.
Q: And the chairs?
A: They're from DDC (the design firm). I used to pass by it all the time as a student at Parsons, seven or eight years ago, and the one thing I wanted was these chairs in black and white. I finally got them.
Q: What's on the shelves?
A: A lot of books. I buy books every week. I guess I'm a hoarder of books, but I love the way the paper feels, and the way they look and smell. There is a little cat that represents good fortune. I've always had this affinity for cats, so my parents gave me that when I was little, and I kept it. There's a little clock, because I'm always late, so it's kind of a nice reminder.
Q: Do you draw your collection out first, or do you design on the computer?
A: I do everything by hand. Computers are only for emails. I'm a very computerless person normally. I still cut and paste and use glue and marker. Working with the hand is still the most appealing to me.
Q: Is that wall made of corkboard?
A: Uh-huh. I have the need to pin everything, so you'll see there is corkboard everywhere in my studio. It's like a larger version of the fridge magnet situation, where you just put everything you know. I collect things I like to look at it, and it's kind of become my little history. I build the walls every season according to the collection. Sometimes I start with a person, sometimes with a color, sometimes with an idea and sometimes with a combination of the three. In two weeks this will probably explode with many more pictures. And then, the day after the show, I'll take it all down. It's so liberating. It's kind of the cycle of life.
Q: Afterward, do you keep all the research and pictures or throw them away?
A: I file everything into folders by season. Again, I'm a bit of a hoarder. I like to keep things that I looked at or have been inspired by, because I think at some point you do want to go back and have a look. Those are moments that can't really be replaced. Like the note wall.
Q: The note wall?
A: I always loved the idea of having stationery. I'm in the habit of writing notes, and when people write me notes it feels too special to throw away. I've been very fortunate to be able to meet so many different kinds of people who I never thought would a) know who I am, or b) even care. So I decided to put the notes up one section of the cork wall and not recycle them because they are something that can never be replicated again, and that is very, very dear to me. It's become a bit of a project. Those I don't take down.
Comments will be moderated. Keep comments relevant to the article. Remarks containing abusive and obscene language, personal attacks of any kind or promotion will be removed and the user banned. Final decision will be at the discretion of the Taipei Times.