Not just a game
Taiwan's social movements are inspiring a crop of toys and other novelties meant to spark conversation
Thick, hard and throbbing. That is how Chen Wei-ting's (陳為廷) penis is said to look and feel. Some beg to differ, insisting that it is cute and chubby, more like a teddy bear. The manhood of Lin Fei-fan (林飛帆), Chen Wei-ting's close comrade, receives different comments. One calls it pink and squeaky clean; another maintains that he has big, round and well-shaped glans. But all in all, Lin's should be long and thin — that is, according to a poll conducted by sex company Exotica (異物) to find out about how people think of the two Sunflower movement leaders' male members.
What's next, you wonder.
Exotica's made-in-Taiwan dildos, which come in two models inspired by the above-mentioned student activists, have garnered enthusiastic reviews after the first batch of 1,000 pleasure sticks came out in June. They sold out almost immediately.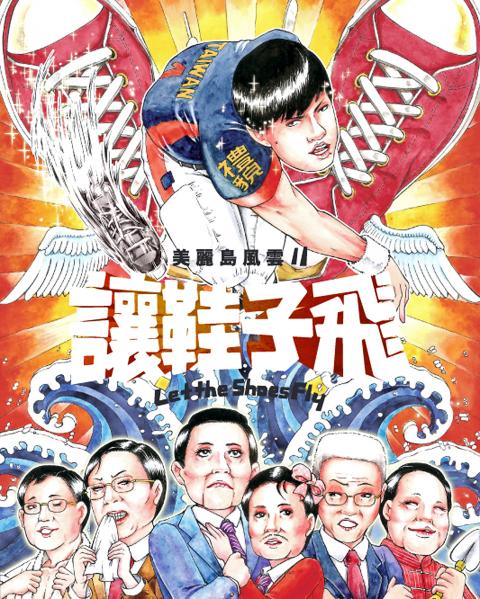 Let the Shoes Fly by board-game maker Godyu.
Photo courtesy of Godyu
"Fei-fan feels really gentle and tender, while Wei-ting, in comparison, is strong and fierce," says a user identifying herself as Aichi Don't Be Shy (艾琪別害羞) on the company's Web site (exotica-taiwan.blogspot.tw), after engaging in a "threesome" with the two life-like vibrators.
SEX AND ACTIVISM
Set up by a couple of LGBT and sex rights activists a few months ago, Exotica is envisioned as a social enterprise that aims to destigmatize sex and sexuality as well as providing financial support to cash-strapped social movements and groups. During the occupation of the Legislative Yuan, the two entrepreneurs, both in their late 20s, found it troubling that the mainstream media tried to besmirch the movement by accusing the student protestors of promiscuity. Equally problematic is that, rather than defending their libido, most activists chose to keep the movement's image clean, pure and sex-free.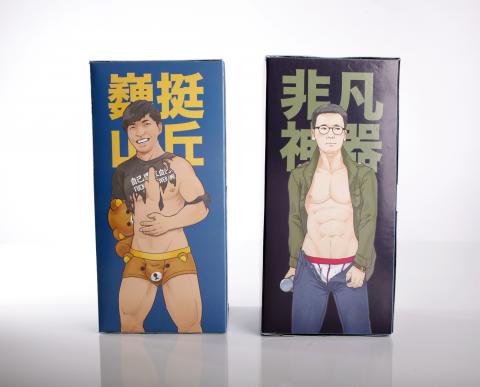 Sex toys inspired by student leaders of the Sunflower movement.
Photo courtesy of Exotica
Ever since Lin and Chen jokingly kissed each other at an anti-media monopoly rally in 2012, the two have become objects of desire in the eyes of many, say the Exotica's founders on its Web site.
Making dildos nicknamed Fei-fan and Wei-ting sheds a playful and positive light on sex, an often stigmatized and rarely discussed subject. It's also an enjoyable way to recognize and embrace individual desires — even in the public sphere.
In the private realm, dildo users are encouraged to learn one or two things about activism while having an orgasm. Every purchase includes an introduction to civil disobedience campaigns, complete with pointers on how to fight against unjust authorities.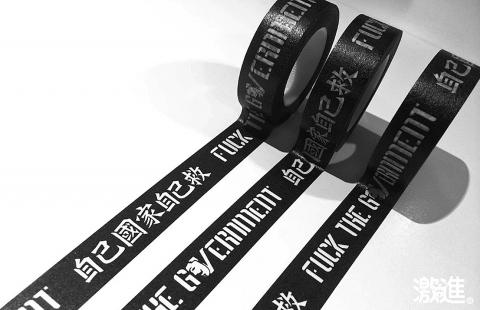 Products by Radicalization come with a loud and clear anti-establishment message.
Photo courtesy of Radicalization
Exotica's dildo-making business is far from alone in its endeavor to spread the rebellious spirit. Influenced by or directly involved in the wave of social movements in recent years, more and more individuals have become socially conscious and started different undertakings to advocate, raise awareness and call for action.
SOCIALLY-CONSCIOUS STREET WEAR
Anyone who has been to the demonstrations taking place over the past year would not fail to recognize black T-shirts emblazoned with the bilingual slogan Fuck the Government (自己國家自己救) or the black towels that read Civil Revolt (官逼民反), carried by protestors like a badge of honor.
Products by Radicalization come with a loud and clear anti-establishment message.
Photo courtesy of Radicalization
Both items come from Radicalization (激進), a street-wear label launched in 2011 by members of political hip-hop group Kou Chou Ching (拷秋勤). Having been actively involved in virtually all the major social protests over the years, the veteran hip-hopsters make sure that their label has a very clear attitude.
"Like celebrities, street-wear labels in Taiwan are afraid to make political statements. We, on the other hand, label ourselves right from the start. We loathe them [the Chinese Nationalist Party (KMT)]. We are against them. And we don't care if you don't like [what we do]," says Chen Wei-chung (陳威仲), the designer and owner of the label.
Incorporating the Guy Fawkes mask, now a universal symbol for anti-establishment protest, into the brand logo, the people behind Radicalization excel at conveying simple, yet powerful messages. One of their T-shirts, for example, draws inspiration from a song by political rapper Dog G (大支) and is fitted with a bilingual sign that reads "Taiwan is Not Part of China (台灣的內地是南投)." Combining social advocacy and practical functionality, their anti-nuclear raincoat might come in handy when the police decide to use water cannons to disperse protestors.
Kou Chou Ching's activism, however, has also produced plenty of enemies. Sold online exclusively through Tachihsiang Monopoly Bureau (大吉祥公賣局) in the Taiwan section of Yahoo! Auctions, Radicalization's products are often the target of attack. Several negative reviews of the popular Civil Revolt towel resulted in it being removed from the auction site.
Radicalization's designs — especially the Fuck the Government T-shirt, which has become immensely popular after Lin and Chen Wei-ting were seen wearing it during the occupation of the legislature — face another problem: piracy.
"[During the occupation], we decided to suspend our business because we felt it was not the time to have commercial activities. Then street vendors came in with pirated T-shirts, and they sold like crazy. One day I saw no peddlers and was like 'that's good.' But a volunteer came to me and said, 'Actually they sold everything and left early,'" Chen Wei-chung says.
In May, the designer and rapper received a notice from the police asking him to appear at the police station to be questioned over his involvement with the March 18 legislative chamber siege. He refused to go.
PLAYING GAMES
Going back to several months earlier. When Chen Wei-ting threw a shoe at Miaoli County Commissioner Liu Cheng-hung (劉政鴻) during a conflict last September, a group of 30-somethings were inspired and created Let the Shoes Fly (讓鞋子飛), a board game designed to familiarize players with current events and issues.
The Sunflower movement, public demonstrations triggered by the death of army corporal Hung Chung-chiu (洪仲丘), land expropriations for the Taoyuan Aerotropolis project and the forced demolition of private homes in Dapu Borough (大埔), Miaoli County are among the major social issues touched on by the game.
"We hope that by combining games with politics as well as important issues that people should be aware of, young people can become more interested in learning about what is happening in our society and doing their own research on things like why people would want to throw shoes at someone else," says Wu Po-yang (伍博暘), co-founder of Godyu (神遊有限公司), the company that makes the board game.
Politically savvy and creatively astute, the board-game makers have generated plenty of discussion since their first game, The Wonderful Island (美麗島風雲), came out last year. The goal of the game is to remind the public what kind of tricky business the politicians have been up to over the past decade.
The Wonderful Island features 35 characters, all of whom are trying to get elected. Miaoli County Commissioner Liu is depicted as an ogre who turns the homes he destroys into gold bricks. On the side of the green camp, former president Chen Shui-bian (陳水扁) looks like Neo from the Matrix, catching two bullets — a reference to the shooting incident on March 19, 2004 — with his bare hands. Meanwhile, Su Tseng-chang (蘇貞昌) appears in the shape of a light bulb (Su's nickname), looking awkwardly outdated under LED lighting.
"It's not my intention to make political satire. I want to create villains with strong personalities ... So even if you get the card of Emperor Ma (President Ma Ying-jeou, 馬英九), you will be like, 'Wow, he is powerful,'" says artist Rackat (搖滾貓, real name Chien Chen-chieh, 簡振傑), who designed and drew all the game's characters.
CORPORATE SOCIAL RESPONSIBILITY
Chen Wei-chung says creating a label comes with social responsibilities. As a designer, he often helps design and manufacture products to help raise funds for non-profit organizations such as the Taiwan Association for Human Rights (台灣人權促進會).
Radicalization also frequently holds charity sales and donates all their profits to social activist groups including Black Island Nation Youth Front (黑色島國青年聯盟), one of the central groups that took part in the Sunflower movement.
Occasionally, the philanthropic activists benefit from their own good deeds.
"I made a donation to the Black Island, and ... [later I was] arrested for blocking Zhang Zhijun (張志軍). Part of the donation was used to bail me out," says Chen Wei-chung, referring to the incident in June when several activists tried and failed to block a convoy transporting Zhang, minister for China's Taiwan Affairs Office (TAO), to an Atayal village in Wulai District (烏來).
As for the dildo-makers, who have engaged in activist campaigns such as the preservation movement of Losheng (Happy Life) Sanatorium (樂生療養院) and sex worker rights campaign by the Collective of Sex Workers and Supporters (日日春關懷互助協會, COSWAS) since their college years, they decided to donate 30 percent of the profit earned by the Fei-fan and Wei-ting dildos to support sex rights groups including COSWAS and Hand Job TW (手天使), an organization advocating the right to sex for people with disabilities.
Business has been brisk as the dildos are used (presumably) in bedrooms not only across Taiwan, but in Singapore, Hong Kong, Malaysia, China, Australia, France and the US. The two entrepreneurs have been considering making dildos in honor of activists Dennis Wei (魏揚) and Wang Yun-hsiang (王雲祥), though as of press time, it isn't clear if they will take that leap. For now, the Fei-fan and the Wei-ting don't seem to bother the student leaders on which the products are based. According to one of Exotica's founders, who says he's known the real-life Lin and Chen Wei-ting for a long time, the two are open to the idea of being the inspiration for something that gives pleasure.
Comments will be moderated. Keep comments relevant to the article. Remarks containing abusive and obscene language, personal attacks of any kind or promotion will be removed and the user banned. Final decision will be at the discretion of the Taipei Times.