Unfinished business
A performance in Beijing riffs off the Broadway hit 'The Vagina Monologues' to discuss China's love and dating scene
For many of today's Chinese youth looking for a partner, love takes second place to parental pressure, moving up the social ladder and a heavy dose of fear drummed into women that they will end up as "leftover."
These aspects and others relating to love, dating and women's status in the Middle Kingdom will be examined today in a China-inspired version of The Vagina Monologues, a Broadway hit exploring womanhood that got actresses voicing women's most intimate feelings to packed theaters.
In The Leftover Monologues, Chinese and foreign women — and a few men — will tell their own stories of searching for a partner, their observations of love and sex and the panic aroused by the thought of becoming a "leftover woman" — defined by a women's agency linked to the Communist Party as a single urban female over 27.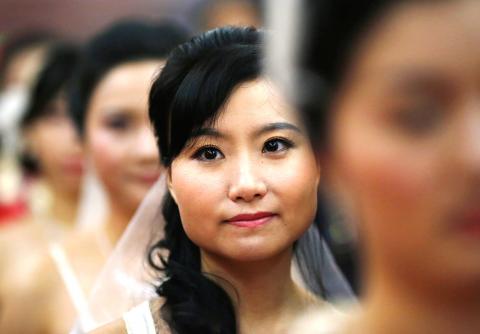 A bride waits to participate in a staged mass wedding, organised as part of a matchmaking event to inspire singles to get married in Shanghai in May of last year. There are plenty of men to go round among China's nearly 1.4 billion people but social status can conspire against single professional women, sometimes making it difficult to find a partner.
Photo: Reuters
Wang Anqi is only 23 and already worried.
"People start to use 'leftover' to somehow remind us to lower our criteria, be realistic, be practical and go out and find somebody," said Wang, who will talk about how the term has knocked her self-confidence. "They will say, 'Time flies, now you think you are excellent, young, you can find any guy you like, but in just a blink you will be 30."'
The Vagina Monologues has been performed in Chinese universities but its first professional performance in Shanghai was stopped the day before it was to open in 2004, reportedly because of sensitive content, including the word "vagina."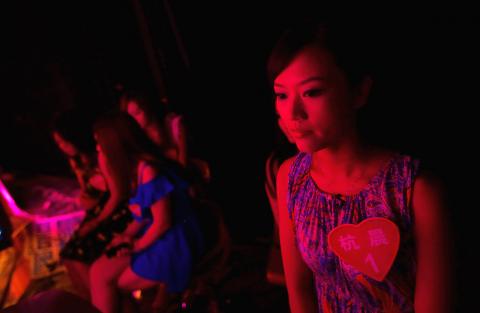 Hang Cheng, 27, waits backstage during the recording of an episode of Meet you on Saturday, a matchmaking television program. In China, single women over the age of 27 are known as "leftover women," a label intended to put pressure on women to hurry up and get married and bear children.
Photo: Reuters
Its Chinese sister is an amateur production to be held at a central Beijing arts venue; 16 people are to deliver monologues. It is the brainchild of Roseann Lake, an American journalist who has just finished writing a book about love in China.
"I would really like if these monologues somehow forced a reappraisal of Chinese women in society," Lake said. "They are constantly being tallied, and their value on the marriage market is always fluctuating depending on age and on looks and on color of skin and size of eyes."
BIG STAKES
The financial stakes of marrying well have risen following China's economic boom and the development of its private property market. In decades past, people were assigned residences by their workers' unit. Now many young people and their parents view marriage as a way to gain something — an apartment, a car or a coveted Beijing residence permit, or hukou, which brings local health and education benefits.
Many young Chinese are only children because of the government's birth limits, so they also feel the full weight of their parents' hopes and fears and pressure to deliver a grandchild.
That means many women and some men dread going home for Chinese New Year, the year's most important holiday, when parents — and sometimes relatives and neighbors — often ask why they aren't married yet.
Song Yanyan, 35, was surprised this year when after dinner her father's friend called her over for a talk and, in a grave tone, asked her if she was planning on being single her whole life.
She returned from working in the US a year and a half ago and, after trying to find a boyfriend through her friends and friends' friends, signed up for an online dating service. Her experience with the service, and her surprise at the customer service center's offer to find her a man earning more than 500,000 yuan (US$80,000) a year if she paid more than 10,000 RMB (US$1,600), is the subject of her monologue.
"Dating here is more like a negotiation," Song said. "You know this person not by who they are but by what they have," such as their own apartment and a Beijing hukou.
"If those criteria fit, then they start to talk about whether they should be boyfriend and girlfriend, and then they talk about if they have some intimacy or not," she said.
PRESSURES
This rather clinical approach is buoyed by family and social pressure. When friends set Song up on a blind date, they will tell her whether the man owns an apartment and about his financial status and educational background rather than what he is like as a person, she said.
Sometimes, when you first meet your boyfriend's parents or grandparents, they will "ask about your family background rather than yourself," said Wang, the 23-year-old. She says often worries she may not be "good enough" to meet their expectations.
Liu Chang, a 27-year-old engineer, says his friends would never consider a woman without a Beijing hukou as a long-term prospect, mainly because of pressure from their parents. They worry that while she would receive the same benefits as her Beijing husband, her parents wouldn't and are a potential burden, Liu said.
Many people are looking to get ahead by marriage, such as tying the knot with someone who is richer, said Liu, whose monologue is about his gradual realization that love is a selfless thing and not as transactional as society would have many believe.
For many people, "love is not a determinant factor," he said.
The pressure on women in particular has grown as the phrase "leftover woman," or shengnu in Chinese, gets flung around.
The term was defined in 2007 by the All-China Women's Federation, an organization that promotes government policies on women, as an unmarried urban professional woman over the age of 27.
This came on the heels of a government policy goal of "upgrading population quality," suggesting it wants smart women to pass on their genes to children, said Leta Hong Fincher, who has written a book called Leftover Women: The Resurgence of Gender Inequality in China. The subsequent promotion in state media of the "leftover" label is intended to put pressure on women to hurry up and get married and bear children, she said.
Ironically, that phrase is statistically inaccurate because there are more men than women in China, Hong Fincher points out.
"The fact that this campaign is stigmatizing and insulting women on one level illustrates the widespread sexism in Chinese society," she said.
Che Xiao, a postdoctoral fellow at a theater academy, will deliver a monologue in which she calls for the derogatory phrase to disappear. She says it helps preserve the staunchly patriarchal nature of Chinese society and discrimination against women.
Song said she didn't want to get married simply to get rid of the "leftover" label.
"I'm just trying to find someone who I really adore."
Comments will be moderated. Keep comments relevant to the article. Remarks containing abusive and obscene language, personal attacks of any kind or promotion will be removed and the user banned. Final decision will be at the discretion of the Taipei Times.