Unleashing creativity
Artists Beat the Flood 2, a day-long arts event taking place today at Taipei's Huashan 1914 Creative Park, allows visitors to watch and interact with artists
The Red Room group has collected a very varied assortment of painters, musicians and other artists from around Taiwan for a day-long event today at Taipei's Huashan 1914 Creative Park called Artists Beat the Flood 2.
Artists Beat the Flood 2 was launched to help in the building and creation of a shared artistic/creative community in Taiwan. And like the first event, held on Sept. 5, 2009, artists will be painting on site during the day and there will be a silent auction of their works as well as some others that have been donated.
The money raised from the entrance fees and art sale will be used toward event expenses and future events organized by the Red Room, artists, musicians and collaborating parties, participating artist Rohma Mehta told the Taipei Times in an e-mail.
Hanna's Bindi, a painting by Calcutta-born and former Taipei resident Roma Mehta, one of the artists who has contributed a work to Artists Beat the Flood 2 today at Huashan 1914 Creative Park in Taipei.
Photo Courtesy of Roma Mehta
Among those who are donating their time and/or works are Taipei-based illustrator Ann Chang, freelance animation director and illustrator JJ Chen, Daniel Desjardins; Charles Haines, poet/painter/jewelry maker Kate Huang (黃莞淑), Constance Woods and self-described "street artist" Joe Fang (方建翔).
The expatriate artists, most of whom are professionals, hail from several countries, including the UK, Croatia, India and Canada.
The event offers visitors a chance to interact with the graphic artists and painters during the creative process and watch how individual works develop.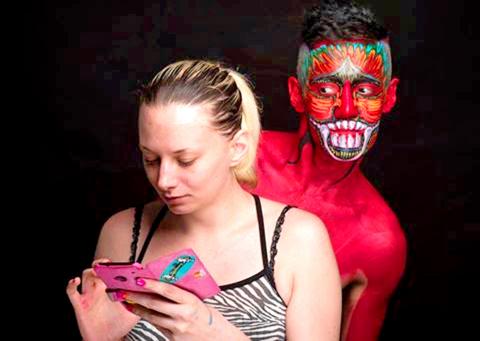 Croatian artist Aleksandra Tolnauer is one of the artists contributing a work to Artists Beat the Flood 2 today at Huashan 1914 Creative Park in Taipei.
Photo Courtesy of Aleksandra Tolnauer
However, while the artists will be getting to work early on, starting at 10am, the musical portion of the day does not start until 1pm.
As of press time, the line-up was Almost Irish at 1pm, Josh Drye at 2pm, Future Lands String Quartet at 3pm and the quartet Strawberry Jam Sandwich at 4:30pm. There will be two "unplugged" performances, first by pop rockers Dress Shop at 5:45pm and then Calico (花貓畫國畫) at 7:15pm.
Although the publicity information says the event runs from 10am to 7pm, Calico is not taking the stage until after 7pm, so figure on the show going on at least until 8pm.
COMMUNITY OF ART LOVERS
The Red Room began as Stage Time and Wine@Red Room in November 2009, pulled together by three members of the Mehta family, who were long-term Taipei-based expatriates, architect Leiven Hwang (黃立文), entrepreneur and activist Ping Chu (朱平) and several others, who wanted to create a space where people could share their love of the spoken word, creativity and artistry — as well as some wine and snacks.
While the initial monthly get-togethers focused on sharing poetry and short-story recitations — and some musical contributions — mostly in English, the sessions have evolved and grown more cross-cultural, multi-dimensional and multi-generational, drawing people not just from Taipei, but from around the nation.
Held on the third Saturday of every month, the Red Room is a well-established gathering that regularly packs the second-floor workshop space to capacity. The sign-up book by the door for those who want to share fills up rapidly. It is hard to predict what will be on tap: poetry, a personal memoir, rapping, an interpretive dance, a song on the guzheng (古箏) or liuqin (柳琴).
The creativity unleashed by the Red Room and the camaraderie and networking that are natural by-products have led to some spin-off ventures, including Red Room Radio Redux, which focuses on reader's theater and radio drama and has done four hour-long drama productions in cooperation with International Community Radio Taipei, and Aside@the Red Room, a curated show. There have also been fundraisers to raise money for Playing for Change, a charity that builds music schools in impoverished areas of Africa and Nepal.
Publication Notes
Performance notes:
WHAT: Artists Beat the Flood 2
WHEN: Today, from 10am to past 7pm
WHERE: Huashan 1914 Creative Park (華山1914文創園區), Red Brick Lane 1 Huashan West Block 5 (花草雨林館,紅磚區西5棟), 1, Bade Rd Sec 1, Taipei City (台北市八德路一段1號)
ADMISSION: NT$300, which includes one drink and one snack; available online at www.accupass.com/event/register?eid=647140284349924 or on site
Comments will be moderated. Keep comments relevant to the article. Remarks containing abusive and obscene language, personal attacks of any kind or promotion will be removed and the user banned. Final decision will be at the discretion of the Taipei Times.