Book review: Lonely Planet Taiwan
Lonely Planet's ninth edition on Taiwan has once again served as a trailblazer, doing what Taiwan's authorities have notoriously failed to achieve in promoting the nation's tourism
The Lonely Planet series has a great and glorious history as a facilitator for a whole generation of young people for whom international travel became a possibility despite limited funds. What they had was time and enthusiasm, and Lonely Planet books helped open up the world to them. The series is now heading into its fifth decade and has come a long way from Across Asia on the Cheap, published in 1973 by Tony and Maureen Wheeler, which served as the template for the series. It was a book with strong opinions, conceived and written in the passion of a couple's discovery of new worlds. There was a youthful spirit that set it apart from the older generation of travel guides that favored cultural information over the practicalities of low-cost travel.
This spirit of adventure has carried over into the new 9th edition of the Lonely Planet Guide to Taiwan. Coauthored by Robert Kelly and Chung Wah Chow, the guide is clearly written by people with a deep passion for Taiwan and the many things it has to offer. The strong opinions that are at the heart of the Lonely Planet enterprise, now a lucrative property in the publishing industry that was sold on by BBC Worldwide to billionaire Brad Kelley's NC2 Media last year, have remained.
This is admirable in and of itself, and for anyone with a love of Taiwan's great outdoors, fully deserving of unrestrained applause. As someone with a great love of trekking and cycling, it is hard not to be overwhelmed with admiration for a book that provides such a wealth of information for those who want to get off the beaten track and venture into Taiwan's great outdoors, whether on foot, bicycle or scooter. There is information about applying for trekking permits to Taiwan's high mountains and quite detailed information about various two to three day hiking routes, information that is notoriously difficult to come by in English, and all very well presented.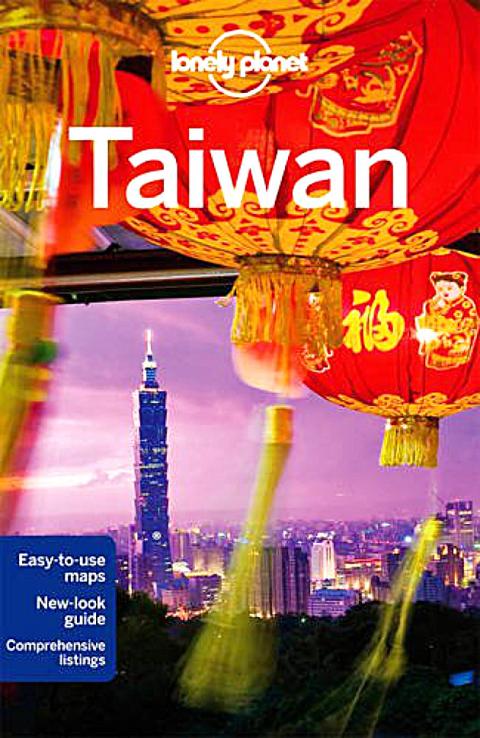 Lonely Planet Taiwan, by Robert Kelly and Chung Wah Chow
Taiwan's tourism authorities and many travel companies are inclined to neglect Taiwan's mountain environment, probably one of its greatest attractions, but for the most part, not what the majority of travelers visiting Taiwan will have allocated time for. This is the conundrum that this new edition of the guide conjures up in this reviewer's mind. Without books like this, Taiwan's mountain environment will not get the kind of coverage it deserves, but at the same time, one cannot help but feel that for the average traveler, the book's priorities are slightly skewed.
In making this criticism about the emphasis of the book, it must be said that all the major bases are covered. The Lonely Planet series has been an ongoing project for such a long time that the basic formula for an excellent guide book has been well and truly refined, and despite the heavy emphasis on outdoor activities (which are not yet a significant aspect of Taiwanese life, though rapidly growing) there is much information in the handy little volume. This information is, for the most part, well organized, with its rigorous structure diversified with occasional digressions, conveniently placed in boxes that provide unconventional suggestions or historical context. The meticulously designed structure holds its own against the occasional waywardness of the writing team, and all the main tourist demographics are catered to. The authors also provide some considerate hints about beating the worst of the crowds when tackling the tourism mainstream, as in a suggestion that visitors to the National Palace Museum visit during extended Friday and Saturday opening hours when the Chinese tour-bus crowd has already been chivvied off to dinner.
Suggestions for Taipei venues for gay and lesbian visitors and places and activities for families with children are also helpful.
It was good to see a sidebar on the activity of indoor shrimping, an activity generally associated with drunken loners, furtive couples, criminal negotiations and sundry persons without a life. It is nevertheless something that the adventurous tourist might wish to experience and certainly the kind of place where a visitor might connect with grassroots Taiwanese culture. Another sidebar on stinky tofu happily embraces one of Taiwan's more (to foreigners) noisome culinary attractions.
The weirdness of Taiwan is treated respectfully and helpfully, with a "Taipei Street Decoder" provided to help visitors address the ongoing issues with Taiwan's Romanization of place names and prepares visitors for an inevitable confusion that this creates. The authors present a slightly optimistic picture of domestic travel within Taiwan for those with no knowledge of the language, especially outside of the main urban centers.
There are also occasional lapses in the editing. The architectural style of one temple that is mentioned on page 60 is compared to another that is not discussed until page 65, with no assistance from a page reference. A couple of other lapses with incorrect page references are a minor annoyance.
Sometimes the writing style can come across as a little gnomic, with one entry for a Taipei jazz club merely indicated that it has been in "the same location since 1978," but providing no other details. There are similar examples scattered about the book, but again it must be said that for the most part, given the concision required by the style of the book and the amount of information it covers, most entries are pertinent and helpful.
There is a vast amount of useful information in Lonely Planet's new edition on Taiwan, and it is remarkably accessible and easy to use. It is an ideal entry point for people planning a trip to Taiwan, covering all the main bases and providing room for sparks of idiosyncrasy.
Lonely Planet is once again serving as a trailblazer, doing what Taiwan's own tourism authorities have notoriously failed to achieve in promoting some of the island's very best tourism resources.
Publication Notes
Lonely Planet Taiwan
By Robert Kelly and Chung Wah Chow
399 pages
Lonely Planet Publications
Comments will be moderated. Keep comments relevant to the article. Remarks containing abusive and obscene language, personal attacks of any kind or promotion will be removed and the user banned. Final decision will be at the discretion of the Taipei Times.