Old stomping grounds
Ai Weiwei: According to What? is the latest touring exhibition by the Chinese artist
During the 1980s and 1990s, when Chinese artist and provocateur Ai Weiwei (艾未未) came to New York to study, part of his stay was spent living in what used to be a seedy, drug-ridden Brooklyn neighborhood called Williamsburg, known for its abandoned factories and warehouses whose capacious and sun-drenched interiors made for ideal art studios.
Perhaps it is fitting, then, that the first North American survey of Ai's work has made its final stop this spring in the borough he once called home. Opening at the Brooklyn Museum last Friday, Ai Weiwei: According to What? — which takes its name from a 1964 Jasper Johns painting — features around 50 installations in all, a mix of videos, photography and objects crafted from marble, porcelain and wood that opine on some cultural, social or political facet of Chinese society.
Ai, 56, who once served as a design consultant for Beijing's Bird's Nest Stadium, built for the 2008 Olympics, continues to mature as a fearless critic of China's government, and much of his art speaks to that mission. Still under house arrest, Ai was unable to travel to the US to tour with his exhibit, which began in Washington in October 2012.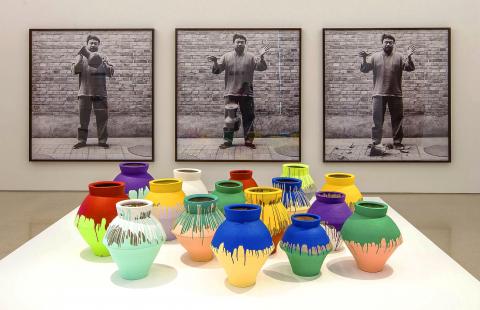 A handout picture released by the Perez Art Museum on Feb. 18 2014 shows an installation by Chinese artist Ai Weiwei at the museum in Miami, Florida in November. According to a Miami Police report, on Feb. 16 a local artist picked up one of the vases, allegedly worth US$1 million, and smashed it on the floor. The local artist, identified as Maximo Caminero, said he was protesting that the museum only displays international artists and no local ones.
Photo: EPA
Ai arrived in New York in 1981, at a time when urban decay had already begun to eat away at the city's core. Living in Manhattan and Brooklyn until 1993, when he returned to China to be with his ill father, Ai had a front-row seat to the activism that grew out of the social and political causes of those heady times, including the AIDS and crack epidemics, an inexorably soaring homicide rate, and deteriorating race relations among blacks, Koreans and Jews.
One part of the exhibit documents this grittier, more volatile New York in a series of black-and-white photographs Ai took between 1983 and 1993. Images of bloodied demonstrators and police officers in riot gear standing sentry behind wooden sawhorses, along with candid shots of Beatnik poet Allen Ginsberg and civil rights leader Al Sharpton, reveal Ai's early interest in social and political activism.
They also summon up the visceral emotions felt recently by so many Taiwanese, after seeing photos and video of Taiwan's police using water cannons and batons to disperse protesters outside the Executive Yuan on March 24.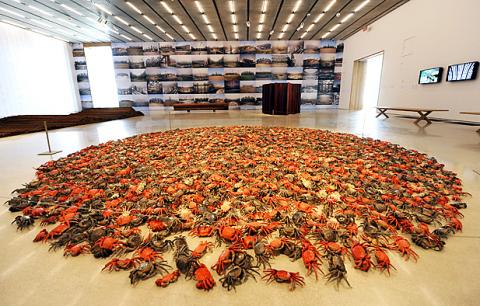 Ai Weiwei, He Xie (2010).
EPA/Rhona Wise
The exhibit also features Ai's Colored Vases, originally a collection of 16 Qing-period vases dipped in bright colored paint that is meant to question the definition of cultural value. Colored Vases made headlines in February when Maximo Caminero, an artist visiting the Miami Art Museum where it was on display, lifted one of the vases and let it drop to the floor. Caminero's alleged actions appear to mimic those documented in Ai's work Dropping a Han Dynasty Urn, which is also part of the Brooklyn Museum exhibit. This photographic triptych records Ai dropping a 2,000 year-old Chinese vase, in an act that challenges traditional notions of how objects are valued based on their age.
Off in another room are two installations that speak to Ai's concern for sociopolitical plight in China. The first, He Xie (河蟹), features 3,500 porcelain crabs piled on the floor in the center of the room, as if dumped from buckets. The scene is a reference to a dinner Ai gave at his Shanghai studio in 2010, before authorities tore it down. The name is also an ironic play on Chinese word hexie (和諧), a homonym that means harmony.
Looking down at He Xie is another installation called Snake Ceiling, which recalls the more than 5,000 school children who died in the May 2008 Sichuan earthquake that killed nearly 70,000 Chinese. Snake Ceiling is a playful slithering serpent fashioned out of backpacks of varying sizes and colors, a reference to the thousands of children who perished when their shoddily constructed schools came crashing down.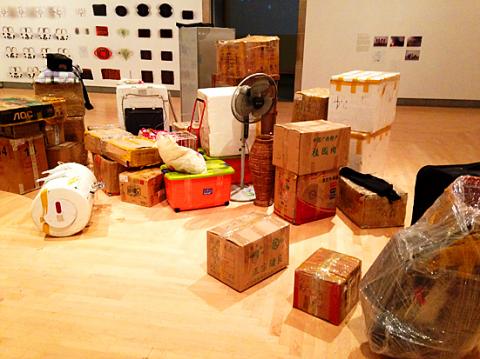 The belongings of Chinese sex-worker activist Ye Haiyan are part of a new installation in Ai Weiwei: According to What? at the Brooklyn Museum.
Photo: Chris Fuchs
Ai's critical examination of the Sichuan earthquake continues in an adjacent room with the installation Straight. Constructed out of 34.4 tonnes of mangled rebar from toppled buildings, Straight takes on the shape of the Sichuan earthquake fault line, its undulating appearance paradoxically conjuring up the serenity of bamboo swaying in the wind.
In the same room, Straight draws museumgoers into another work whose use of visual understatement drives home the untold suffering inflicted on the families of earthquake victims, many of whom lost their only child because of China's One-Child Policy.
Working with 10 volunteers, Ai set out in 2008 to identify every last child who perished in the earthquake, compiling his findings in a work entitled Names of the Student Earthquake Victims Found by the Citizens' Investigation. Viewed from the far side of the room, the list of 5,196 names appears as minuscule black typeset arranged neatly across the entire length and width of a white wall, the resultant image perhaps a metaphor for the countless, faceless, nameless dead.
Not to be missed are some of Ai's newer, updated installations. Shown for the first time in North America since last year, S.A.C.R.E.D., which is displayed in the museum's lobby, consists of six iron boxes containing dioramas of scenes from Ai's nearly three-month imprisonment by Chinese authorities in 2011. Through an opening on the top of the boxes, viewers gain access to Ai's confined, cramped life in a cell, where he ate, slept, showered and used the toilet under the watchful eye of guards.
Stacked, also on the same floor as S.A.C.R.E.D., consists of hundreds of metallic bicycles piled up high to the ceiling. Bicycles play an important role as vehicles in Chinese culture and also in Ai's life.
Also featured is an installation showcasing photographs and the belongings of Ye Haiyan (葉海燕), a sex-worker activist frequently harassed by the Chinese government. Everything from Ye's tattered suitcase to scuffed-up refrigerator is arranged in the center of the room, just as Chinese police left it when they evicted Ye and her family last year.
As Taiwan reflects on recent events — the legislative process of a controversial trade pact, the occupation of parliament, the police response to student protesters, the partisan bickering among politicians — Ai's detention in China and his Brooklyn Museum exhibit remind us just how vital free expression in any medium is if citizens are to serve as a counterweight to their government.
Comments will be moderated. Keep comments relevant to the article. Remarks containing abusive and obscene language, personal attacks of any kind or promotion will be removed and the user banned. Final decision will be at the discretion of the Taipei Times.