Restaurant review: Merlot Cafe & Bistro (夢樂小廚)
Experiencing a city on a weekend or over a lifetime inevitably spells great differences. For long-time residents of Taipei, life doesn't only involve going to Taipei 101 or dining at Din Tai Fung (鼎泰豐). At first glance, Merlot Cafe & Bistro is one of such places that can simply fall off the radar — or never appear in the first place. Ranked No. 1 on TripAdvisor among 8,865 restaurants in Taipei, the intimate bistro is a well-guarded secret among foreign visitors to the city, with relatively little coverage from local food bloggers and journalists. But a closer look reveals something that we all look for in a place to eat, drink and be merry: quality food and a friendly host who knows his customers by their first-names.
Small, homey and hidden away in a back alley off the bustling Linsen North Road (林森北路), the establishment appears modest compared to its reputation. The interior is neat, clean and, with a capacity of merely 20 dinners, can get crowded when the restaurant is full. Often, the smell of food being prepared wafts up from the open kitchen, while Bob Chau, the gracious host and an ABT (American-born Taiwanese) from California, glides between tightly packed tables, chatting with patrons about everything from food to life.
Much like the cordial service, Chau's cooking is also a hearty fare. For appetizers, choices include the baked mozzarella (NT$280) and Merlot's special salsa and tuna (NT$250) which is composed of salsa, creamy tuna fish and parmesan cheese with extra virgin olive oil drizzled on top. Both are served with toasted Ciabatta bread. The popular Italian style antipasto salad (NT$490) appeals to lighter appetites with a medley of salami, fresh tomatoes, basil, cucumbers, alfalfa sprouts and Parmesan cheese.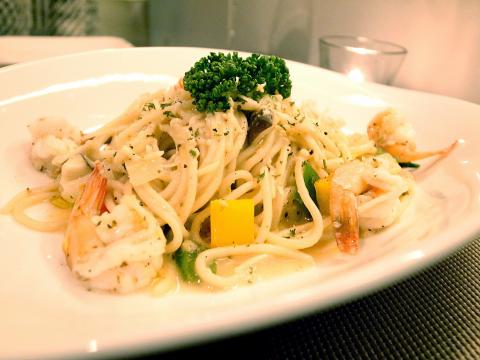 Merlot Cafe & Bistro offers hearty, Italian-themed fare.
Photo: Ho Yi, Taipei Times
Featuring handmade pastas, Merlot's kitchen offers a satisfying selection of the Italian staple. The shrimp and vegetable spaghetti (NT$300) I tried impressed with the substantial texture of the pasta cooked al dente and paired well with shrimps sauteed in white wine and with garlic, onions, bell peppers, mushrooms and basil. For a richer taste, old-school spaghetti Bolognese (NT$290) and spaghetti carbonara (NT$260) are on offer.
Another Merlot specialty is risotto, which is cooked to a creamy consistency. Chau's rendition of the rice dish is comfortingly soft and smooth. The chicken and zucchini risotto (NT$350), for example, tasted like a piece of creamy heaven with small chunks of chicken melting instantly on the tongue. It was a soul-comforting stodge made for big appetites.
Equally filling choices are the chargrilled lamb chops (NT$590) with creamy three cheese and mushroom risotto, the grilled steak and vegetable risotto (NT$410) and the seared scallop and shrimp risotto (NT$570).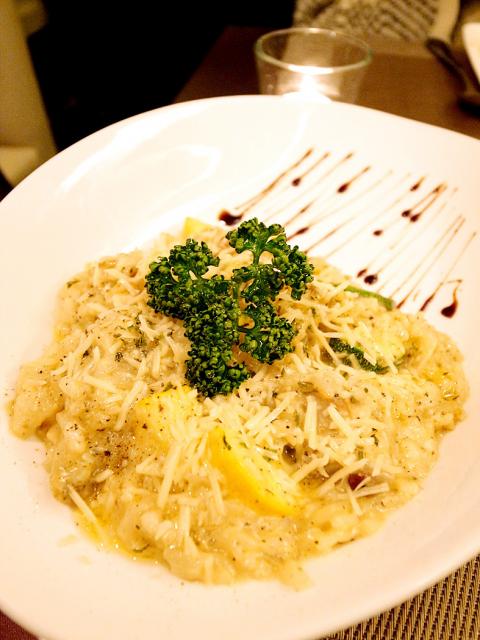 Merlot Cafe & Bistro offers hearty, Italian-themed fare.
Photo: Ho Yi, Taipei Times
Determined to try out the bistro's much lauded steak, my dining partner and I ran the risk of committing the sin of gluttony and ordered the chargrilled steak (8oz, NT$490) with sauteed seasonal vegetables. Cooked medium-rare to medium and sliced thin, the simply seasoned beef was as tender and juicy as a good piece of meat should be. And it also went well with my glass of Merlot (NT$240).
Speaking of wine, Merlot's wine cellar contains a decent, wallet-friendly selection of whites and reds from Chile, Argentina, Germany, France, Italy, New Zealand and the US (NT$850 to NT$1,600 per bottle). There are also a few choices of sparkling wine from Germany (NT$180 per glass and NT$990 per bottle) as well as a variety of cocktails (NT$220 and NT$280) and beers (NT$100 to NT$150). For the wine illiterate, Chau doubles as the dependable sommelier, making food pairing recommendations for guests.
Offering good, hearty food, intimate service and a lovable host, Merlot Cafe & Bistro definitely draws people back, whether locals or travelers, again and again.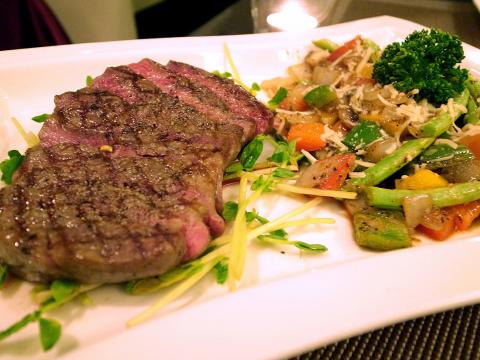 Merlot Cafe & Bistro offers hearty, Italian-themed fare.
Photo: Ho Yi, Taipei Times
Publication Notes
Merlot Cafe & Bistro (夢樂小廚)
Address: 32, Ln 76, Xinsheng N Road Sec 2, Taipei City (台北市新生北路二段76巷32號)
Telephone: (02) 2568-1283
Open:Tuesday to Sunday from 5:30pm to 10pm
Average meal: NT$800 to NT$1,000 including 10 percent service charge
Details: English and Chinese menu; credit cards accepted
Comments will be moderated. Keep comments relevant to the article. Remarks containing abusive and obscene language, personal attacks of any kind or promotion will be removed and the user banned. Final decision will be at the discretion of the Taipei Times.