Berlin film fest wraps up with big wins for Asian cinema
The 64th Berlin film festival wrapped up Sunday after a resounding triumph for Asian cinema at its gala awards ceremony, including the Golden Bear top prize for a Chinese noir mystery.
Bai Ri Yan Huo (白日焰火, Black Coal, Thin Ice), by Diao Yinan (刁亦男) about a washed-up ex-cop investigating a series of grisly murders took the highest honor late Saturday, as well as the Silver Bear best actor award for its star Liao Fan (廖凡).
"It's really hard to believe that this dream has come true," Diao said as he accepted the trophy, fighting back tears.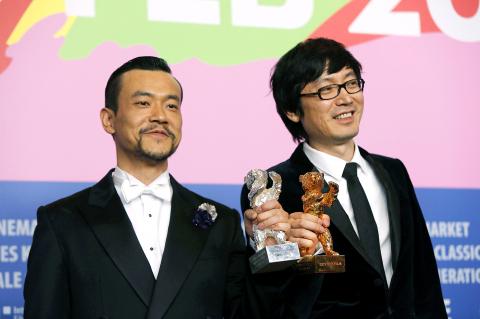 Chinese director Diao Yinan, right, and Chinese actor Liao Fan pose with the Golden Bear for Best Film and Silver Bear for Best Actor trophies during a press conference following the awarding ceremony of the 64th Berlin film festival in Berlin on Saturday.
Photo: AFP
It was the first Chinese film to win in Berlin since the unconventional love story Tuya De Hunshi (圖雅的婚事, Tuya's Marriage) by Wang Quan'an (王全安) brought home the gold in 2007.
In a remarkably strong showing for Asian contenders, the Berlinale, Europe's first major film festival of the year, gave its best actress prize to Japan's Haru Kuroki for her role as a discreet housemaid in wartime Tokyo in Yoji Yamada's The Little House.
Yamada, 82, called the film a necessary reminder of war's horrors for contemporary Japan.
German media reported widespread disappointment that the hot favorite to win the Golden Bear, US filmmaker Richard Linklater for his ambitious coming-of-age tale Boyhood, made over 12 years with the same actors, only claimed best director. But most called the prize for Black Coal, Thin Ice justified in a competition with few real standouts.
"Bai Ri Yan Huo is a brilliant genre variation which knows how to self-confidently update its Western prototypes and put them in new contexts," news Web site Spiegel Online said.
Berlin's daily Der Tagesspiegel called the choice "respectable."
The film "is a bloody genre piece, a social portrait of the Chinese backwoods and a passionate drama all in one," it said.
"And it represents Chinese cinema, growing in aesthetic strength that is successfully charting a new path between small films made below the censors' radar and the bombastic hero epics in a booming domestic market."
ENTHUSIASM FOR CHINESE CINEMA
The second of three Chinese films in competition in Berlin, Blind Massage (推拿) featuring a cast made up in part of amateur blind actors, captured a Silver Bear prize for outstanding artistic contribution for cinematographer Zeng Jian (曾劍).
Best screenplay went to the German siblings Dietrich and Anna Brueggemann for their wrenching drama Stations of the Cross about a teenager who makes the ultimate sacrifice for her fundamentalist Catholic family.
A nine-member jury led by US producer James Schamus (Crouching Tiger, Hidden Dragon) handed out the prizes at a theatre in the German capital.
Black Coal, Thin Ice is set in the late 1990s in the frosty reaches of northern China and its murder mystery plot is told through enigmatic flashbacks. Liao said he put on 20kg to play the alcoholic suspended police officer who falls hard for a beautiful murder suspect, played by Taiwanese actress Gwei Lun-mei (桂綸鎂).
Diao said his film, his third feature, bridged the gap between pure arthouse cinema and multiplex fare.
"I finally did find the right way to combine a film which has a commercial aspect to it but which is nonetheless art, so that it's possible to launch it in these terms," he told reporters after the awards ceremony.
Diao said Chinese films were gaining ground in Western cinemas thanks in part to their exposure at major festivals.
"Every time we take our films abroad it seems that there is an ever greater enthusiasm for Chinese cinema," he said.
WHITEST OF WHALES
The film has yet to be released in China but a state media report said it had received a government permit for screening with release possible in April or May.
However some Chinese cinemagoers questioned whether political sensitivity might block its release at home, or at least result in deep cuts. China censors films it deems obscene or politically touchy.
"The sensitivity of the theme and content of the film is high, so I don't know whether it can be shown in China," said a microblog posting under the name Jiade Changle.
US movie news Web site Indiewire noted that buzz about the picture had been strong before its screening "on the possibility of the film becoming that whitest of whales: a crossover Chinese-language international hit."
Comments will be moderated. Keep comments relevant to the article. Remarks containing abusive and obscene language, personal attacks of any kind or promotion will be removed and the user banned. Final decision will be at the discretion of the Taipei Times.