Coded language
The Taipei Fine Arts Museum is currently holding a retrospective on Chinese artist Xu Bing
The Taipei Fine Arts Museum (TFAM, 台北市立美術館) is currently holding a retrospective exhibition of work by Chinese artist Xu Bing (徐冰), featuring 22 works, mostly large-scale installations, from 1975 to the present.
Xu often creates illusions, effectively drawing in the viewer for a closer examination of his work. Background Story: Misty Rivers and Layered Ridges (背後的故事:?江疊嶂圖), for example, at first appears to be an ink wash landscape painting based on a work by 17th-century Chinese artist Dong Qichang (董其昌). On closer inspection, however, it is a make-believe assemblage of hemp fibers, dry plants, tree branches and crumpled paper. Like much of Xu's work, what looks authentic may turn out to be something completely the opposite.
ENCODING/DECODING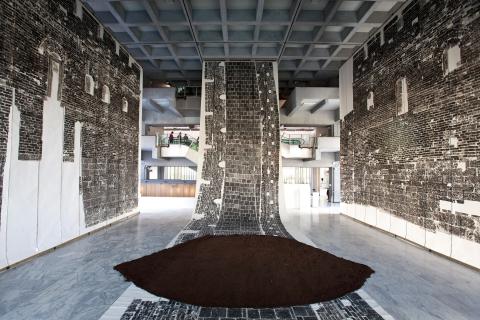 Ghosts Pounding the Wall (1990-1991).
Photo courtesy of TFAM
The exhibition also presents a chronological presentation of Xu's woodcuts, drawings and sketches from the 1970 and 1980s, followed by some of his more well-known works, such as Book from the Sky (天書), An Introduction to New English Calligraphy (新英文輸入法入門) and Book from the Ground (地書).
Xu seems obsessed with Chinese characters, both real and invented. Book from the Sky, for example, is a text containing 4,000 characters that the artist created. The work erases any possible knowledge gap by making everyone illiterate in front of the book.
With An Introduction to New English Calligraphy, Xu designed a new way to write Roman alphabet — using a calligraphy brush and in the form of Chinese characters — thereby encoding messages within a sign system he invented.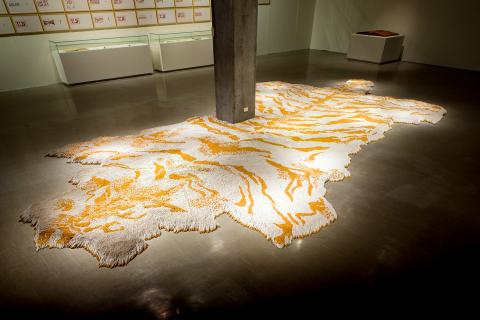 Magic Carpet (2009).
Photo courtesy of TFAM
With Book from the Ground he replaces words, whether real or invented, with icons in a narrative format that can be "read" by the viewer, as though a story without words.
In the system of encoding and decoding, Xu keeps challenging existing rules of the game by providing a working alternative. His provocative works lead the viewer to look at language and art in new and refreshing ways.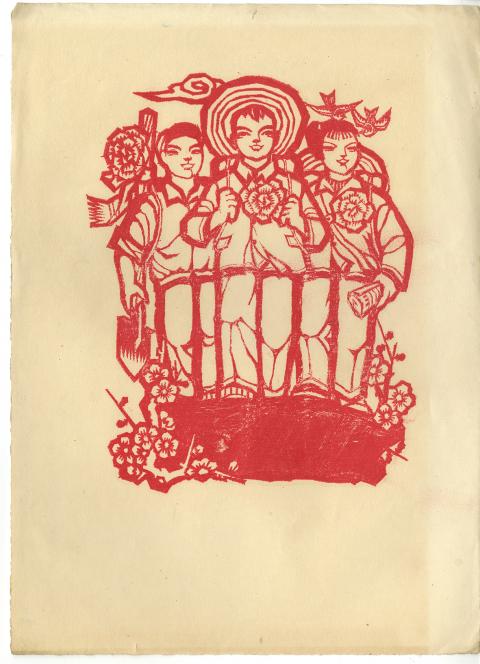 Brilliant Mountain Flowers Magazine (1975-1976).
A, B, C… (1991).
Photo courtesy of TFAM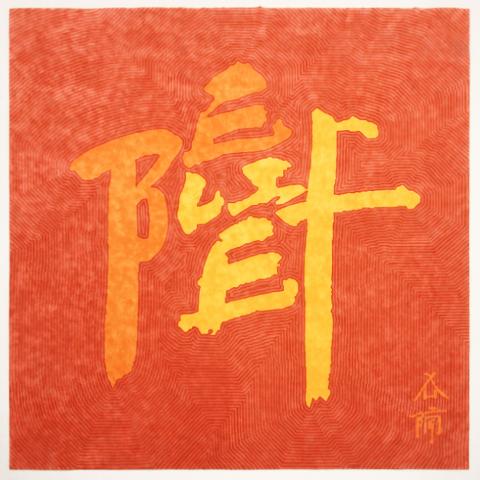 1st Class (2011).
Photo courtesy of TFAM
Publication Notes
Exhibition Note:
What: Xu Bing: A Retrospective (徐冰:回顧展)
When: Until April 20. Open Tuesdays to Sundays from 9:30am to 5:30pm and until 8:30pm on Saturdays. Closed tomorrow.
Where: Taipei Fine Arts Museum (TFAM, 台北市立美術館), 181, Zhongshan N Rd Sec 3, Taipei City (台北市中山北路三段181號)
Admission: NT$30
On the net: www.tfam.museum
Comments will be moderated. Keep comments relevant to the article. Remarks containing abusive and obscene language, personal attacks of any kind or promotion will be removed and the user banned. Final decision will be at the discretion of the Taipei Times.