Everything but fine art
Sixty paintings from the Boston-based Museum of Bad Art (MOBA) are currently on display at the Huashan 1914 Creative Park. Created not by acclaimed artists but ordinary people, these works boast oddities, absurdities or simply ugliness — qualities that are equally as eye-catching as exquisite fine art.
The museum numbers more than 600 pieces in its permanent collection, many of them purchased from thrift shops, yard sales and secondhand stores. Part of the collection was donated by its creators, while some were retrieved from rubbish bins.
To be accepted by MOBA, the work must be original, have had no prior appearance in a museum or gallery, and possess a certain attention-grabbing quality.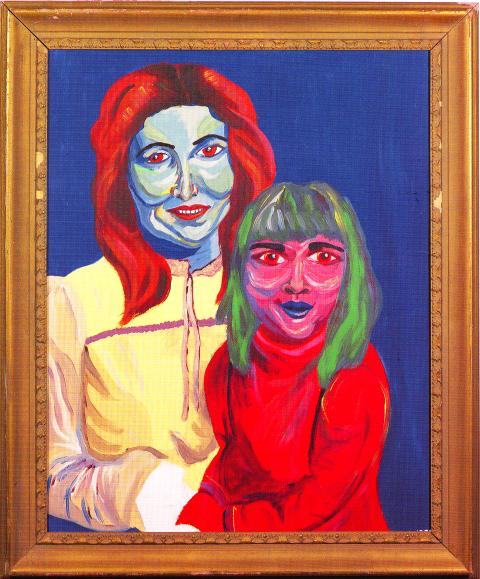 Sarah Irani, Mama and Babe.
Photos Courtesy of Kuan Hung Arts
For example, Mama and Babe — a half-length portrait of two females with rigid facial contours — screams contrasting colors of red and green. Its title suggests that the figures are mother and daughter, and the explanatory panel indicates that the mother is a parody of a former US first lady.
Poor execution of artistic expression doesn't guarantee a ticket to MOBA's collection. Pablo Presley was selected for showcasing a version of Elvis Presley that's different from the typical Elvis-in-black-velvet portraits found in many souvenir shops, says the exhibition catalog. The creator of this painting, Bonnie Daly, had taken another approach, interpreting the King of Rock 'n' Roll in the style of Pablo Picasso.
Some paintings look like nothing special until closer examination. Red Rose Serenade features a piano keyboard with incorrectly arranged keys — an oddity that begs an observant eye to detect it.
Anonymous, Mana Lisa.
Photos Courtesy of Kuan Hung Arts
The exhibition includes several imitations of masterpieces. Badminton Anyone? vaguely resembles 18th-century French painter Jean-Baptiste-Simeon Chardin's Girl with Shuttlecock in terms of composition. But Badminton Anyone? features a boyish-looking woman and a modern-day racquet that stray from the original big-time, and its far-from-competent technique evokes a smile.
Even though MOBA seems to imply there's a such thing as "bad art," its underlying message calls for an open-minded spirit in art appreciation. By showing ordinary paintings that were never meant to enter fine art museums or to be displayed in public, MOBA questions what qualifies as art. Amateur artists may lack the sophisticated drawing skill of professionals, but the value of their works isn't necessarily lesser.
That being said, many of the explanatory panels in this exhibition illuminate not only how MOBA acquired the work but also provide art commentary, which either leads or limits the viewer's mind. Instead of including commentary on the panels, curators should have set up a separate section for such information to avoid explaining too much on the spot.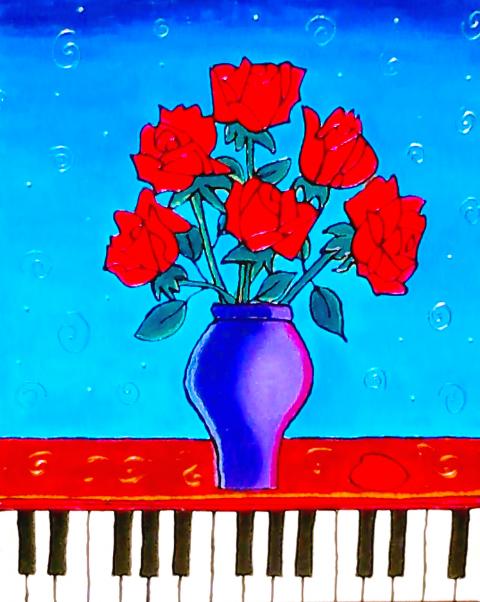 Susan Rose, Red Rose Serenade.
Photos Courtesy of Kuan Hung Arts
Another problem is that the 60 paintings are categorized into 11 sections based on confusing, often capricious criteria. For instance, paintings in the Poker Area don't really have anything to do with the card game, but are simply presented on large poker cards. Other sections such as the Furnace Area, Bed Area and Spider Net Area are home to paintings that would otherwise have been burnt, hidden under the bed or covered by a spider net, but the value of grouping paintings in this way was lost for this reviewer. Without this extra layer of meaning imposed on the paintings, MOBA's message might have been more accessible.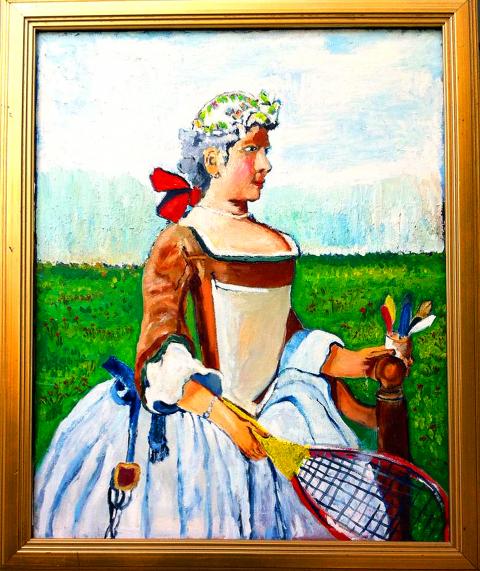 Anonymous, Badminton Anyone?
Photos Courtesy of Kuan Hung Arts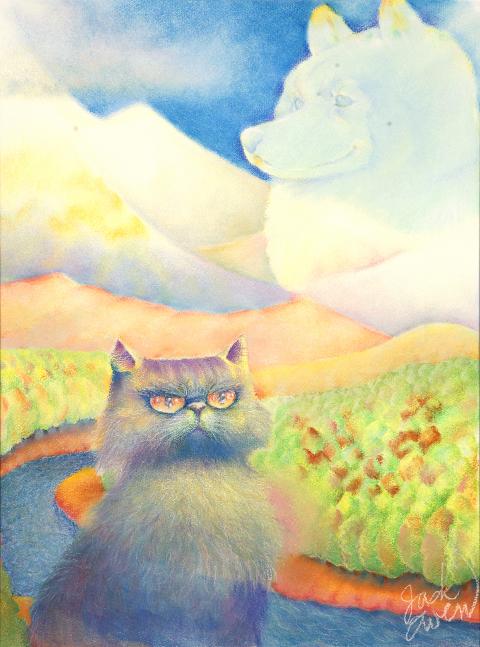 Jack Owen, He Was a Friend of Mine.
Photos Courtesy of Kuan Hung Arts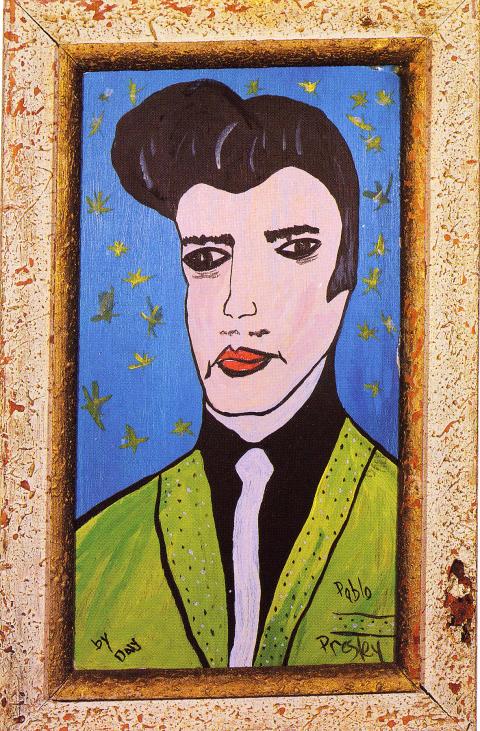 Bonnie Daly, Pablo Presley.
Photos Courtesy of Kuan Hung Arts
Publication Notes
Exhibition notes
What: The Museum of Bad Art (糟糕藝術博物館)
When: Until Feb. 16. Open daily from 9am to 6pm. Closed on Jan. 30
Where: Huashan 1914 Creative Park (華山1914文化創意園區) , M4C (中4C蒸餾室), 1, Bade Rd Sec 1, Taipei (台北市八德路一段1號)
Admission: NT$250 for adults, available at the door and at www.kham.com.tw
On the Net: www.facebook.com/mobatw2014
Comments will be moderated. Keep comments relevant to the article. Remarks containing abusive and obscene language, personal attacks of any kind or promotion will be removed and the user banned. Final decision will be at the discretion of the Taipei Times.