Taiwan's tech industry looks to app development
Smart Tourism Taiwan encourages software development
For the last 30 years, Taiwan has been known as one of the world's top producers of computer hardware. Over the past decade, however, many Taiwanese-owned hardware manufacturing companies have relocated their industrial operations to China, leaving Taiwan in the lurch. For Grace Lin (林蔚君), vice president and director-general of the Advanced Research Institute (ARI), the loss of hardware manufacturing jobs is a hidden opportunity to develop other sectors of the nation's economy.
"If Taiwan cannot transition to a more software and service-oriented economy, [it] will be in trouble. We are losing or have already lost the hardware manufacturing business and those job opportunities," Lin says.
Lin returned to Taiwan two years ago after living in the US for nearly 30 years. She said the perilous state of Taiwan's economy was one factor in her decision to return and that she and many others wanted to see "what we could do to help at this critical moment."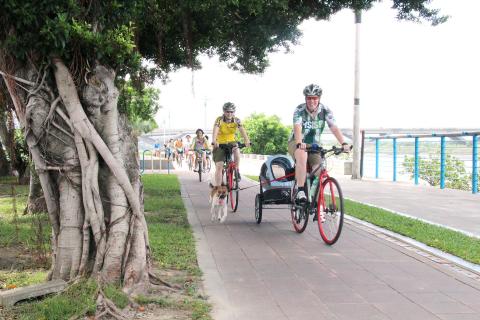 The Tour de Riverside brings online users of a tourist app outside.
Photo: Maggie Foucault
BOOSTING TOURISM
ARI introduced the Smart Tourism Taiwan (STT) app in June. Using location-tracking technology combined with calendar functions and traffic and weather data, the English-language app helps travelers plan their day, no matter the weather.
After discovering that tourism GDP in Taiwan was only 5 percent — just over half of the global average of 9 percent — Lin and her coworkers felt that tourism was an obvious area of the economy in need of development.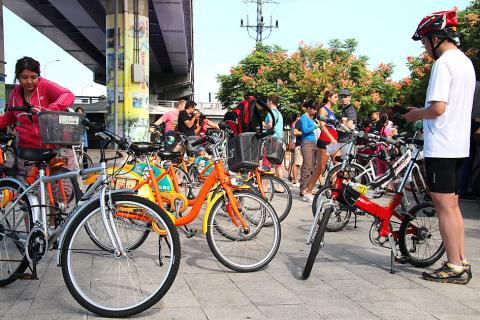 Bikers prepare for the Tour de Riverside.
Photo: Maggie Foucault
"When I look at the number, I think it doesn't make sense because Taipei is a very livable, very convenient city," Lin says.
A 5 percent increase in tourism GDP, Lin says, would be the equivalent of creating three companies the size of Taiwan Semiconductor Manufacturing, bringing with it a broader range of benefits.
The app was presented at the 2013 Computex conference in June. During that time, ARI began work on the app platform while collaborating with many other groups, such as the Taipei City Government, the Tourism Bureau and Chunghwa Telecom to source content.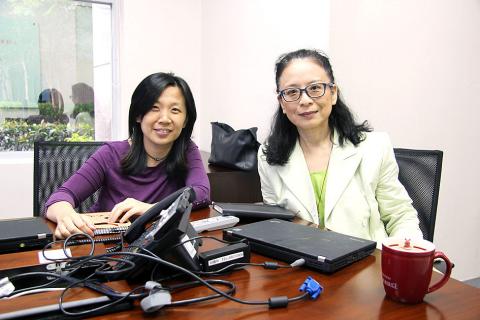 Luo Chih-shan, left, and Grace Lin are shown at the Advanced Research Institute.
Photo: Maggie Foucault
By the end of the week-long conference, there were 3,600 downloads and 10,000 fans on Facebook. In the beginning, the app was aimed at business travelers, who can plan their leisure time around meetings and conferences. And there are plans to incorporate more content to entice exchange students and back-packers, known as long-stay travelers, who plan to be in Taiwan from three to six months.
During phase two, ARI spent the next three months planning the Tour de Riverside, a bike event along the Xindian river from Gongguan to Daodecheng Wharf. ARI collaborated with Taipei Trends and Ipeen Net, two Web sites that recommend restaurants and events in the Taipei area. The goal of the bike tour was to bring the online users offline and out into Taipei.
"Tourism has to be very physical, that's why we organized the bike tour. We think that will help bring our online users offline, let them really experience a taste of our tourism service offline," said Luo Chih-shan (羅至善), a section manager for ARI. During phase two, Web site views increased to nearly 40,000 page views and over 8,000 app downloads.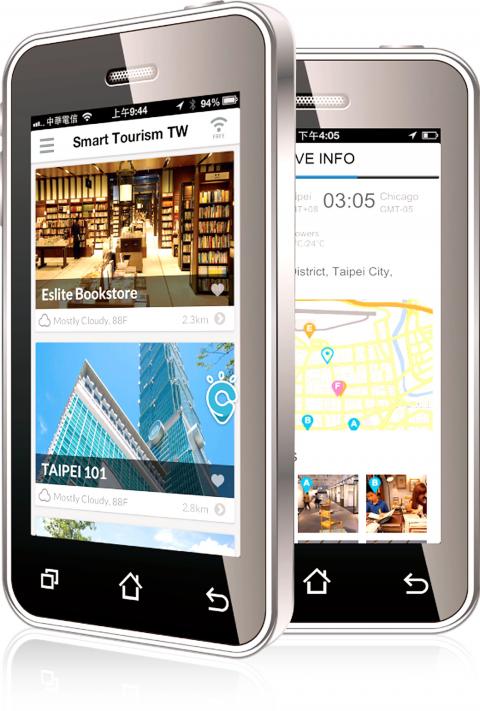 Photo courtesy of ARI
WORKING OUT THE GLITCHES
Overall, the STT app is a very useful tool for first-time visitors to Taipei City. The real-time map function makes it easy and convenient to find tourist sights and restaurants near one's current location, and covers many of the important sights in Taipei.
However, the app is unnecessary for long-term travelers or residents. The listed tourist sights seem like locations that would be visited within the first week of arrival, like Taipei 101 and Sun Yat-sen Memorial Hall. Other entries include such commonplace locations as Eslite Bookstore and Huashan Creative Park, both of which need no introduction to Taipei residents.
Lin acknowledged that the app could include more wide-ranging tourist information.
"When we designed the whole thing we first used a user-centric design principle and when you look at travel Web sites and apps, we feel like the design is always trying to push information to the travelers, and we wanted to turn this concept around."
Lin said the app offers users information that would adapt to their current location and schedule, instead of simply offering a generic, itemized list of tourist sights.
"We want it to be more proactive and provide information at the right place and the right time," said Lin. "It's a change in terms of the mindset, and that's the key."
Currently, the ARI is moving into phase three of their project. This includes adding Simplified Chinese and Japanese interfaces, as well as more content for travelers, such as restaurants, museums and other points of interest. Hopefully the third phase of the project will focus on adding unique locations and sights that will appeal to long-term travelers and residents. The group has also begun working on an app for Tainan, which will be a separate from the Taipei app. Ultimately, ARI hopes that the development of the STT app will spur others in Taiwan to invest more time in software and app development.
Comments will be moderated. Keep comments relevant to the article. Remarks containing abusive and obscene language, personal attacks of any kind or promotion will be removed and the user banned. Final decision will be at the discretion of the Taipei Times.