Hollywood to Matsu
'Scrubs' director Henry Chan and acclaimed playwright Lin Wei-ko talk about '100 Days,'a Chinese-language feature film they shot on a Taiwanese offshore island
Born in Guangdong, China, growing up in Hong Kong and moving to the US at the age of 18, Henry Chan (陳發中) has lived the life of a successful immigrant. His career in the entertainment industry began in 1986 with The Cosby Show, for which he won an Emmy Award for editing. He has since directed episodes of popular television shows such as Scrubs, Moesha and King of Queens. Chan's Chinese-speaking mother, however, never saw any of his works, and sometimes wondered why her son didn't produce anything that she could understand.
Across the Taiwan Strait, Lin Wei-ko (林偉克) left Taiwan for the US with his family when he was eight years old. Decades later, the award-winning playwright has built a prolific career in Hollywood. But Lin never forgot a promise he made to his mother that he would "come back and do something for Taiwan one day."
Chan and Lin met nine years ago and hit it off right away. For years, the two talked about making a Chinese-language movie that would enable them to explore their roots.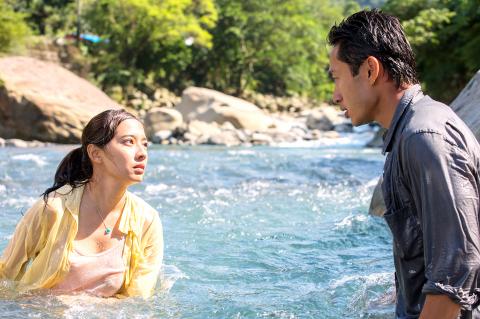 A still from 100 Days.
Photo courtesy of The Unison Company
And with 100 Days (真愛100天), currently showing in cinemas around the country, that's exactly what they did.
A homecoming tale
Directed by Chan and co-produced by Lin, 100 Days tells the story of a US-educated, workaholic executive who returns to his island village for his mother's burial. He soon learns that, according to an old tradition, he must marry within 100 days so that his mother's spirit can peacefully move on to the afterlife. When a typhoon strikes, the man becomes stranded on the island and is forced to delve into his past — his relationship with his mother, his leaving home and his childhood sweetheart.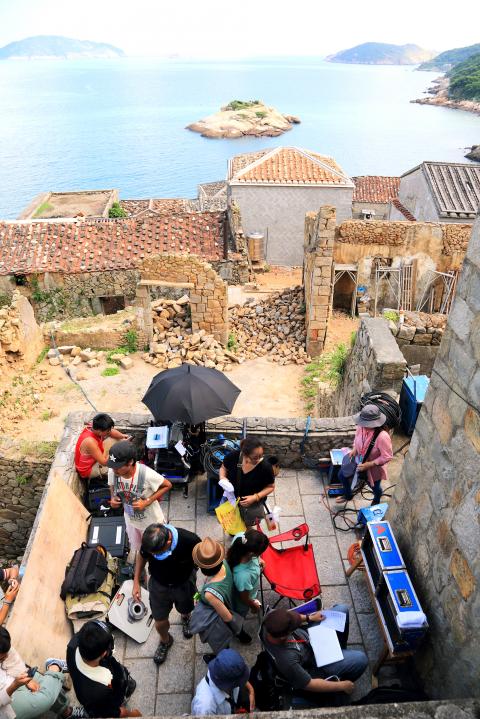 Henry Chan works with the crew on the island of Beigan, Matsu.
Photo courtesy of The Unison Company
While the movie is a romantic comedy that builds around the theme of a city person returning to his village roots, Lin says the project is highly personal and evolved out of the death of his mother six years ago. Affected deeply by his loss, he first created a stage production in 2011 based on his experience of returning home for his mother's funeral and discovering the "100 days" tradition. The film, however, is completely different from his "raw, X-rated" theatrical work. It has a distinct Taiwanese flavor, infused with local customs, traditions and ways of life.
"It is really about the family, about family obligations versus true love. It can relate to [local] audiences," Lin says.
For Chan, Taiwan is like a second home because his parents lived here for many years before immigrating to the US and many of his family members and relatives still here.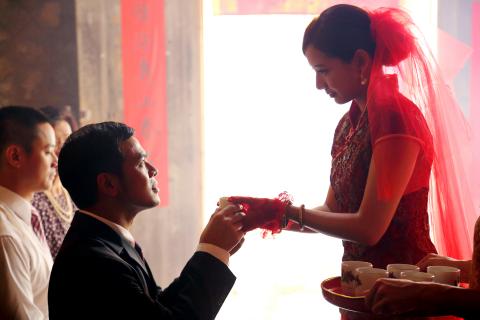 A still from 100 Days.
Photo courtesy of The Unison Company
"It is our story. We have all come home," the director says.
A home to fall for
Chan says he shot the film in Cinbi (芹壁) Village on Matsu's Beigan (北竿) island because the village looks like "it hasn't been touched by time."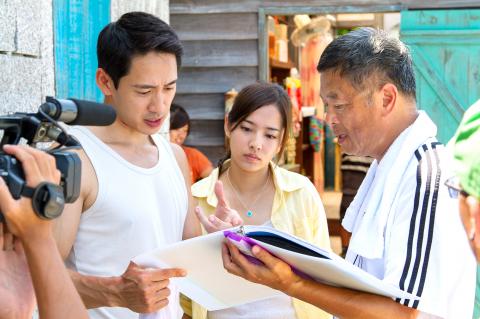 Henry Chan, right, works with the crew on the island of Beigan, Matsu.
Photo courtesy of The Unison Company
"I wanted the village to be a character. If I came back to discover my own village and fell in love with it, it had to be attractive and beautiful," Chan says.
But Matsu was an expensive choice. Lacking the infrastructure necessary for filmmaking, the crew had to ship everything to the island, including 14 trucks, cranes, generators and extras. And similar to the protagonist in the movie, a typhoon stranded the production team on the island a few times.
Taiwan versus Hollywood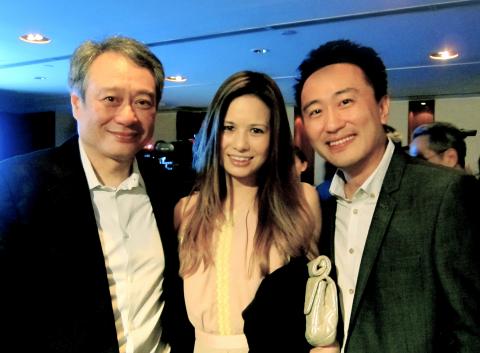 From left: Ang Lee, Stacy Fan and Lin Wei-ko.
Photo courtesy of The Unison Company
Chan and Lin, who both worked exclusively in Hollywood before their Chinese-language collaboration, say the local way of doing things are vastly different from what they are accustomed to, which has both advantages and disadvantages. Working within the studio system, Chan says, entails following a set of rigid rules. For example, working overtime is expensive, and failing to give staff a coffee break can result in heavy penalties.
The filmmaking profession is also strictly divided into different categories, and the idea of professionalism is thoroughly respected.
"You have a guy in charge of property, and if someone starts moving his things, he gets mad ... It is because the union wants to protect their jobs," the director says.
In Taiwan, the division of labor is much less clear-cut.
"One time we had to pull a boat and it was heavy. At first the grip did it. Next thing you know, the cinematographer and actors all jumped in to help. That's camaraderie. It is not that we don't have camaraderie in the American, but here it is like a family," Chan says.
But oftentimes when there is no union to protect crew members' interests, the rules can be "too flexible."
"Lots of sets work crazy hours, and people get mad, tired and exhausted," Lin notes.
Invited to hold screenwriting courses at the Taipei National University of the Arts in 2008 after years of teaching at institutes in the US such as Northwestern University, Lin also notices that when compared to Hollywood cinema, many local movies focus on "scenes" rather than threading elements together to produce a coherent narrative. And there is often little character development.
"Hollywood movies have a certain way of telling stories, whether big-budget Transformer or small drama … [It is] a journey with the characters. We see them change for the better," the writer says.
Working in the studio system also requires discipline and efficiency. According to Lin, a professional contract in Hollywood requires writers to turn in the first draft within 12 weeks.
When asked about the film industries in Taiwan and the US, Chan observes that while studio movies can become factory-made products, Taiwan's tradition of auteur-driven cinema is able to have unique points-of-view. However, having a director produce a "handmade film" every four years cannot sustain an industry.
"We need something like Hollywood, which is the infrastructure of a studio, to keep people employed," Chan says. "There should be a balance."
"I think Taiwan is going in the right direction, fostering people like Lee Lieh (李烈) [producer of many Taiwanese blockbusters including Monga (艋舺)] with more producer-driven material so you can build an industry," Lin adds.
Global filmmaking
In 2008 when Lin returned to Taiwan, it was around the same time that Cape No. 7 (海角七號) was released. The writer saw that the Chinese and Taiwanese markets were "on the verge of growing." So along with UK-based Stacy Fan (范雯斯), he co-founded the Unison Company in 2011. 100 Days is their first work and, with the exception of a few special effects, was made entirely in Taiwan with a local crew. Four more projects are ready to roll, with the next one a co-production with China, according to Fan, who is also the film's producer.
Registering the company in Taiwan, the duo has a global ambition, aiming to produce Chinese-language films that have "accessibility to the world." By going global, it means that all their projects can be designed for Hollywood remakes.
"Every movie we do is going to be a Taiwan co-production … with China, France or the US. Taiwan will always be part of that co-production," Lin says.
"The storytelling is global yet local. At the end of the day, we can't make Zone Pro Site (總鋪師). We will add variety; we have an international perspective. It is no better or worse, just different."
Comments will be moderated. Keep comments relevant to the article. Remarks containing abusive and obscene language, personal attacks of any kind or promotion will be removed and the user banned. Final decision will be at the discretion of the Taipei Times.