A new way of thinking about litter
Social media has proven successful in mobilizing Taiwanese to help clean up their beaches
Daniel Gruber, an English teacher from Hawaii, has just finished a cycling trip around Taiwan on his bicycle. What made his journey different for the thousands of other circuits around the island, whether on bicycle, scooter or car, was that along the way, he decided that he would collect trash, making his own very small difference to the problem of litter on Taiwan's beaches. During 12 stops that took him from Kenting to Taipei, then south again to Kaohsiung, Gruber called on locals and anyone concerned about pollution to come help him.
The events, publicized mostly through Facebook under the name "Re-think" (RE-THINK, 重新思考), drew a strong response, with 15,000 Likes so far for something that Gruber said started out more by accident than design. The final event was at Chijin (旗津) in Greater Kaohsiung yesterday, but Gruber says there has been considerable interest in maintaining the momentum, with a similar cycle tour held as an annual event and chapters of Re-think located around the island.
As a keen outdoorsman, Gruber has spent a lot of time on Taiwan's coast engaged in a wide variety of watersports. He also is a keen hiker and cyclist. All this activity has given him a love of Taiwan's natural environment, and a horror of the ugliness created by the vast quantities of litter that disfigure many of these locations. He wanted to do something about it.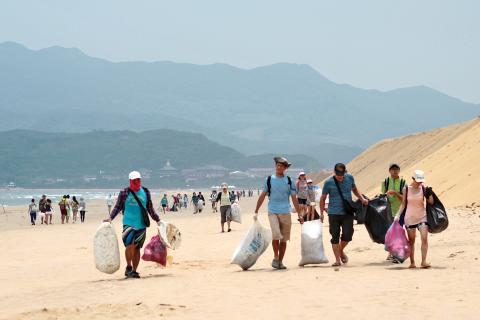 Public support at Gongliao was an eye-opener for Daniel Gruber.
Photo courtesy of Jason Huang
"I grew up with a very strong-willed grandmother who owned a lot of property in Wisconsin. When we went walking, she would always take a trash bag with her. As a kid I never understood why she would pick up other peoples' trash … I said, people are just going to throw more trash. You need to yell at them and tell them not to throw trash on the property. She always told me to 'show' not 'tell.' If you show people what to do and make an example, they will follow you. And that is the philosophy I have followed my whole life," Gruber said, speaking in a telephone interview with the Taipei Times from a train station in Miaoli, where he was waiting out the winds of tropical storm Trami.
Gruber said that as a matter of habit, he would try and pick up trash whenever he was surfing, snorkeling, or hiking. A photo taken of him collecting trash on a trip with friends while snorkeling off the coast of Kaohsiung made a big splash on the Internet, generating a lot of comment. "People started contacting me and asking why I was doing that," he said. From this spark, Gruber formulated the idea of using social media to not just generate awareness, but to actually get people to participate in collecting trash. Together with Jason Huang (黃之揚), he set up the Re-think Facebook page and started planning.
"I wasn't going to let the popularity [of the site] fade away. I didn't want people just to push Like and then forget … I wanted people to actually come to a beach for one to three hours. On the first event [on Aug. 11 in Kenting], we got a huge number of people to come out. It was amazing the dedication these people had to the island," Gruber said.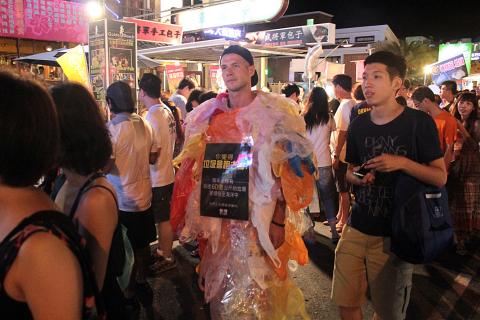 Daniel Gruber publicizes his message in Kenting.
Photo courtesy of Jason Huang
Gruber did not consult his Environmental Protection Agency or other government bureaus, but rather his Facebook followers, when he planned an itinerary of stops around the island where beach cleanup events could be held. There was a strong response from the public, culminating in a hugely successful cleanup at Yanliao Beach (鹽寮海灘)in Gongliao, New Taipei City on Aug. 18.
"At Yanliao, they sent one truck and a couple of guys to pick up the trash we had collected and sorted," Gruber said. "When they arrived, their jaws hit the ground. We had collected probably around 2,000kg of trash in an hour and a half … They were very shocked."
Huang said the degree of government support had varied from place to place, but even those who provided the most support did not really believe they would be able to clear away as much trash as they did.
Liu Shih-ming (劉士銘), deputy director of the Northeast Coast Scenic Administration (東北角海岸國家風景區), told the Taipei Times that his agency wholeheartedly supported organizations such as schools or corporations for beach cleaning and similar activities. "If they wish to show their concern for the environment through action, we are happy to give whatever support we can," he said. "There are quite a lot of such activities, and this speeds up the recovery of the beaches, especially after tropical storms, which wash up huge quantities of trash," he said. The Northeast Coast Scenic Administration was one of the more pro-active agencies Re-think dealt with, and was the agency responsible for issuing permits for the successful Yanliao cleanup, Gruber said that organizing the permits for the cleanups and for backup from sanitation departments had been a labor-intensive process. In addition, he and his team tried to follow up on the disposal of the trash they had collected, using social media to check in with locals who kept an eye to make sure that sanitation teams did the right thing with the trash.
Gruber said that he is committed to keeping Re-think a grassroots movement. "Without any [sponsorship] money involved, we are getting people to take off work, travel around the island. Many of the people involved now are not even from the places where the activity is held. They are taking trains, they are buying supplies, spending their hard-earned money and time and I don't want to tarnish that," Gruber said.
Gruber said that in collecting trash, he is not criticizing Taiwanese for their sometimes casual attitude to garbage disposal. "This is an international problem," he said. Liu of the Northeast Coast Scenic Administration emphasized that much of the trash washing up on Taiwan's beaches is brought in by ocean currents and does not necessarily originate on the island. But for Gruber, where the trash originates is not really the issue. In the same way, he would like to believe that his being a foreigner is not central to the success Re-think has had.
"I would like to say it doesn't matter [that I am a foreigner], but I think it does. People in Taiwan like to talk about what foreigners are doing, whether it is good or bad. So the fact that a foreigner was seen doing something good without expecting something back, and it might also reflect a little bit of shame, that a foreigner is coming here to do these things," Gruber said.
"People say 'you should not have to do this, it is our job.' My response is 'Well, don't let me do it alone, because I will do it alone. The thing I am trying to tell people is that this is not just about Taiwan, it is about the world. This problem exists around the world. We can't wait for the government to do things. We have to band together as citizens and create a joint effort."
Comments will be moderated. Keep comments relevant to the article. Remarks containing abusive and obscene language, personal attacks of any kind or promotion will be removed and the user banned. Final decision will be at the discretion of the Taipei Times.