Working late? There's a robot for that
Robii might be better than a babysitter. Billed as a child's companion, the robot monkey is ready at a moment's notice to play arcade games on its built-in interactive projector system. Robii teaches math and musical scales, too, to generate a "great and wise family living environment" and "recover the loneliness within the heart," according to the creators at CompalComm (華寶通訊).
Mostly a communications company, CompalComm launched its robotics branch UrRobot in 2011. It is among a new group of Taiwanese firms developing service robots meant to meet modern personal demands, such as childcare in a society that works record-long hours.
To the upcoming Taipei International Robot Show (TIROS 2013, 台北國際機器人展), Shin Kong Security (新光保全) brings its latest security robots that could replace security guards in a shrinking labor force, or adults in a home.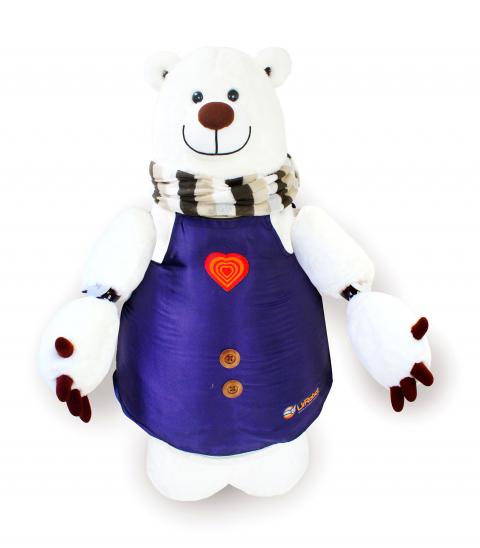 HugBot offers hugs to the lonely and checks their vital signs.
Photo courtesy of TAIRoA
The show also offers bots that give hugs, tell bedtime stories and "educate." The 15-cm BeRobot, by GeStream Technology Inc (極趣科技), is a super action figure marketed as a way of teaching children about artificial intelligence: The savvy kid can make it fight autonomously, like a Pokemon, or make it do the chores. At the exhibition's Parents and Children zone, BeRobot will teach a crash course in programming and finish off with a dance performance.
"We've done Parents and Children activities for a while — there was one six years ago at the first robot exhibition — but before we needed to borrow imported robots," said Chen Wen-chen (陳文貞), a show organizer and deputy secretary-general of the Taiwan Automation Intelligence and Robotics Association (TAIROA, 台灣智慧自動化與機器人協會).
This year, the Parents and Children zone has competitions, games and products supplied by six manufacturers, all of them based in Taiwan. "We really couldn't do that before," said Chen.
The Ministry of Economic Affairs has designated Taiwan robotics as a priority project, earmarking a total of NT$2 billion aimed at boosting output value of intelligent robotics from NT$20 billion to NT$250 billion by 2015.
So far, Taiwan's robotics industry has focused mainly on industrial robotics and technologies like components, control panels and modules.
Publication Notes
Exhibition notes
What: 2013 Taipei International Robot Show (台北國際機器人展)
When: Wednesday to Aug. 31. Open Wednesday to Friday from 9am to 5pm, and Aug. 31 from 9am to 4pm
Where: Taipei World Trade Center Nangang Exhibition Hall (台北世界貿易中心南港展覽館), 1 Jingmao 2nd Rd, Taipei City (台北市經貿二路一號)
Admission: Free
On the Net:www.tiros.org.tw
Comments will be moderated. Keep comments relevant to the article. Remarks containing abusive and obscene language, personal attacks of any kind or promotion will be removed and the user banned. Final decision will be at the discretion of the Taipei Times.