Restaurant review: La Mesa
There are plenty of restaurants specializing in tapas in Taipei, but La Mesa leaves such an impression that you walk out already planning your next visit. Since opening less than a year ago, it has made a statement about small plates: Big flavors come in small portions.
The first time I walked into La Mesa, the first of about nine times since, a grinning Westerner greeted me from behind a bar that I immediately wanted to sit at. I later learned that he and his Spanish partner, Chef Paco, run the two-story restaurant together. The bar takes up much of the first floor and behind it, a brick wall lines one side of the restaurant, lending it a New York City vibe. For those who like the open kitchen concept, there are a few tables on the first floor. Next to a very modern and slightly terrifying metal staircase, there is also a full dining room nicely equipped to handle large parties. The lighting is dim and the volume is loud, but this is because the restaurant is packed most nights of the week.
Tapas — or Spanish snacks — are served with sophistication and one could easily make a meal out of picking at a few of them. The raw beef carpaccio (NT$320) deserves an honorable mention. The marinated mix (NT$320) is a good combination of foods worth trying — grilled bell peppers, anchovies, artichoke hearts, olives, and sardines. But don't get carried away with these cold tapas because the menu only gets better.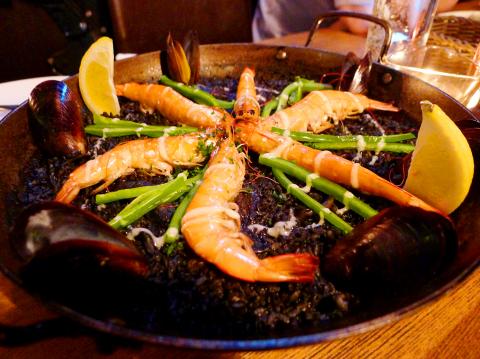 La Mesa's black paella is flavored with a robust squid ink sauce.
Photo: Olivia Wycech
Hot tapas. The chorizo in cider and garlic (NT$220) might be the best my palate has had the pleasure of tasting. Chef Paco makes the sausages from scratch and they are accompanied by sweet apples that balance out the kick from the chorizo, which is not overly spicy anyway. The six shrimp (NT$230) are cooked with garlic and come served on a hot skillet. The meatballs (NT$230) are nothing fancy, but La Mesa dresses them up with a delicious tomato emulsion that goes well with bread.
The deep-fried calamari (NT$200) arrived with a "spicy" aioli (it's more tangy than spicy). The only problem is that they don't give you anywhere near enough of it. I haven't been lucky enough to dine on a day where they've had fresh mussels (NT$320), but this dish comes infused in a white wine and cream sauce that has generated buzz among my friends.
Main entrees include ravioli (NT$390), which is popular among vegetarians. I found that the pumpkin and ricotta ravioli carried more flavor than the spinach and ricotta. Both are served with a rich cream sauce that seems to better enhance the presence of pumpkin.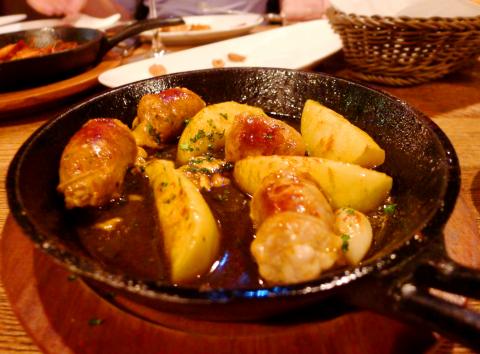 The homemade chorizo is heavenly.
Photo: Olivia Wycech
The melt-in-your-mouth duck confit (NT$390) has my rave review. While the duck is quite salty, the onions are caramelized with sweet undertones of orange. It all blends together seamlessly.
You could hardly say you had Spanish food without trying paella, which should definitely be ordered for the table whether you are a party of two or eight. The house paella (NT$780) is my favorite and looks as beautiful as it tastes. It's a traditional saffron-saturated rice medley of chicken, chorizo, squid, giant shrimp and mussels.
The Spanish like to drink sangria. Start by ordering a jug (NT$950) because just one glass (NT$250) of the best damn sangria in Taipei simply isn't enough. La Mesa has adapted Spain's tradition of social snacking, and since they are open pretty late most days, drinking and eating can go on all night.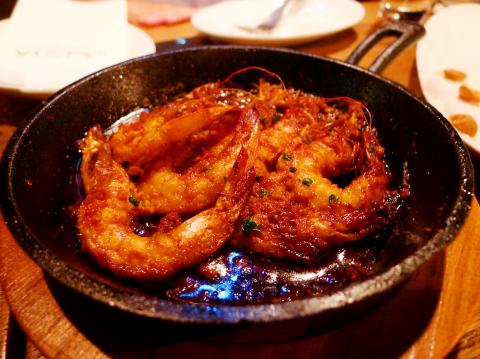 Garlic shrimp.
Photo: Olivia Wycech
Ravioli stuffed with sweet pumpkin.
Photo: Olivia Wycech
Publication Notes
La Mesa
Address: 33, Ln 137, Yanji St, Taipei City (台北市延吉街137巷33號)
Telephone: (02) 2778-7676
Open: Sundays to Thursdays from 5pm to 11pm, Friday and Saturday from 5pm to 1:30am
Average meal: NT$300 to NT$1000
Details: Chinese and English menu, credit cards accepted
On the net: www.facebook.com/LaMESAtw
Comments will be moderated. Keep comments relevant to the article. Remarks containing abusive and obscene language, personal attacks of any kind or promotion will be removed and the user banned. Final decision will be at the discretion of the Taipei Times.