The peanut as art
An understanding of the expressive power of art helps a couple in Fenglin take the humble peanut from the market stall to online gourmet commodity
Liang Yu-lun (梁郁倫) always found the taste of the dry fried peanuts her mother-in-law in Hualien prepared to be a reminder that there was more to life than the hectic schedule that she managed as a curator for the Fubon Art Foundation (富邦藝術基金會) in Taipei. When the Taipei Times spoke to her last week in a telephone interview, she was busy dealing with operations at a small factory in Hualien's Fenglin Township (鳳林). She had given up her career in the arts to create Goodeatss Peanuts (美好花生), a small brand of hand-fried peanuts and artisanal peanut butter that has emerged onto the local foodie scene as a recognized success story that combines a Taiwan cultural revival vibe, with eco-friendly, back-to-the-land overtones and Internet marketing savvy.
"My mother-in-law had been running a small business called Mother Chung's Peanuts for about eight years, but four or five years ago she said that the work was becoming too taxing for her and she was planning to throw in the towel," Liang said. "We had been enjoying these peanuts for many years, and now, if my mother-in-law retired, who would make these lovely peanuts for us."
Dry-fried peanut are not exactly a rare commodity in Taiwan. In fact, they are probably available in one form or another at every supermarket and convenience store around the country. "But there is something special about peanuts grown and prepared at home by your mother that makes them special; quite distinct from anything you can buy," Liang said. "This was the starting point in our thinking about the business that eventually became Goodeatss Peanuts."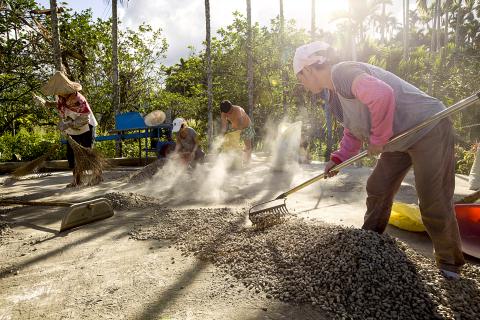 Preparing the harvest for dry frying is labor-intensive work.
Photo courtesy of Goodeatss Peanuts
Back to the land
After years of working high pressure jobs in Taipei, Liang said she and her husband were eager to return to a more rural lifestyle more closely linked with family and community. "But the kinds of jobs we did were not available in Hualien," Liang said. "Nevertheless, we had skills that we felt could be used in this new stage of our lives. We wondered if it would be possible to make selling peanuts something much more than selling peanuts. Perhaps using peanuts to tell a story and connect it with the land and a community of farmers. We felt that it would be possible to incorporate lots of art and cultural elements. We saw plenty of interesting potential, but the big step was to act on these ideas and make them a reality."
According to Stone Shih (石傑方), brand manager for PEKOE (食品雜貨舖), an online retailer of artisanal food products, Goodeatss has managed to create a sophisticated packaging of a very homely product that has very clear Taiwan characteristics. "Their product manages to tell a number of stories," he said in a phone interview with the Taipei Times.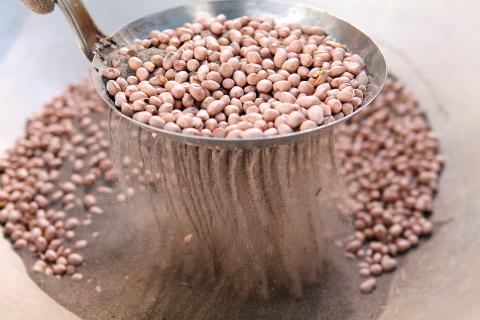 Dry fried peanuts ready to be bottled and sold are as expressive as any work of art.
Photo courtesy of Goodeatss Peanuts
For one of their product lines, a 150g bottle of the Taiwan No. 9 Peanut, Goodeatss uses recycled glass bottles for the packaging. "This ties in with a growing awareness of recycling. The lid is covered with floral-pattern cloth that harks back to an instantly recognizable Taiwanese textile tradition," Shih said. He also pointed out that the use of a named type of peanut with clear links to a specific place in Taiwan also captures the imagination of consumers. "Apart from domestic consumers," Shih said, "This product has become very popular with Chinese and Hong Kong visitors looking for something uniquely Taiwanese to take home."
"An artist uses different mediums, whether it is oil paints or an installation art to express what he or she wants to say and connect with their audience. You can see peanuts as being much more than just a commodity. You can see it as a work of art, and we are the artists who are making it expressive."
buying local
Liang buys her peanuts from local farmers in the Fenglin area. As a small business dependent on a wide range of suppliers, Liang said that Goodeatss does not label itself as organic, but adds that "many of the elderly Aboriginal farmers we purchase from use natural agricultural methods. But many of the Han Chinese farmers continue to use chemicals, and in this case, we are only able to do our best to make sure we only use these peanuts when the chemicals have dissipated by keeping track of their farming practices," Liang said. She added that many farmers found it ridiculous that they should take suggestions to adopt natural farming methods from these farming newbies seriously.
"When we started out, my father-in-law took us to meet the farmers, one farm at a time. In addition to learning about how to prepare the peanuts from my in-laws, I also learned to farm peanuts. The farmers, like my mother-in-law, are all getting on, and their knowledge needs to be passed on."
Liang said that she tells customers that the peanuts are not organic. Instead, she explains where each batch of peanuts comes from and the farming practices used for that batch.
"We want them to understand that although dry fried peanuts are a processed food, peanuts themselves are a product of the soil, and they differ depending on the practices of each individual farmer, where they are grown, the weather and soil … When we first started out, we were quite concerned about the lack of uniformity in the size, texture and so on of the peanuts. We felt it should be a consistent experience for our customers. As we have lived and worked here, getting to know this land better, we would now rather that they learn to appreciate the variety."
Liang said that she has recently bought land to begin peanut cultivation, drawing on the experience of local farmers and her own ideas of what she wants for Goodeatss Peanuts. "It is a way of giving something back to the land," she said.
Comments will be moderated. Keep comments relevant to the article. Remarks containing abusive and obscene language, personal attacks of any kind or promotion will be removed and the user banned. Final decision will be at the discretion of the Taipei Times.