A nation of naysayers
A closer look at the 'fifth most pessimistic country in the world'
Lin Chi-sheng (林啟生) is a retired businessman who likes to garden, dotes on his pet and enjoys bracing hikes in the early morning. He rates his life a six out of 10, but thinks his life in five years will be much worse. "Maybe a two or a three," Lin said.
Lin's bleak outlook is not the majority opinion. It's not, however, an aberration. Taiwanese are currently some of the world's gloomiest people, according to the latest world poll by Gallup, Inc.
Last summer, Gallup commissioned Taipei's Viewpoint Research & Consulting to telephone 1,000 randomly chosen Taiwanese, as part of a larger poll of 141 countries and areas. Among respondents, 26 percent said they do not expect their life in five years to improve.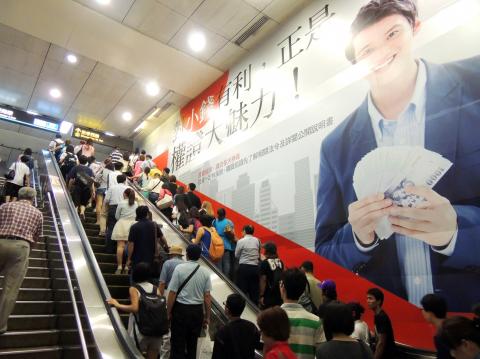 Commuters pass an advertisement on stock options for small-sum investors. Taiwan's get-rich-quick mentality may be contributing to national pessimism, according to cultural policy professor Liu Chun-yu.
Photo: Enru Lin, Taipei Times
The percentage places Taiwan among the top 10 gloomiest nations on the globe, tied in fifth place with Haiti (26 percent) and behind four European countries battered by the fiscal crisis: Greece (38 percent) the Czech Republic (33 percent), Slovenia (32 percent) and Hungary (29 percent).
Long-term blues
Taiwan's results are a rise from the previous year's percentage of pessimists (21 percent), but the uptick appears to be in a longer-term trend of looking at the glass half empty.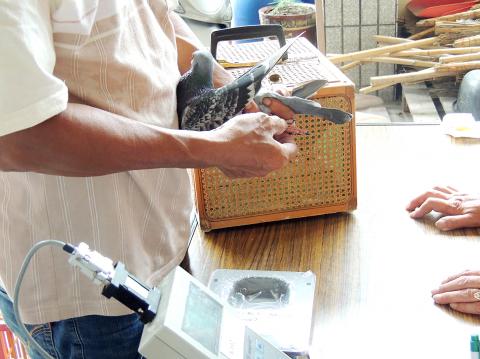 A woman surnamed Huang (not shown) took a part-time job at a pigeon race outpost in Yunlin County after her family's photography store went out of business.
Photo: Enru Lin, Taipei Times
Since 2006, Taiwanese respondents have reported only small to negligible increases of well-being in their future lives, according to additional data provided by Rajesh Srinivasan, Gallup's regional research director in Asia.
In the 2012 poll, Taiwanese rated both their "Life Today" and "Life in Five Years" a mean score of 6.1, out of a highest possible score of 10.
In 2011, 2010, 2008 and 2006, Taiwanese respondents reported a "Life Today" of 6.3, 6.2, 5.5 and 6.2, while scoring their future lives only slightly higher, by 0.3, 0.2, 0.3 and 0.1, respectively.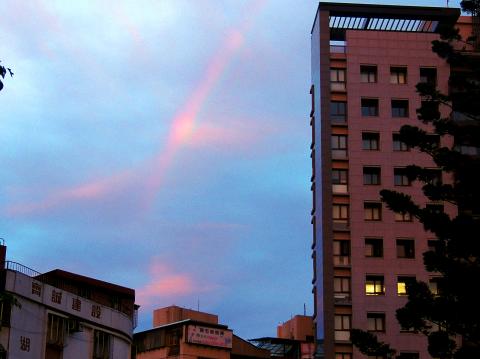 Twenty-six percent of Taiwanese respondents don't see a pot of gold at the end of the rainbow.
Photo: Enru Lin, Taipei Times
In comparison, Canada consistently reports higher "Life Today" scores (above 7) as well as greater well-being increases in five years. China reported lower mean scores, but much greater future increases of 1.6, 1.5, 2 and 1.9 in 2011, 2010, 2008, 2006, respectively.
Victim of success
Liu Chun-yu (劉俊裕), a cultural policy professor at the National Taiwan University of Arts, argues that Taiwan's early economic success created unrealistic expectations which has led citizens to believe they are miserable right now.
Modern Taiwan has a relatively high standard of living, he notes. Unlike the agrarian years before 1970, healthcare today is universal, transportation convenient and basic needs accessible to most. Yet Liu believes the working-age population of the 1970s felt better about their futures.
"Back then, one unit of work meant one unit of harvest, unless of course there was a natural disaster," he said. "But during Taiwan's transition to modernity, one unit of work could mean 10 units of harvest if you used the stock market, or rode the ICT [information, communication, technology] wave," Liu said.
"Growth has slowed, as it does eventually in all developed nations, but we crave that old miracle. Of course we don't get it, and then we start thinking about how bad things are now compared to how it was before," he added.
Identity crisis
Discontent is worsened by Taiwan's ongoing identity crisis, Liu continued. "If you don't know where you are, you can't think very optimistically about the future," he said.
Once militantly controlled during the Martial Law era, culture was forgotten by the central government during Taiwan's rapid industrialization, and therefore had a chance to develop organically. Today, Taiwanese culture is no longer a paean to Peking Opera. But nobody really knows what it is, Liu said.
"A lot of what the government has been doing is promoting creative industries, but it wants to find some other direction ... Before it moves forward, it must achieve a consensus," said Liu, who co-wrote a bill that the Ministry of Culture will submit to the Legislative Yuan this month. The draft includes a platform for artists, grassroots activists and other cultural workers to negotiate a national cultural agenda.
Law Fang-mei (駱芳美), a US-based licensed counselor and psychology professor who has a clinic at Shih Chien University, also notes that Taiwan's sense of unity is weak.
Different languages were used by Taiwanese in different eras, and there are large populations today that are unable to communicate clearly with one another.
"For example, my father was educated under the Japanese school system, and he is fluent in Japanese and the Minnan [Hoklo, commonly known as Taiwanese] dialect. Some people from that period spoke only the Minnan dialect. But in my generation most people are fluent exclusively in Mandarin, and even spend a lot of time learning English," she said.
"Due to the language barrier, some people find it hard, or are actually unwilling, to listen to what previous generations are saying. When facing problems, each Taiwanese has to relearn many things by himself or herself," she said.
Feeling fine?
A gloomy outlook for five years down the line can be seen as evidence for a nation's low morale. Yet in a curious paradox, Lin stresses that he feels fine. "My day-to-day life is good," he said. One woman surnamed Huang (黃), a homemaker from Yunlin County, reports a "high degree of pessimism." Her family's business, a photography printing center, shut down years ago after operating at a loss. She has found work as part-time secretary at a local pigeon racing association.
"I don't expect another job. I don't expect too much. China is rising and businesses are leaving Taiwan, and that's the way it's going to be," Huang said.
"But haven't you heard? If the mountain won't move, the road does," she said, using a colloquial Chinese expression.
Meanwhile, the Directorate-General of Budget, Accounting and Statistics is completing its own Happiness Index Report. Release is scheduled for the end of August, said project supervisor Wu Pei-hsuan (吳佩璇).
"We respect the results of other polls, but believe we have considered much larger samples and more variables to provide a complete picture of national happiness," said Wu.
Comments will be moderated. Keep comments relevant to the article. Remarks containing abusive and obscene language, personal attacks of any kind or promotion will be removed and the user banned. Final decision will be at the discretion of the Taipei Times.