A look behind the screen
A Chinese classic is deconstructed and the process of creating a tragic story about gender inequality is laid bare on a stage that doubles as a multimedia studio
The play Thunderstorm by Caoyu (曹禺) is a classic of Chinese modernism and a fervent indictment of the inequalities of the old society. In the hands of director Wang Chong (王翀), however, it has become something entirely different.
"The reason this play has achieved its present status is intimately connected with China's political agenda," Wang said. "In China, it has a position of much-needed political correctness."
Wang said his production overturns the conventional performance style of Chinese theater, and injects the play with new life.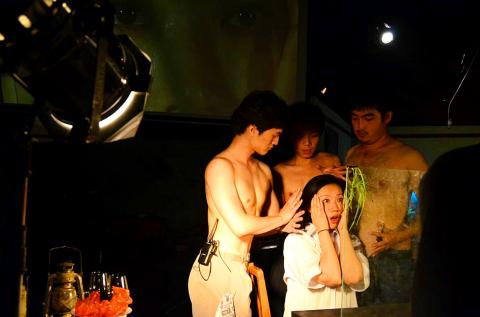 Actors double up as cameramen and crew in Wang Chong's multilayered 'stage movie.'
Photo Courtesy of TAF
In an interview with the Taipei Times at Wellspring Theater earlier this week, Wang said that theater artists in China approach the stage in a traditional and limited way.
"They consider that there is only one correct way to do one play; that there is only one correct understanding of a play. They do not accept that a play like Hamlet could be performed in a thousand different ways," he said.
Wang says theater should be a free artform, where a single text can be open to several interpretations.
"This is why I decided to do Thunderstorm as a multimedia collage. I call this form a 'stage movie,'" Wang said.
Originally set against the background of a well-to-do family in 1930s China, the play has been relocated to the home of a powerful Communist Party official in the 1990s. The cast of characters has been pared back, focusing on just three: the young son of the family, his young stepmother and his maid. The original play took issue with China's feudal society, and explored issues of incest; Wang, however, has cut all of that away to focus simply on gender inequality, which he believes remains an important issue in modern society.
"We have set the play in the 1990s, but really this is a theme that transcends time and space … Rich guys can [still] do whatever they want and women are powerless, regardless of their social status."
In addition to the dramatic issues, an important theme in Wang's version, which he has titled Thunderstorm 2.0, is the subject of mediated information. The stage takes the form of a studio, with cameras, a sound desk, and a crew working on shooting the story. The actors only act to the camera, then revert to other roles off camera, sometimes serving as cameramen or other supporting roles. The actual story is revealed on screen, shot and edited live for each performance, with the technical crew all in full view of the audience.
"Mediated communication is really central to our daily life … I really want the audience to see the mechanism of this reality. We force the audience, in some way, to see the performance through different types of media, through different shots, montage, cinematic aesthetic — basically the screen. They can see the actors, in the flesh, but their primary focus is the screen. This also links with the idea that media fabricates facts, especially in China. Reality is fabricated through cinema or news programs … [The play] allows you to see the process of this fabrication."
While the fabrication of reality is a major part of the Thunderstorm 2.0 experience, the powerful story of a woman suffering under the yoke of a patriarchal society remains at its core.
"Of course you can emotionally attach with the characters, you can focus on the female tragedies, but you can also see the process of making media reality as well."
Wang said that the original text of Thunderstorm "is still considered a masterpiece, but I don't think young people will like it. I still remember seeing a video of the Beijing People's Arts Theater version of the play in high school, and I intentionally ignored this video by chatting with my classmates because I believed that it was an outdated form of art. Back then I knew nothing about theater, but I had this sense. Later I understood more about the form and the complexity of the text, but I don't think young people now will like it [any more than I did]. It is our job to renew theater arts, to take the tradition forward, and we have to come up with our own approach and bring this text to contemporary China."
Publication Notes
Performance Notes
What: Thunderstorm 2.0
When: Today and tomorrow at 7:30pm and Sunday at 2:30pm
Where: Wellspring Theater (水源劇場) located at 92 Roosevelt Rd Sec 4, Taipei City (台北市羅斯福路四段92號)
Tickets: NT$700 and are available through NTCH ticketing and online at www.artsticket.com.tw
Comments will be moderated. Keep comments relevant to the article. Remarks containing abusive and obscene language, personal attacks of any kind or promotion will be removed and the user banned. Final decision will be at the discretion of the Taipei Times.