Taiwan's solar energy failing to shine
Taiwan is blessed with sunshine and many other renewable resources, but its green energy industries are locked in a quagmire of government inertia
Typhoon Soulik was a timely reminder of nature's awesome power: Hurricane-strength winds tore across the nation, Taipei was flooded and 800,000 homes were yanked from the national grid.
The extreme weather connected to global warming remains pegged to rising carbon emissions, and carbon-intensive energy is at the center of the debate: UN statistics show that humans produce a staggering 43.1 percent of global CO2 emissions through coal-fired generation.
Amid a torrent of hard facts, Taiwan's political leaders stand accused of failing to confront the worsening environmental storm, while further UN figures indicate that Taiwan's per capita carbon emissions are now the 27th highest in the world.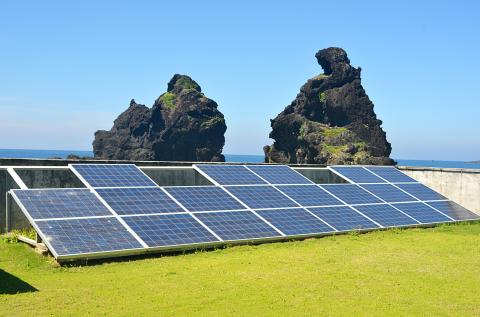 Solar panels are seen outside a government facility in Taitung County.
Photo: Sam Sky Wild
In 2008, early into his presidency, Ma Ying-jeou (馬英九) pledged to "preserve the natural environment." Five-and-half years into his administration, figures reveal that little has changed with Taiwan continuing to generate the vast majority of its electricity through carbon-intensive methods: In 2011 the combustion of fossil fuels provided 78.6 percent of its electrical power with nuclear power driving 16.7 percent of the nation's grid.
Lagging behind
Publicly accessible Bureau of Energy figures show that the country is still up to 98 percent dependent on imported fuels to match its substantial appetite for energy resources — a figure unchanged for more than two decades.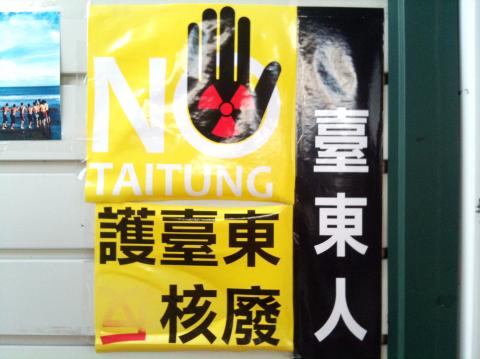 This undated photo shows anti-nuclear stickers in Dulan, Taitung County.
Photo: Sam Sky Wild
While many other industrialized nations may have embraced low-carbon energy sources — namely wind, solar, geothermal and to some extent hydropower — Taiwan, it would appear, is lagging behind its developed nation competitors.
Germany, for example, currently generates three percent of its total energy needs through solar power alone and produces 20 percent through renewable sources.
Repeated attempts by the Taipei Times to confirm the exact breakdown for sustainable energy, source by source, within Taiwan has met with official indifference. Representatives of the power-providing monopoly, Taiwan Power Company (Taipower, 台電), stated that it "has no relevant information" on the matter, while their counterparts at the Bureau of Energy also failed to provide any data.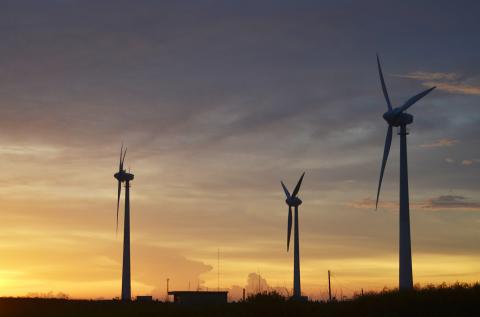 Wind turbines are seen in Penghu County.
Photo: Sam Sky Wild
The most recent available Taipower statistics indicate, however, that in 2011 Taiwan — blessed with more than twice the sunshine of Germany — met only 3.56 percent of its electricity needs through all its sustainable energy sources combined.
At the pleasantly-named Green+ Together 2013 Taiwan Sustainability Summit in June, a presidential aide quoted Ma saying that "[he] hoped that by the year 2025 the percentage of renewable energy rises to 9.7 percent."
Lofty words, but the situation remains somewhat bleaker. Official figures appear to indicate that, in 2011, much of Taiwan's "green" energy was actually generated through "biomass." This generously-termed "sustainable" energy source includes the burning of fuel sources such as household trash and industrial/agricultural byproducts which can release high levels of global warming gases as well as other dangerous substances, including carcinogenic dioxins.
For 50-year-old Pittsburgh native Robert Lasure, former director of a small-scale firm installing solar panels in southeast Taiwan, the key stumbling block to sustainable energy in Taiwan remains pricing.
"I think subsidized power provided by Taipower is problematic — the Legislative Yuan is still pumping money into it and this means for us to sell solar to the home owner [is] not cost effective," he says.
Government Inertia
Lasure, who developed his love for solar energy after working on top-secret US military contracts which often involved positioning panels deep within Taiwan's jungle-covered mountains, and who now describes himself as a "greeny," says that sustainable energy also faces top-level foot-dragging in Taiwan.
"There's inertia at a government level and I think a lot of that is down to the fact that people are resistant to change," Lasure says.
Kao Cheng-yan (高成炎), a professor in biometrics at National Taiwan University (NTU), echoes the sentiment and explains that the principle beneficiaries of cheap, carbon-heavy electricity are big highly-polluting industries.
Cheng advocates a carbon tax of NT$300 per tonne of CO2, arguing that this could help address the problem."This would affect households, but the major part would be shouldered by industry because they produce so much CO2, they use more than half of the country's electricity," Kao says.
Indeed much of Taiwan's electricity supply is gobbled up by the petrochemicals, steel, textiles and paper industries. Panorama magazine has cited statistics estimating that Formosa Petrochemical Corp's (台塑) infamous Naphtha cracker in Yunlin County's Mailiao Township (麥寮) is responsible for producing 26 percent of Taiwan's carbon emissions alone.
In fact in 2011, according to Taipower figures, 52.75 percent of all Taiwan's electricity was consumed by industry, 19.35 percent by the service sector and just 18.34 percent by domestic residences.
Corporate interests
Liao Huei-chu (廖惠珠), an economics professor at Tamkang University who specializes in energy studies, says Taiwan's energy-heavy manufacturing sector is reliant on cheap energy which helps boost the country's export-orientated economy.
Powerful commercial interests in Taiwan have expressed concerns over the reliability of sustainable energy and in March of this year Lin Ming-ju (林明儒), head of Feng Hsin Iron & Steel (豐興鋼鐵), said that scrapping nuclear power in Taiwan and shifting to renewable energy sources would not be feasible as the nation's electricity supply would be unstable.
Environmental campaigners, however, challenge that logic. NTU's professor Cheng, who is also a key figure in the country's anti-nuclear movement, says atomic power is currently holding back the development of renewable energy in Taiwan.
"The government wants to use nuclear energy and so they say nuclear power is cheap and that it can provide huge amounts of power so you don't really need renewable energy because it is expensive and unstable … In fact the government just don't want to use sustainable energy because if you develop it, it will make nuclear energy look ridiculous," said Cheng.
Huang Bin-juine (黃秉鈞), director of the New Energy Center and a professor of engineering at NTU, has argued that just 250,000 homes with grid-connected solar panels which produce excess electricity could match the 2,700 MW which the controversial Fourth Nuclear Power Plant in Gongliao Disctrict (貢寮) would theoretically generate.
President Ma, only too aware of the criticism he has opened himself up to through limited action on the environment, claims to be moving ahead on sustainable energy. "The government … is actively promoting a variety of renewable energy policies … including the construction of 1,000 land and sea-based wind turbines, and the installation of rooftop solar energy panels sufficient to provide power to one million homes," he said in June.
Again, despite repeated attempts to communicate with Taiwan's Bureau of Energy, it has been impossible to gain any official information to determine the success of either the government's ambitious wind energy program (currently ensnared in a series of controversial disputes with irate land owners) or its rooftop solar panel scheme.
Karl-Eugen Feifel, chairman of the Germany-based wind power company InfarVest, which is building a series of hotly-disputed wind turbines in Yuanli Township (苑裡), complained directly to Ma in May stating that there were a lack of incentives in Taiwan for investors wishing to enter the country's renewable energy sector.
While the cost of nuclear power plant construction and decommissioning continues to climb, solar panel costs have dropped year-on-year.
Lung I-tao (龍宜島), the man charged with solar energy research at the National Science Council-funded Solar Energy Project of Institute of Nuclear Energy Research in Longtan, Taoyuan County, says it is ironic that Taiwan -- alongside China -- has been at the forefront of the solar panel industry yet the energy source itself remains very much on the sidelines of national power production.
"Taiwanese manufacturers have significantly influenced the solar market and this is because [the country's] semiconductor and electronics industries are so prominent. However, the domestic market is too small … There has been no strong incentive to invest since subsidies [for sustainable energy] are low," Lung says.
resources Aplenty
Sunshine is not the only abundant renewable energy source in Taiwan. Experts say the seismically-challenged country's geothermal resources could be tapped to produce "green" energy. Other projects include garnering the methane resources emitted by the country's 6 million pigs.
Taiwan also has an abundance of wind, and after eliminating ecologically and militarily sensitive sites the Industrial Technological Research Institute estimates that Taiwan could still host 1,500 wind turbines — a number which does not include offshore power, which could accommodate twice as many.
Yet, while large wind turbines remain more efficient than solar panels in terms of converting raw power into piped electricity, they also continue to provoke widespread anger — especially when built on a vast scale.
The Green Party's Pan Han-shen (潘翰聲) says that Taiwan's complex array of wildlife, which he says is the second most diverse in the world, is at risk from the wind giants. Pan says that in addition to the disruption these pose to migratory birds — such as Black-faced Spoonbills — massive infrastructure projects undermine the local, small-scale ethos of sustainable energy sources.
Coming back to earth
In June, Ma reiterated his concerns for the environment."Taiwan accounts for less than 0.3 percent of the world's population, but produces nearly one percent of the world's carbon emissions, so after [taking] office in 2008 I sought aggressively to implement a policy of conserving energy and reducing carbon emissions," he said.
Acknowledging the scale of the problem is key, but the statistics speak for themselves and Taipower's own figures reveal that while CO2 emissions — nationwide and on a per capita basis — fell between 2008 and 2009 (economists have attributed this to the economic collapse of 2008) they have continued to show marked increases in the years since.
Solar panel expert Lasure meanwhile takes inspiration from the low-scale approach to harnessing sustainable energy. "I think the government were trying to go more towards large-scale solar farms and didn't really care about smaller generation … but it's inevitable that we go towards green energy … Changing government and electricity company attitudes is going to take more time and part of the pressure has to come from people — they need to demand it," he says.
Amid government pledges and policy statements, the storm continues to build. Taiwanese academics Chou Chia (周佳) and Tu Jien-Yi (涂建翊), attached to Academia Sinica and the Chinese Culture University respectively, recently concluded a major study into rainfall patterns in Taiwan over the past 30 years. Their findings are grim reading: "Overall, rainfall extremes in Taiwan, which are mainly associated with typhoons, tend to become more frequent and intense, and also persist longer," they wrote.
Spotting the storm as it looms is one thing. Weathering it will be quite another.
Comments will be moderated. Keep comments relevant to the article. Remarks containing abusive and obscene language, personal attacks of any kind or promotion will be removed and the user banned. Final decision will be at the discretion of the Taipei Times.