Art exhibition listings
Stone Carving from the Heart (心雕石) is a solo exhibition of sculpture by Hsiao Teh-yang (蕭德揚). Inspired by the daily practice of Buddhism, Hsiao's carvings are meant to reflect the monumentality of the place where he sources his materials: the Xindian River (新店溪). In this exhibition, 65 of Hsiao's stone carvings have been selected to reflect his interest in religious themes and natural phenomena such as fungus, plants, trees and mountains.
■ National Museum of History (國立歷史博物館), 49 Nanhai Rd, Taipei City (台北市南海路49號), tel: (02) 2361-0270. Open Tuesdays to Sundays from 10am to 6pm. General admission: NT$30
■ Until May 26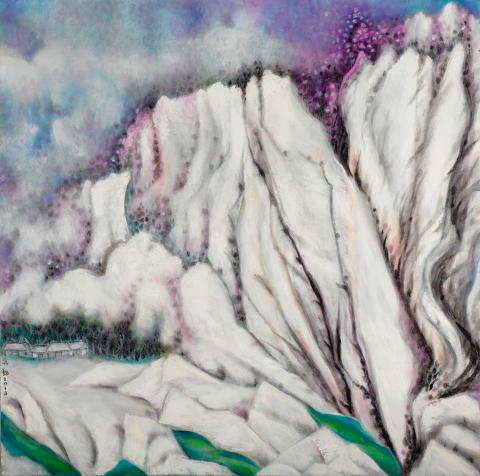 Chiang Hsun, Bailu (2013).
Photo courtesy of Michael Ku Gallery
Vernal Equinox (春分) is a solo show of paintings and calligraphy by poet, calligrapher and painter Chiang Hsun (蔣勳). Hsun's work depicts the experiences and memories of his life through vibrant flower paintings that are evocative of Taiwan's natural beauty, and mountain scenes that hark back to the classical tradition of mountain and water painting (山水畫).
■ Michael Ku Gallery (谷公館), 4F-2, 21, Dunhua S Rd Sec 1, Taipei City (台北市敦化南路一段21號4樓之2), tel: (02) 2577-5601. Open Tuesdays to Sundays from 11am to 8pm
■ Until May 31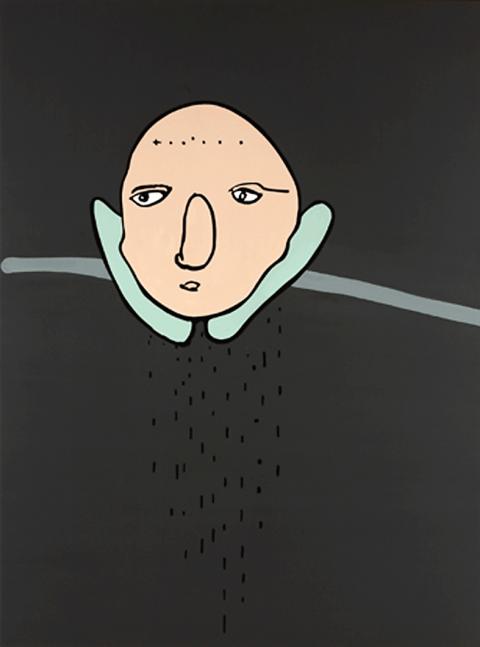 Hsiao Chu-fang, Dot,dot,dot,dot,dot (2013).
Photo courtesy of IT Park
Self-taught artist Yu Cheng-yao (余承堯), who lived to be 95, updates the classical tradition of landscape painting in a retrospective exhibition on the 20th anniversary of his death.
■ Jia Art Gallery (家畫廊), 1F-1, 30, Zhongshan N Rd Sec 3, Taipei City (台北市中山北路三段30號1樓之1), tel: (02) 2591-4302. Open Tuesdays through Sundays from 10am to 6pm
■ Until June 1
dot, dot, dot, dot, dot, dot (逗逗逗逗逗逗) is a solo exhibition of pop art by Hsiao Chu-fang (蕭筑方) that is long on ellipses and short on talent. Hsiao's simply drawn heads on a monotone background variously resemble a hung over, angry or confused Mr. Potato Head. This seems fitting, as Hsiao's paintings document his travels from Taipei to Tainan and the various states of thought he experiences. One has to wonder: who cares?
■ IT Park Gallery (伊通公園), 2F-3F, 41 Yitong St, Taipei City (台北市伊通街41號2-3樓), tel: (02) 2507-7243. Open Tuesdays to Saturdays from 1pm to 10pm
■ Opening reception tomorrow at 7pm. Until May 18
Capture the Moment — The Pulitzer Prize Photographs uses a chronological approach to display the Puliter Prize-winning works starting from 1942, the first year the prize was awarded. The exhibition serves as a kind of historical photo album, where the viewer catches a glimpse of major events over the past 70 years. Each of the photographs or sequences/albums of photographs on display is paired with its explanatory background story, including relevant words from the photographers. These individuals describe how the photograph was taken, their responses at the time, how they felt when they won the prize, and how the story later developed. The exhibition not only lets viewers sense the visual feelings prevailing at the scenes of many major events, but also encourages them to understand the context in which these events occurred, while appreciating the photographers' mental processes.
■ Kaohsiung Museum of Fine Arts, 80 Meishuguan Rd, Greater Kaohsiung (高雄市美術館路80號), tel: (07) 555-0331. Open Tuesdays to Sundays from 9am to 5pm. Admission for Capture: NT$220
■ Starts Wednesday. Until July 7
Comments will be moderated. Keep comments relevant to the article. Remarks containing abusive and obscene language, personal attacks of any kind or promotion will be removed and the user banned. Final decision will be at the discretion of the Taipei Times.