The Vinyl Word
Disco isn't dead. The French are bringing it back and it's called nu-disco. The revival is dropping the tempo on dance floors across the globe, and French promoters Cliche Records are dead set on making sure that Taipei doesn't fall behind on the trend. Vinyl Word keeps featuring them, and it's because we love them. Pants may be tighter and the hair a bit smaller, but a Cliche Records party is homage to the era of Studio 54, even if you only know it as a movie (it was a club).
Belgian born DJ and producer Vito De Luca performs tonight at Opium Den as Aeroplane. He is one of the artists leading the disco revival. He is not alone. With the sudden oversaturation of EDM, a lot of electronic music artists (Daft Punk, Justice) are ditching their signature style for the softer strums of nu-disco. So now the term is getting tossed around a lot, all of a sudden and in Taipei, club owners are asking promoters to book nu-disco acts even if they don't know what this new style is.
De Luca explains that nu-disco has slowly evolved from disco and morphed into a more musical type of electronic pop music. It draws influences from the disco music of the 1970s and early 1980s, fused it with Italo-pop and then layers it on French house music. De Luca gets even funkier with his own spin on disco, lacing his productions with a whimsical Pink Floyd feeling and a bit of an Abba approach just for fun.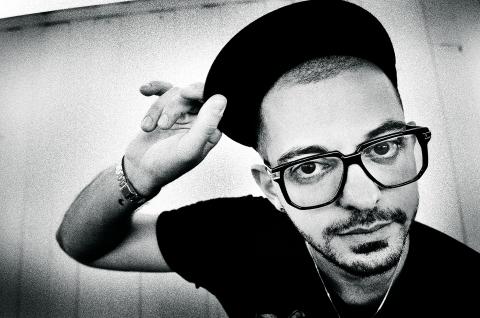 Nu-disco takes electronic dance music down to a whole new tempo.
Photo Courtesy of Cliché Records
Actually, he doesn't know anything about the Italian pop music of today. What he knows is what his mom played at home in the early 1980s, and most of it was electronic. It was the aftermath of Italo-disco, he says. "They were the same cheesy, over the top Italian songs, but produced that way made them cool. Some of the greatest dance records were made then, and those ones were a revolution."
It was with this foundation that De Luca began producing his own music and finally ended up with a 50-minute collection of cheesy disco gems called We Can't Fly. And what I mean by cheesy is songs so cool that despite being produced three years ago, they are closer in time to the Bee Gees that anything I've heard in the last decade. De Luca released the album shortly after he split with the former other half of Aeroplane, Stephen Fasano, in 2010.
When he DJs, it's hard to please everyone, says De Luca. "Some people come to hear the Aeroplane tracks they like, which usually are not tailored for clubs, and some people are just there because it's a club, so you have to get everyone to dance."
His tactic for dealing with this situation is to start his sets slow — really slow. This way, anything he plays after feels faster and makes the crowd react more. That's the tempo he feels comfortable with.
"Most of all, it makes the girls dance. I believe that's a really big part in the success of nu-disco and all related genres," he added.
Actually, it makes everyone dance, just not in the aggressive fist pumping style that clubgoers today call dancing. Nu-disco slows the dance floor down a notch, giving people time to listen to what they are hearing. The end-result is a much funkier dance floor. It's more like Chic sang it in 1978 — everybody dance and clap your hands.
Aeroplane plays tonight at 11pm at Opium Den, 2F, 297, Zhongxiao E Rd Sec 5, Taipei City (台北市忠孝東路五段297號2樓). Admission is NT$900. Tickets are available at the door. www.facebook.com/cliche.records
Comments will be moderated. Keep comments relevant to the article. Remarks containing abusive and obscene language, personal attacks of any kind or promotion will be removed and the user banned. Final decision will be at the discretion of the Taipei Times.