Classical DVD reviews
I Capuleti e I Montecchi, by Vienna 2008; Norma, by Theatre Antique d' Orange 1974 and La Sonnambula, by Cagliari 2008
I Capuleti e I Montecchi, Vienna 2008, Netrebko, Garanca, DG 4778031 [2 CDs]; Norma, Theatre Antique d' Orange 1974, VAI DVD 4229 and La Sonnambula, Cagliari 2008, Gutierrez, Siragusa, Alaimo, Dynamic 33616 [DVD]
Bellini's opera I Capuleti e I Montecchi (The Capulets and the Montagues) was little known 30 years ago but is nowadays performed increasingly often. It's loosely based on Shakespeare's Romeo and Juliet, though it uses various Italian sources rather than the play itself. Thus the rival Capulets and Montagues become the Guelphs and Ghibellines of Medieval Italian history, a character called Tebaldo combines the functions of Paris, who Giulietta's (Juliet's) parents want her to marry, and Romeo's friend Tybalt, and Shakespeare's Friar Lawrence, who's a keen herbalist, becomes a doctor called Lorenzo.
Bellini stitched it together in a hurry after a rival composer had failed to fulfill a commission. He used melodies from an earlier, failed, opera of his (though they still sound magnificent today). Most importantly, he wrote both Romeo's and Giulietta's roles for women's voices.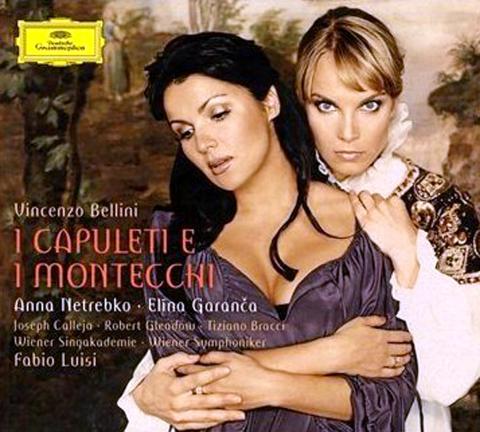 I Capuleti e I Montecchi, Vienna 2008.
YouTube is becoming indispensible for opera-lovers, particularly after someone called Shawn Melon started uploading complete opera productions. This is the first port of call when looking for a superb rendition dating from 2008, but only uploaded last year, starring Anna Netrebko as Giulietta and Joyce DiDonato as Romeo. I finally tracked down the original DVD on an invaluable resource for rare classical products, the Berkshire Record Outlet (www.berkshirerecordoutlet.com). This reveals that it's on the Encore label, with the catalogue number 3325, and cheap, but with limited availability. It's even cheaper from House of Opera (www.operapassion.com).
The production filmed here is from the Opera National in Paris. Netrebko was five months pregnant at the time but nevertheless gives a stunning performance, as does DiDonato as Romeo. I experienced an enormous thrill as Bellini's familiar style — quick marches, apparently made popular by the French Revolution, alternating with lyrical melodies with characteristically long vocal lines — once more seeped into my consciousness.
The set is very simple — squares of red velvet on the walls, and most of the rest of the color provided by the costumes. But the whole production, conducted by Evelino Pido, has enormous vitality and freshness, even though it was designed by Robert Carson some time ago — YouTube has a clip of Vasselina Kasarova in it back in 1996.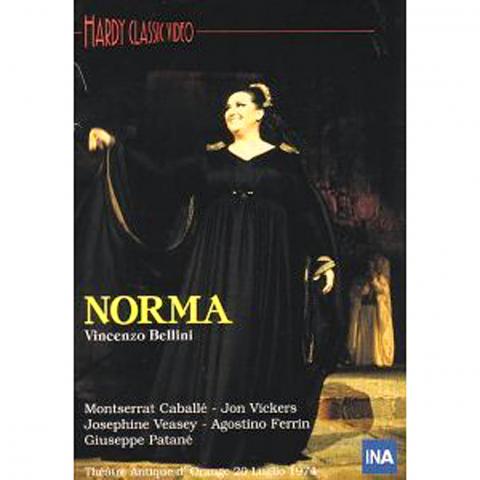 Norma, Theatre Antique d' Orange 1974.
Also in 2008 Netrebko recorded the opera again, this time in Vienna with the Vienna Symphony Orchestra under Fabio Luisi. Her Romeo here is the Latvian mezzo Elina Garanca, and the result is issued on two CDs by Deutsche Grammophon.
This, like the Paris DVD, is a great treasure. It's impossible to choose between Garanca and DiDonato — both are outstanding. And each version will help to establish this opera as the masterpiece of the bel canto (beautiful singing) style it truly is.
YouTube, and Shawn Melon, come up trumps again with a fascinating production of Norma, generally rated Bellini's finest work, from Tokyo in 2003 (uploaded in 2012). The title role is taken by Fiorenza Cedolins, with Vincenzo La Scola as Pollione. It's in no way denigrating the musical virtues of this production to say that its strongest suit is its visual style.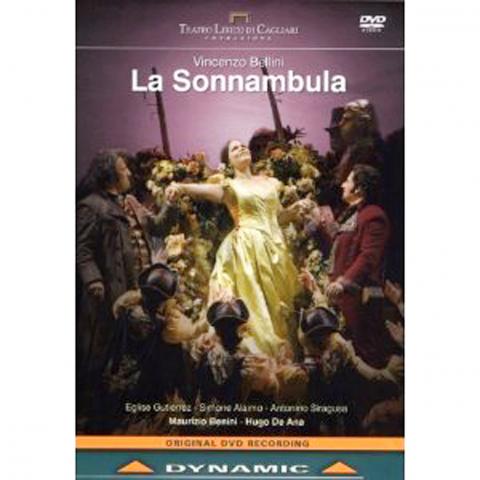 La Sonnambula, Cagliari 2008.
As an example of this, take a look at the opening of the opera's second half (it's on YouTube in two separate parts). In a nighttime scene, Norma is wrestling in her mind whether or not to kill her two children by Pollione, who's planning to run off with a younger woman. The scene is intensely atmospheric, with the sleeping adolescents sprawled on a bed and Norma fingering the blade of a knife. The set evokes the stern but simultaneously sensuous affluence of ancient Rome, though Norma is actually a druid priestess in distant Gaul.
But then the whole production puts visual splendor before historical accuracy. Instead of Gallic druids in the opening scene, for instance, there are Roman legionnaires, even though the occupying Romans are precisely who the druids are committed to resisting until Norma tells them to hold off (because the Roman commander is her former lover Pollione). Nevertheless, the whole effect, with the druids actually a Japanese chorus, is simultaneously bizarre and deeply engaging. All praise, then, to Argentinean director and designer Hugo de Ana — his is a truly magnificent production.
But where does it come from? All my attempts to identify the original DVD have failed. Maybe it was a video made for Japanese TV. Anyway, watching it on YouTube constitutes a huge pleasure.
The classic rendition of Norma on DVD remains Montserrat Caballe and Jon Vickers in their outdoor performance in the ancient Roman amphitheater at Orange, France, in 1974. The wind lifts the veils of Norma and her priestesses just after her famous aria 'Casta diva' (chaste goddess) with an extraordinary effectiveness that couldn't have been foreseen. It's small wonder Caballe calls this her most memorable opera performance.
Finally, Bellini's La Sonnambula (the sleep-walker) from Cagliari in Sardinia in 2008. Sardinia can't often contract the greatest soloists, one assumes, but Eglise Gutierrez as Amina and Antonino Siragusa as her lover Elvino are acceptable, as is Simone Alaimo as Count Rodolfo (though he's no Clabassi).
The two lovers are characterized by light, almost transparent voices that aren't immediately very pleasing. To suggest that this is what Bellini requires is to insult the composer — I, for one, prefer soloists who you could imagine in Wagner, even when it isn't Wagner they're performing. What characterize this production are again the sets and the treatment of the chorus, which both seem to be in imitation of an 18th century painting tradition. All in all, though, there could be a stronger Sonnambula than this.
The key operatic events of the last month, incidentally, were the new Parsifal at the Met, starring Jonas Kaufmann, and the premier in Madrid of Philip Glass's new opera The Perfect American, about Walt Disney. We hope to review both these as soon as they become available.
Comments will be moderated. Keep comments relevant to the article. Remarks containing abusive and obscene language, personal attacks of any kind or promotion will be removed and the user banned. Final decision will be at the discretion of the Taipei Times.