Dance: Into the mystic
Uphill,' the third part of a dance trilogy by Berlin-based Taiwanese dancer-choreographer Sun Shang-chi, will be performed this weekend at Taipei's Experimental Theater
Berlin-based dancer-choreographer Sun Shang-chi (孫尚綺) has returned to Taipei at the invitation of the National Theater Concert Hall to present his latest work, Uphill (浮‧動) at the Experimental Theater this weekend as part of the 2013 Taiwan International Festival of the Arts.
The 36-year-old Taipei-born Sun has been carving out a name for himself in Europe since he moved to Germany 12 years ago to join the Nuremberg Modern Dance Theatre. The National Taiwan University of Arts dance graduate and former Cloud Gate 2 (雲門 2) member began attracting critical attention for his choreography in 2005 when he won the Bavarian Theater and Literature Prize and then the first choreography prize at the 12th International Solo Tanz Festival Stuttgart three years later.
He has worked as an independent choreographer in Berlin for the past few years — including collaborations with Sasha Waltz & Guests — but has always maintained a strong connection with the dance world in Taiwan, establishing the Shangchi Move Theatre (綺動力舞團) in 2007 and making almost annual visits to Taipei for performances.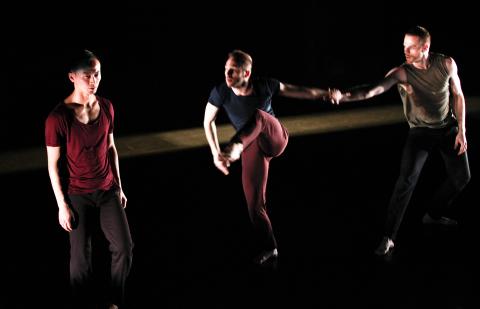 Sun Shang-chi's latest dance work is described as "a symbiosis of physicality and immateriality."
Photo courtesy of the Ntch
Sun says the 60-minute-long Uphill can be seen as the third part of a trilogy that began with two solo works he premiered in 2011, Traverse and Je sans paroles.
"They present different timelines separately. A myth is manifested in Je sans paroles, while abstract lines and rhythms are displayed in Traverse. Nevertheless, I return to focus on energy and fascination of nature's cycle," he says.
The 16-minute dance and video production Je sans paroles, which premiered at Le Manege in Maubeuge, France, was inspired by Samuel Beckett's 1956 Act Without Words I. It tells the tale of a man who falls into a desert and cannot escape — trapped in a world in which the borders between reality and imagination, logic and surrealism are constantly shifting. Sun's interaction with the video installation highlighted the intersection between his body and a virtual world.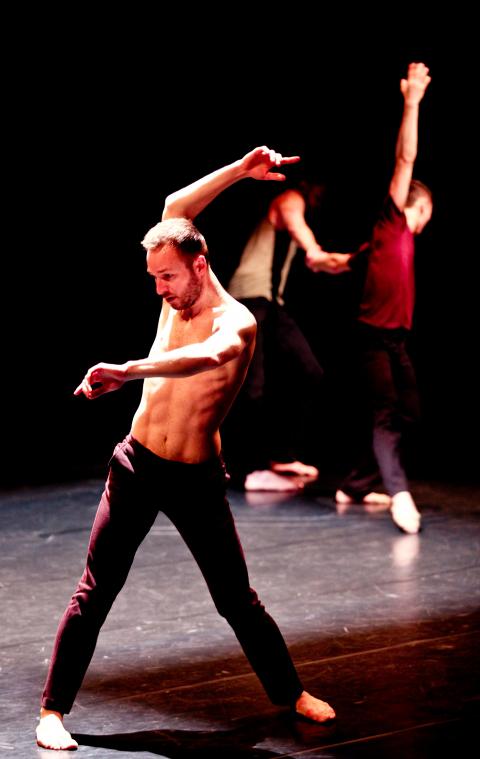 Sun Shang-chi's latest dance work is described as "a symbiosis of physicality and immateriality."
Photo courtesy of the Ntch
The 25-minute-long Traverse, which premiered at fabrik Potsdam in Germany, was a much more personal exploration of the body and its environment, where speed and fluidity were key. It is a piece built of layers upon layers of movement.
Sun began work on Uphill late last year, holding auditions in Berlin in November for two other dancers. German David Essing of the Scapino Ballet Rotterdam and Welsh-born Ross Martinson, a former dancer with the Ballet Mainz who is now a freelancer, were picked for the piece, which is set to a score by German composer Jorg Ritzenhoff.
Uphill has begin described in the press materials as "a journey through the unsaid," "a symbiosis of physicality and immateriality" and an "exploration of the beauty of the not yet existent." While I am not too sure what that translates into in non-dance speak, the works Sun has shown in Taipei have been intelligent, engaging and often thought-provoking, including Shangchi Move Theatre's Walk Faster in 2007, Genius (屬輩) in 2011 for Cloud Gate 2 and last August's Breakfast (早餐時刻) for the Taipei Arts Festival.
Publication Notes
Performance Notes
What: Uphill
When: Today at 2:30pm and 7:30pm and tomorrow at 2:30pm
Where: Experimental Theater (國家實驗劇場), 21-1 Zhongshan S Rd, Taipei City (台北市中山南路21-1號)
Admission: NT$800; available at NTCH box office,
online at www.artsticket.com or at
7-Eleven ibon kiosks
Comments will be moderated. Keep comments relevant to the article. Remarks containing abusive and obscene language, personal attacks of any kind or promotion will be removed and the user banned. Final decision will be at the discretion of the Taipei Times.