In stitches
Yongle Market, once the center of Taipei's clothing industry, has witnessed a slow decline. But a young generation of tailors and designers may be giving it a new lease on life
Among the vast bolts of cloth and clattering sewing machines that occupy Yongle Market (永樂市場) in central Taipei's Datong District (大同), several tailors studiously continue their centuries-old trade. From within this rabbit warren of fabric stalls that occupy the second and third floor of a drab, dilapidated concrete block, skilled artisans busily occupy themselves with the task of knocking out bespoke garments using acres and acres of cloth. Ornate wedding dresses, vast flowery curtains, sharp three-piece suits and tight-fitting qipaos (旗袍) provide a rainbow of well-stitched color while the whir of needling devices fills the air.
It is within these banks of established tailors' stalls and traditional outlets that 31-year-old Jennifer Su (蘇芳苹) set up shop after leaving college in 2004. Providing hand-made outfits to a range of clients including high-end designers, TV show art directors, advertising campaign managers, promotional outfitters and Cosplay enthusiasts, the fashion school graduate can pocket NT$60,000 in a good month and has a book full of niche market customers.
"Some designers draw the pictures and I then make their outfits," says Su. "Some of my clients come from the Internet, but some just look around the market and find me — they see that I'm younger so they think I can understand what they think, what they want … and in general I can find what I need in this building."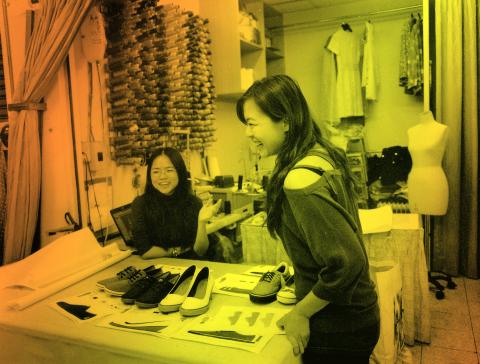 Jennifer Su, left, and Sisi Chen discuss the virtues of freelancing versus full-time work at Yongle Market located in Taipei's historic Datong District.
Photo: Paul Cooper, Taipei Times
While Su's unique tailoring outlet provides a youthful vibe, the market — once the thriving center of Taipei's cloth trade — has been undergoing a slow and gradual decline.
Located just around the corner from Su's stall, self-made tailor-businessman Liu Kuo-fong (劉國風) has been running his firm at the market for 20 years. "It's getting quieter," he says. "The new generation doesn't want to make these clothes. It's hard work designing and making clothes and you have to stand up all day long."
Liu started his firm on the market's third floor when it was little more than a warehouse. At the time, his staff would make elegant suits by candlelight. As to the future, however, he predicts that the market will probably morph into a slightly run-down version of London's Savile Row.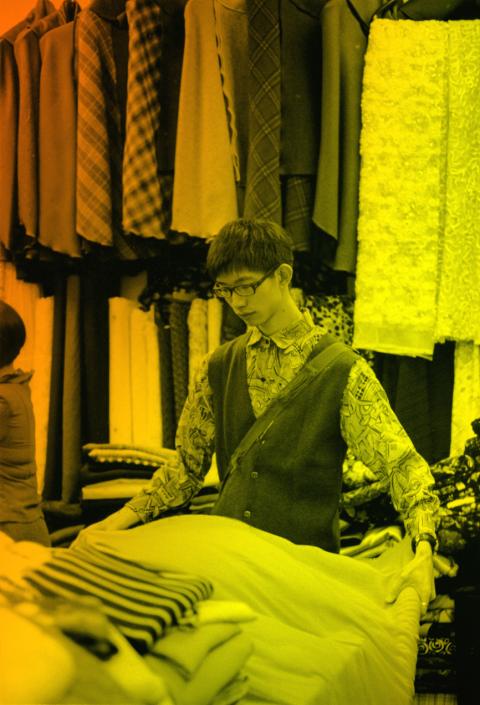 A customer peruses some fabric sold at Yongle Market.
Photo: Paul Cooper, Taipei Times
"It will be haute couture for those who can afford it," Liu says. "I mean, I still have many customers, but business is slower than before. But I've still got loyal customers from Taiwan and the occasional Italian and American passes through from time to time."
Liu greets Su with a warm hello and says the young tailor is like a daughter. His own children didn't follow their father into the family business, preferring to seek their own livelihoods. "Young people aren't too interested in becoming tailors. They know that you can make money, but they think it's too much hard work for the cash it offers. When I retire my stall will close."
Su, meanwhile, sits behind her desk cutting out templates and planning for the future. The multi-colored spools of thread lining one wall of her stall helps to lure customers in, while a mannequin sporting a Cosplay outfit adds to the hip atmosphere.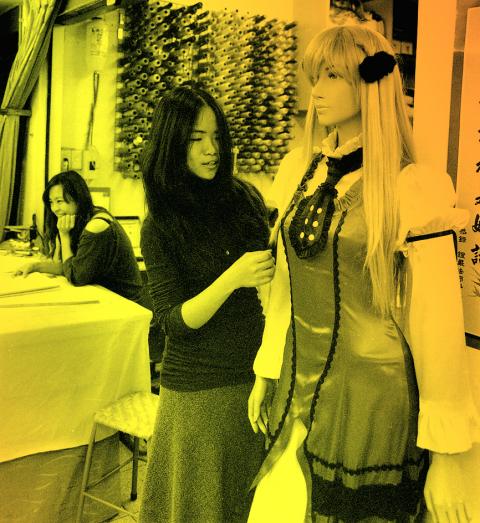 Sisi Chen, left, and Jennifer Su.
Photo: Paul Cooper, Taipei Times
"I would like to design and sell my own brand, but there are many details, including the money involved." Su says.
Su and her former classmate and close friend Sisi Chen (陳思宜) discuss the merits of freelancing against full-time work as an employee.
Chen, who works as a designer for a leading shoe-making firm, says her creative ideas are often tempered by relatively strict commercial guidelines.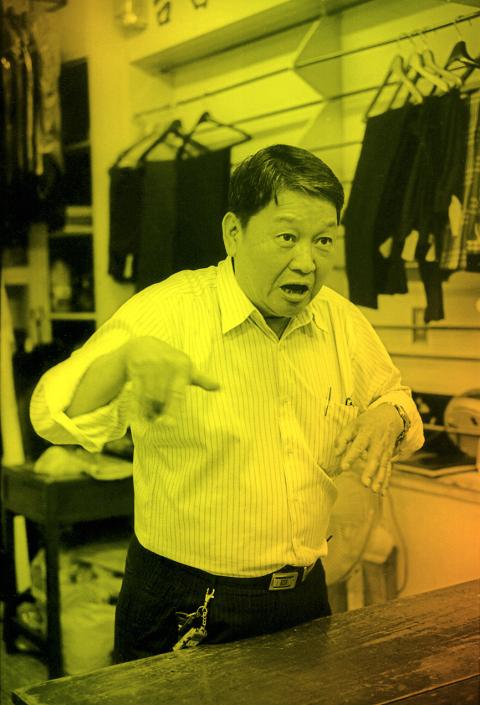 Liu Kuo-fong.
Photo: Paul Cooper, Taipei Times
"I get my creative ideas in many ways: Seeing the fabric, or the color. The production process also influences my ideas," says Chen, adding "My company tells me a lot of the guidelines I have to follow, I don't have total creative freedom. However, I have security in my work."
By contrast, says Su, "My customers sometimes give me more freedom, but when they want something then I have to do it. My customer is my boss."
Scores of trendy young people — bedecked in outlandish outfits and sporting many of their own sartorial creations — indicates that this traditional fabric market is attracting a new type of customer. Nevertheless, many of the market's old-timers say that challenges remain.
The two designers, who have chosen different career paths, both see the potential threat which low-cost Chinese products and tailoring pose to a market which they both value. With more and more fabrics being imported from China, local industries are feeling the pinch.
"It's impossible to compete with China in terms of price," says Chen. "But in terms of tailor-made goods, it's hard to communicate with a tailor in China and you don't know that you'll get what you asked for."
Su agrees and looks lovingly around the cloth-strewn interior of her shop and into the corridor nearby. With a smile she says: "I think there is still a place for this market. Some people still want different things that can only be made here, they want something unique."
Comments will be moderated. Keep comments relevant to the article. Remarks containing abusive and obscene language, personal attacks of any kind or promotion will be removed and the user banned. Final decision will be at the discretion of the Taipei Times.