Art phantasmagoria
Featuring the work of 10 artists from around the world, this year's Kuandu Biennale lives up to its theme: "Artists in Wonderland"
Built on a steep hillside, Kuandu Fine Arts Museum (關渡美術館) has several structural features that might be seen as a shortcoming by other museums. Small exhibition rooms are spread out over several floors and a somewhat labyrinthine layout. The museum has consistently found ways, however, to incorporate its offbeat design into shows, and that curatorial strength is exemplified by the 2012 Kuandu Biennale (關渡雙年展).
The theme of this year's biennale is Artists in Wonderland and it features 10 solo shows by 10 artists from Taiwan, South Korea, Vietnam, China, Singapore, Thailand, Australia, the Philippines and Japan and cultural backgrounds, each working with a different curator. Like Alice's adventures in Wonderland and through the looking-glass, the works of art take visitors on a trip that plays with their sensory perceptions. The show is in turns alluring, touching and frustrating.
The first piece, located directly to the left of the museum's entrance, is Korean artist Ji Hyun Boo's The Net of Being, made with 300 fishing lights filled with seawater and hung from the ceiling in the shape of a massive cone. Viewers can get a 360-degree view of the sculpture by climbing a circular staircase. The atmosphere created by Boo is calm and dreamlike. In keeping with the Biennale's theme, it brings to mind Alice's long, slow fall down the rabbit hole, and sets the mood for the rest of the show.

Don Salubayba, The Union of the Forgotten and the Unknown (2012).
Photo courtesy of the Kuandu Fine Arts Museum
The Biennale is best when it takes a playful approach to scale. For example, as viewers walk down an open staircase, they are confronted by Filipino artist Don Salubayba's The Union of the Forgotten and the Unknown, a multimedia installation with a triptych of four-meter by 10-meter canvases, two large projections and a floor-to-ceiling sculpture constructed from cardboard boxes. Filled with shadows and fleeting glimpses of morphing images, Salubayba's work examines how his fellow Filipinos now view the narrative of their colonial past.
As viewers walk away from The Union of the Forgotten and the Unknown, they might feel like Alice after eating the cake that turns her into a giant. Love Grows a Flower by Australian artist Pip & Pop (the pseudonym of Tanya Schultz) is a miniature sculpted landscape built from sugar, glitter, plastic flowers, modeling clay, candy, pompoms, sequins, crystal and beads in neon colors.
"This world draws you in and transports you to a whimsical paradise, a temporary pleasure zone" inspired by children's literature, folklore, video games and Buddhism, writes Sarah Bond, the Australian curator who worked with Pip & Pop. "Love Grows a Flower" makes you want to get on your knees and examine all the tiny details. A few swipes of a cleaning cloth, however, and this spellbinding universe, built on a puddle-like foundation of polystyrene spray foam, would be wiped away.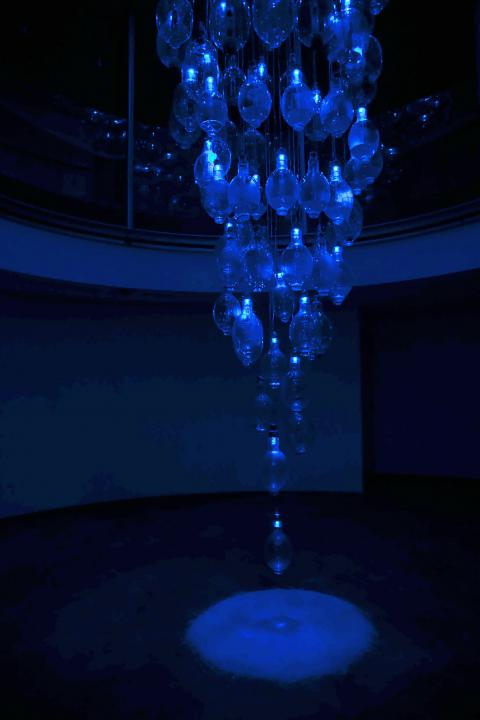 JiHyun Boo, Net-Being (2012).
Photo courtesy of the Kuandu Fine Arts Museum
The dark world of Go Watanabe's One Landscape A Journey is just a few steps away. The work consists of soundless videos of everyday scenes, such as a stack of ceramic dishware, playing in two pitch-black rooms. With the only light coming from the screens, walking into the installation is disorienting as the viewer quickly loses all perception of space.
The works of Boo, Salubayba, Pip & Pop and Watanabe stand out, largely because of the way they manipulate the viewer's senses.
Another notable piece is Nipan Orraniwesna's Ghost Skin: Taiwan. The Thai artist is known for creating site-specific installations based on maps of each place he exhibits in. Curator Jeab Gridthiya Gaweewong notes that Oranniwesna's work has recently "shifted from private to public" and become "more critical and socially and politically engaged due to the recent instability in Thailand."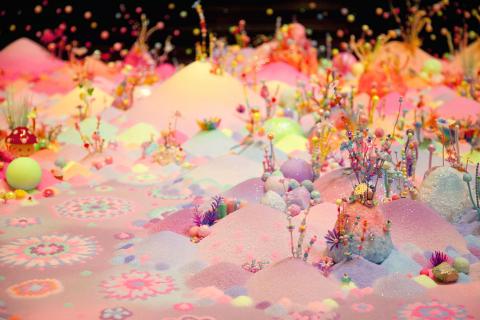 Pip & Pop, Love Grows a Flower (2012).
Photo courtesy of the Kuandu Fine Arts Museum
When I first encountered Ghost Skin: Taiwan, I smelled a slight, sweet fragrance, so light that I wondered if it was my imagination. The installation looks like a pure-white relief map, with streets and rivers made visible only by the bare light bulbs that ring it. I did not know how delicate it was until the museum docent told me that the map was made entirely from baby powder that had been shifted through stencils based on vintage maps of Taiwan. A puff of air or even an ill-timed sneeze could destroy a significant part of Orraniwesna's work, which examines the ephemeral, ever-shifting nature of places and their culture.
Though relatively small compared to other biennale shows, Artists in Wonderland excels by showcasing works that allow viewers to engage in a complete exploration of their senses, while at the same time examining at themes particular to contemporary Asian artists.
Publication Notes
Exhibition Notes
WHAT: The 2012 Kuandu Biennale (關渡雙年展)
WHERE: Taipei National University of Arts — Kuandu Museum of Arts (台北藝術大學關渡美術館), 1 Xueyuan Rd, Beitou Dist, Taipei City (台北市北投區學園路1號). Tel: (02) 2896-1000
WHEN: Until Dec. 16. Open Tuesdays to Sundays from 10am to 5pm (last entrance at 4:30pm)
ON THE NET: kdmofa.tnua.edu.tw
Comments will be moderated. Keep comments relevant to the article. Remarks containing abusive and obscene language, personal attacks of any kind or promotion will be removed and the user banned. Final decision will be at the discretion of the Taipei Times.