Starting from scratch
US choreographer and director Brook Hall is on a mission to bring locally produced English-language musical theater to Taiwan. "[Title of Show]," which begins Friday, is a step in the right direction
The rather unusually named musical [Title of Show] (美國音樂劇) opens at the Central Motion Pictures Building in downtown Taipei on Friday night, the latest in a line of shows by US choreographer/director Brook Hall, who is on a mission to bring locally produced English-language musical theater to Taiwan.
The show tells the tale of two writers, Jeff and Hunter, who are struggling to come up with a new musical to enter in a theater festival. The only trouble is they have just three weeks to write one. They enlist the help of two actress friends, Susan and Heidi, and pianist Larry and get to work. However, they can't think of a subject. In the end they decide to write a show about writing a show — and theatrical history is born.
The 90-minute-long [Title of Show] by Jeff Bowen and Hunter Bell ended up getting picked for production by the Musical Theater Festival and premiered in September 2004 in New York City. It later ran off-Broadway in 2006, garnering Obie Awards for Bowen and Bell, as well as director Michael Berresse, and then ran on Broadway in 2008, earning a Tony nomination for Bell for Best Book of a Musical.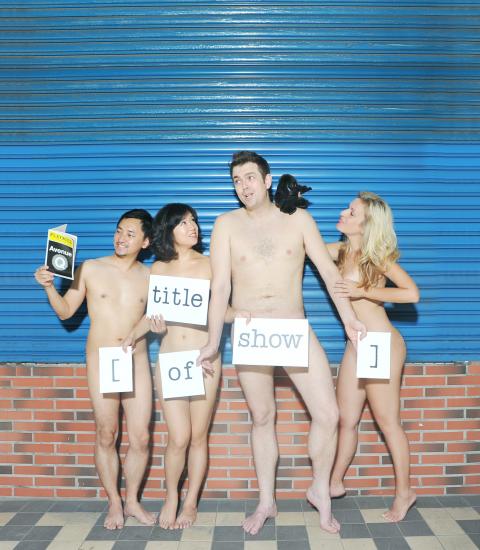 From left to right: The cast of [title of show] — Ming Lee, Cat Tsai, Brandon Thompson and Mandy Roveda — in the flesh.
Photo Courtesy of Steven Vigar
Hall, who brought Smokey Joe's Cafe to Taipei in January 2009, as well as two productions of Anything Goes — in December 2010 and last November — said he was attracted to the show because it echoes his life.
"For one, I live this show. Basically it's about four people who want to put on a show, who have nothing but their passion," Hall said in an interview on Sunday. "I wanted to do a small show after all the madness of Anything Goes and I came up with a list of small musicals and this was my favorite. It's manifest destiny; they imagine they can do it and they do."
Proving his mettle
"Big shows are spectacles, they work here. But there's been a backlash in New York, after really big shows like the The Lion King, after Spider-Man, about getting back to the magic of imagination, to smaller shows," he said. "If you don't have NT$15 million or NT$19 million, people think you can't do a musical in Taipei."
Hall said [Title of Show] is a kind of experiment for himself, the audience and for potential sponsors.
"There are a lot of other small shows I'd like to do if we can prove to corporate sponsors and backers that we can do it," he said. "I'm always looking for something that hasn't been done in Taipei."
The show stars Brandon Thompson, Ming Lee (李宏鳴), Mandy Roveda and Cat Tsai (蔡佳慈), some of whom are familiar faces to theater-goers. The show is in one act, which means the four are on-stage almost the entire time.
"As the show becomes more successful, they document it. Friendships fray, they question themselves. It's a real interesting idea and I think it is very clever. It's very funny. It's irreverent, kind of hip … it's got language in it, which means it's not for kids under 13," Hall said.
A word of warning: Don't be dissuaded by the plastic sheeting covering the Central Motion Pictures Building or the construction rubble on the ground floor when you get to the address. Discovering last weekend that the landlord had rented out the ground floor of the building to a company that wanted to renovate the space — without letting him know — was just the latest in a long line of hiccups that Hall has had to overcome in his theatrical production career. The theater on the third floor of the building is unaffected, as is the building's escalator.
life imitates art
Hall, who came to Taiwan in 2001 on a whim for an international arts festival and decided to stay, told the Taipei Times that the musical mirrors his life.
"It's very similar to my story," Hall said. "You take steps and keep moving forward. If you believe something has potential, you do it."
After making a living teaching tap dancing, flamenco and salsa to "bored doctor's wives" for his first few years here, Hall wanted more. "No one knew, but I had ambition to do theater on my own," he said.
Hall's first foray into theater was Smokey Joe's Cafe, which starred jazz vocalist Mandy Gaines. "I thought if I'm going to do it, I'm going to have to make a splash," Hall said.
When the budget spiraled out of control, the only way for Hall to get the musical made was to give up ticket profits, meaning he wouldn't make a dime from the production he spent months working on. "It was the biggest risk I've ever taken knowing that I wouldn't get anything back," he said. "I had to give up my life savings to buy my reputation."
Hall's bet on himself hit the jackpot as Smokey Joe's Cafe went on to be a smashing success and caught the attention of the big wigs of the National Theater. He was then hired to direct Mandopop songstress eVonne Hsu (許慧欣) in a large-scale production of Cole Porter's Anything Goes.
Hall now runs his own production company and has many projects of various sizes in the works. "[title of show] proves that sometimes smaller is better," Hall said. "The writers created something that had never been seen before. There's a lot of great music and it has become the Grease of now. It's really fun and speaks to anyone with creative ambitions."
Publication Notes
Performance Notes
What: [Title of Show]
When: Friday to Sunday at 7:30pm, Saturday and Sunday matinees at 2:30pm
Where: Central Motion Pictures Building (中影商業大樓演講廳) Pateh Rd, Sec 2 #260 3F, Taipei (台北市八德路二段260號3樓)
Admission: NT$650; available at NTCH box offices and online at www.artsticket.com.tw, 7-Eleven iBon kiosks and Eslite bookstores
Comments will be moderated. Keep comments relevant to the article. Remarks containing abusive and obscene language, personal attacks of any kind or promotion will be removed and the user banned. Final decision will be at the discretion of the Taipei Times.