Technology reviews: Asus' UX21 and UX31 Zenbooks
Taking a cue from the slim and sleek Macbook Air, a new set of notebook computers are starting to appear on store shelves. Dubbed "ultrabooks," this new generation of laptops aims to lure Windows users with thin and lightweight bodies, quick start-up times and a long battery life.
Asus (華碩) was among the first of several companies to unveil a line of ultrabooks this year. I've spent the past few weeks testing two new models, the UX21 and UX31 Zenbooks. Though they fall short when compared to the Macbook Air, these new laptops will probably fit the bill for loyal Windows users looking for a speedy computer in a stylish and portable package.
HARMONY IN DESIGN
Asus' UX21, 11-inch screen, 256 gigabyte SSD hard drive Zenbook.
Photo courtesy of Asus
Asus has not been shy in mimicking the Macbook Air. Its UX series of laptops, nicknamed the "Zenbook," sport lightweight bodies that share a strong likeness to Apple's coveted notebook, with all-metal exteriors, a razor-thin profile and tapered edges. And they are just as light as the Air: the 11-inch UX21 weighs 1.1kg, and the 13-inch UX31 weighs 1.31kg.
Though it's hard not to think about Apple's runaway hit when you look at them, the Zenbooks are beautiful in their own right.
The "Zen" in the design of these models can be found in the brushed metal lids (behind the screen), which are adorned with an intricate etching of concentric circles, much like the patterns commonly found in a Japanese rock garden. The silver metal chassis around the keyboard is etched with vertical lines that almost look like a wood grain pattern. The Zenbooks are certainly among the nicest-looking Windows laptops around, and they feel solid and well crafted.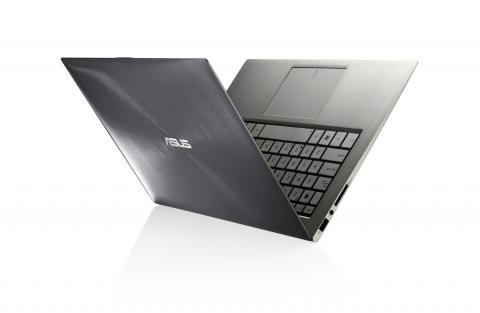 Asus' UX31, 13-inch screen, 256 gigabyte SSD hard drive Zenbook.
Photo courtesy of Asus
Of course, looks only go so far, but Asus made a clear effort to achieve a harmony of form and function. The all-metal chiclet keyboard is smooth to the touch and comfortable for typing (I used the 13-inch UX31 to type most of this review); the LED screen (1366 by 768 pixels on the 11-inch model, 1,600 by 900 pixels on the 13-inch model) was bright and sharp, and fine for long periods of viewing.
Asus also took the "less is more" approach with the laptops' hardware. The Zenbooks' svelte shape is possible because there is no built-in DVD-ROM drive. Those who get the 11-inch model will have to do without an SD card slot (both models have several USB ports and a connection for an external monitor).
Asus loaned the Taipei Times its top-end models, both equipped with Intel's Core i7 chip and 256 gigabyte solid-state hard drives. Performancewise, both Zenbook models are fast. There was barely any lag time when opening and closing programs, whether it was Windows Media Player, Windows Live Photo Gallery (photo editing software) or Internet Explorer.
Much of the Zenbooks' speediness is due to the solid-state drives (or SSDs), another name for flash memory chips, which read and record data much faster than a mechanical hard drive.
Flash chips have no moving parts. Because of this, flash memory requires less power, which benefits battery life. With the 11-inch Zenbook, I managed around 4 hours and 40 minutes doing standard activities that included surfing the Internet, watching videos and using word processing software. With the 13-inch Zenbook, I clocked around 5 1/2 hours with "battery saving mode" (which is part of Asus' included battery management software) turned on.
Both the 11-inch and 13-inch models turn on quickly and are ready to use right away, booting Windows 7 Home Premium in just over 20 seconds. But the laptop is designed so that you don't have to shut it down every time you stop working. The Zenbooks automatically go into "sleep mode" when you close the lid, and turn on within seconds after you lift the lid.
A PESKY TRACKPAD
Beauty aside, there is one glaring and critical letdown with the Zenbooks: unwieldy and awkward trackpads, particularly on the 11-inch UX21. I found the trackpad to be overly sensitive to the point where the cursor would jump across the screen and leave me with a handful of random folders and programs opened by accident. While writing e-mails and notes for this review, I kept losing my place because my hand would accidentally swipe the trackpad, moving the cursor to another part of my document. At first, I thought I just needed to get used to the machine, but after four days, the trackpad remained a maddening experience.
Basic motions like highlighting text or dragging and dropping files seemed more difficult on the 11-inch model, perhaps because of the smaller trackpad. In general, I encountered fewer problems with navigating the cursor on the 13-inch model.
Most makers of Windows laptops can't get it right when it comes to multi-touch functions on a trackpad. And Asus, unfortunately, is not an exception. With the Zenbooks, I found that two-finger scrolling (which lets you scroll down a page when you swipe down with two fingers) doesn't even compare with my five-year-old Macbook.
Another multi-touch feature is pinch-to-zoom, which lets you shrink or enlarge the text in a Web browser by pinching two fingers together (or moving them further apart) on the trackpad. On the Zenbooks, there is a persistent lag. When I moved my fingers in either direction, there was a noticeable delay before anything happened. And, inevitably, the text would either turn out too big or small.
The simple solution, of course, is to just simultaneously press CTRL and the + or - keys to adjust text size. But isn't the purpose of the multi-touch trackpad to spare us the need of keyboard shortcuts like this?
Also, the Zenbooks often confused two-finger scrolling and pinch-to-zoom gestures, which got annoying very fast while browsing the Web.
OUTDOING THE COMPETITION?
If you can tolerate an awkward trackpad — which I'm not sure I could with the 11-inch model — the Zenbooks offer an equally stylish alternative to the Macbook Air. And there are a few things to consider which might make Asus' new laptop preferable to the Macbook Air.
As much as I disliked the trackpad, I found the Zenbook's screen to be slightly more comfortable to look at in comparison to its Macbook Air counterpart, especially with the 11-inch models. The reason for this might be the darker border surrounding the Zenbook's screen, which makes things seem bigger, at least to me. Your mileage may vary, so make sure you try out a demo model at your local electronics store before buying.
Some users might be impressed with the Zenbook's audio speakers, which are made by Bang and Olufsen. The sound is loud and clear, with a notable amount of bass, but it's not ground-breaking or amazing by any means. Though better than the average laptop's speakers, they still sound tinny.
Early adopters might appreciate that the Zenbook comes equipped with a USB 3.0 port (in addition to another USB 2.0 part), which allows speedier data transfers if you have a compatible portable hard drive. The Zenbooks also come with a few freebies: a nice carry case and an USB Ethernet adapter.
Otherwise, Asus has tried to closely match the Macbook Air's specs. The 11-inch Zenbook equivalent to the Macbook Air comes with the same Intel Core i5 processor and 128 gigabyte (GB) solid-state drive, and retails for NT$36,900, which is NT$1,000 less than the Air. With the 13-inch Zenbook, Asus' model is equipped with the Intel Core i5 processor and a 128 gigabyte solid-state drive and retails for NT$39,900, NT$2,000 less than Apple's equivalent.
Don't get too hung up on the processor speeds (Intel Core i5 versus i7), and go by price and how much hard drive space you need if trying to decide which "ultrabook" to buy. Even the lower-priced Zenbooks will feel zippier than the average laptop, thanks to the solid-state hard drive.
The Zenbooks will appeal most to those who admire Apple's design savvy but still want something different. However, the Macbook Air still edges out the competition when it comes to offering a complete package of smooth-running hardware and software. And Windows fans, remember: you can always install your favorite operating system on a Mac.
Comments will be moderated. Keep comments relevant to the article. Remarks containing abusive and obscene language, personal attacks of any kind or promotion will be removed and the user banned. Final decision will be at the discretion of the Taipei Times.