Autumn leaves
'Appreciating maple leaf season' is well under way at Wuling Farm, one of Taiwan's most popular destinations for scenic wonderment
The Central Mountain Range is one of Taiwan's scenic treasures, and in autumn and winter it provides vistas of natural beauty that amaze and delight residents of a country that for the most part might be described as subtropical. Droves of tourists travel to the mountains to revel in the beautiful autumnal colors of various species of maple and cypress.
This year has been difficult for visitors heading out to enjoy the "appreciating maple leaf season" (賞楓季). The erratic weather and long spells of rain have made advanced bookings a gamble. Finding good rooms at prime locations when the maples are just so is no easy task, but the second half of this month looks promising. Despite the rain, I headed out last week to Wuling Farm (武陵農場), one of Taiwan's most popular destinations for scenic wonderment. I was hoping the wet weather would put people off, but the place was almost booked out, with the car park overflowing (and this was midweek) and the accessible stands of maple and cypress thick with tourists.
Taking photos of maples and cypresses in their autumn cloak of reds, yellows, dappled browns and burgundy is a popular annual activity with tourists flocking to resorts such as Mt Malabang (馬拉邦山) in Miaoli, Auwanda (奧萬大) in Nantou, Alishan (阿里山) in Chiayi, Mt Taiping (太平山) in Yilan and in a pinch, even Yangmingshan (陽明山) in Taipei. Each has its own appeal.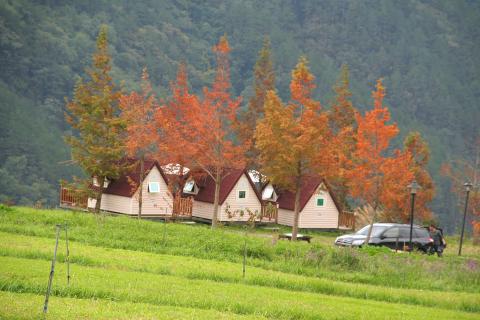 Huts leveraged over the mountainside provide amazing views and more than adequate comfort for visitors who don't want to sleep in a tent.
Photo: Ian Bartholomew, Taipei Times
Wuling Farm, located at between about 1,740m and 2,500m above sea level in Greater Taichung has a wide variety of accommodation and a mix of landscaped gardens and wilderness. Its ecological credentials and historical associations make it popular all year round, but at no time more so than in autumn.
Originally established in 1963 to provide work and a livelihood for soldiers of the Chinese Nationalist army, Wuling Farm has now morphed into the premier mountain resort for tourists looking for a flavor of more temperate climes. The farm's reputation has been assisted by a sense of history that comes from its close association with former president Chiang Ching-kuo (蔣經國) and the rustic grandeur of the main building, with its hardwood fittings. As a conservation area, Wuling is mercifully free of fanciful development projects, and many old-style farmhouses built of river stones have survived, despite their lack of luxury.
The farm (something of a misnomer, for though there are many fruit orchids, the overall appearance is more of gardens and parkland rather than a working agricultural establishment) covers an area of 772 hectares, and is located within a wider conservation area that centers on the Cijiawan River (七家灣溪), home of the Formosan salmon (櫻花鉤吻鮭), which is a survivor of the last ice age and the only salmon that has adapted to a totally landlocked environment. The fish is routinely described as a "national treasure," and while it is more than likely that visitors will not have the opportunity to see one in its natural habitat, the salmon's presence and endangered status are responsible for the relatively low-key and "natural" environment that is such an important part of Wuling Farm's charm. For studious souls, the Taiwan Salmon Eco-Center (櫻花鉤吻鮭生態中心) provides information and video of the elusive fish.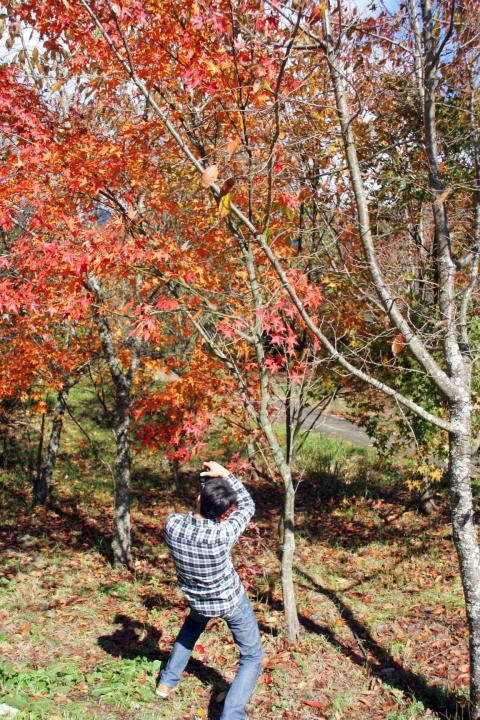 Photography is a major part of maple leaf appreciation.
Photo: Ian Bartholomew, Taipei Times
One of the peculiarities of Wuling's role as a conservation area for the Formosan salmon is that although the farm runs along a mountain valley containing the Cijiawan River, the river itself is only peripheral in the area's scenic appeal. Apart from a number of carefully selected observation points, the river is hidden away behind thick foliage or fences to discourage visitors from having an impact on the delicate habitat of the salmon.
Instead, the visitor's line of sight is drawn to the high mountains that hem the valley. Moving upward from the farm itself, the surrounding mountains are part of a much bigger conservation area: the Shei-pa National Park (雪霸國家公園). The farm itself is the approved access point for climbers aiming for the peaks of Hsueshan (雪山), or Snow Mountain, a trek that arguably provides some of the most beautiful mountain scenery in Taiwan. The climb generally requires three days and two nights, and climbers must present a Class A Climbing Permit (甲種入山證) and a National Park Admission Permit (入園證明) at the ranger station at the trailhead. Many visitors are perfectly happy with the splendid views that can be obtained from various observation points around the station.
On the way to the trailhead are the vast camping grounds for which Wuling Farm is justly famous. Situated high above the valley of the Cijiawan River, the site offers spectacular views. The camping area provides a mix of camping styles, from small prefabricated huts to simple wooden platforms where people can set up their own tents. Some of the huts are leveraged out from the hillside, providing a tantalizing, or possibly horrific, sense of being suspended in space. It is worth noting that temperatures can plunge during the night, so warm gear is absolutely necessary.
For those who prefer greater comfort, there are a wide variety of cabins located closer to the main administration area of the farm. While far from luxurious, locations such as the Maple Cabin area (楓葉木屋區) provide a considerable level of comfort and amazing convenience (NT$4,300 a night for a room with king-sized bed). Located just behind the main building, and facing onto a garden lined with varieties of maples and cypresses, a scenic attraction in itself, these snug little cabins, with their large picture windows, wood-paneled walls and modern electrical items (an electric blanket among other mod cons), provide a high level of comfort and proximity to nature at its most carefully groomed. When I visited the swamp cypress was pimping up the scene with a bright display of reds and yellows, but I was assured that the maple would kick in with the next cold snap.
For those who want all the facilities of a modern hotel, there is the Hoya Resort Hotel Wuling (武陵富野度假村), which is the only really blot on the landscape in the farm. Hotel-style accommodation is available from NT$4,600 a night for two persons.
Given the rather isolated location of Wuling Farm, it is unfortunate that the catering is so particularly unimaginative. Buffet meals are provided in the main building, and while adequate, neither quality nor variety redeem the pedestrian offerings. While the environment invites long stays, the facilities are clearly designed primarily for the tour-coach or SUV tourist there for a quick, painless dip into nature.
Wuling Farm clearly has huge appeal to local tourists with its mix of undemanding holiday experience and reasonable prices, but whether it will be as attractive to foreign tourists (especially younger people) is a little more open to question. Nature for the most part is enjoyed at arm's length, but one must be thankful that the demands of conservation have prevented the management from getting too imaginative with the exploitation of Wuling's abundant resources.
More information about Wuling Farm, its room rates and facilities can be found at www.wuling-farm.com.tw or hco.vac.gov.tw/wuling. Information about the Hoya Resort inside Wuling Farm can be found at www.hoyaresort.com.tw.
Publication Notes
How to get there
If driving from Taipei, take the National Freeway No. 5 (國道五號) through the Hsuehshan Tunnel (雪山隧道) to Yilan, transfer to Provincial Highway No. 7 (台七線) , then take the No. 7 Jia branch route (台七甲線) from Cilan (棲蘭). Total travel time from Taipei is about four hours. Check road conditions before departure, as partial road closures can lead to significant delays, especially during rainy weather. A comprehensive rundown of road conditions can be found at 163.29.178.21/realtime/RoadAll.php (in Chinese only), which is based on information provided by the Police Radio Station (警察廣播電台).
Comments will be moderated. Keep comments relevant to the article. Remarks containing abusive and obscene language, personal attacks of any kind or promotion will be removed and the user banned. Final decision will be at the discretion of the Taipei Times.