Restaurant review: Nan Chung 南川
Bored with your regular noodle joint? Nan Chung (南川), a new shop on the corner of Anhe and Heping East roads in Taipei, will spice up your bowl.
The restaurant, which also has a branch in Sindian (新店), specializes in Sichuan-style noodles, meaning that diners can expect plenty of mala (麻辣, literally "numb and spicy") in their meals.
Nan Chung — which translates as "southern Sichuan" (the restaurant got creative with the Romanized spelling of its English name; the "Chung" should be spelled and pronounced "Chuan" in Hanyu Pinyin) — has been pulling in sizable lunchtime crowds since it opened several weeks ago, and it's easy to see why. The food is excellent.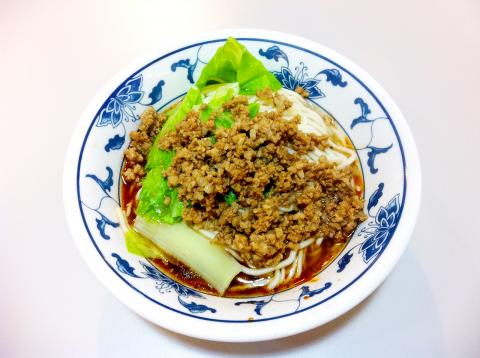 Zhajiang mian, or fried sauce noodles, Sichuan style.
Photo: David Chen, Taipei Times
It wasn't even the noodles that convinced me — Nan Chung had already won me over with its appetizers. Before my first visit, a friend got takeout and offered me a few bites of one of the restaurant's cold dish specialties, mala chicken (麻辣雞, NT$120).
This one is a must-try. The chicken slices, all white meat cuts, were perfectly tender and dressed in a reddish, mildly spicy mala sauce with a rich mix of flavors, ranging from sweet and piquant to smoky and nutty.
Nan Chung offers a wide selection of "dry" noodles (ganmian, 乾麵). On your first visit, go for the house specialty, sujiao zhajiang mian, or literally "pure pepper fried sauce noodles" (素椒炸醬麵, NT$85 for a small bowl, NT$130 for a large bowl). I found everything in this bowl to be perfect — from the balance of chili oil and mala sauce to the topping of minced pork, which was neither too fatty nor too dry, to the thin noodles, which were fresh and cooked al dente.
Other choices include the standard dan-dan noodles (擔擔麵, NT$70 and NT$110), a chili and peanut sauce-doused concoction also recommended by the restaurant. Soup noodle lovers can get their fix, too. Braised beef noodles (紅燒牛肉麵) are NT$120 for a small bowl and NT$180 for a big bowl, wonton noodle soup (鮮肉餛飩麵) is NT$70 or NT$110, and noodle soup with pig trotter (蹄花麵) will set you back either NT$110 or NT$160.
By default, the noodles are served very spicy, but you can ask the chef to go easy. Tell the wait staff that you want xiaola (小辣, slightly spicy).
The larger portions of each noodle dish are enough for a full meal. But it's more fun and fulfilling to get the smaller portion of noodles and have them with cold dish appetizers such as the aforementioned mala chicken or another house specialty, the smoked chicken. This one isn't as good as the mala chicken — the meat is a little tougher — but it's still worth trying for its subtle sweet and soy-sauce based flavor. There are two different cuts of smoked chicken (ask for the xunji, 薰雞) — wings (NT$100) or a chicken leg (NT$120).
Nan Chung is one of the rare noodle shops that puts thought and care into its appetizers. Even run-of-the-mill selections like fried tofu with sliced cucumber on top were fresh and tasted delicious. Other choices include dougan (豆乾), tea eggs and sliced bitter melon. Choose your appetizers as you walk in, but make sure to ask about the prices first, which aren't listed and range from NT$40 to NT$60 per plate.
Nan Chung's higher-than-average prices are very much worth it, and its environs are refreshingly modern and comfortable. The interior is adorned with wood paneling and mirrors on the walls, while hanging lamps create a homey feel. I also like how the chef is stationed in the middle of the room behind a large countertop bar, in view of all of the diners. The shelves behind the bar are stocked with the requisite ingredients for Sichuan cooking: cinnamon, star anise, dried orange peel and Sichuan peppercorns (花椒).
I thought about this alchemy of spices as I left the restaurant, my lips buzzing after a bowl of delicious sweet and sour noodles (酸辣麵, NT$70 or NT$110) and my taste buds savoring the sweet, vinegary and smoky flavors that lingered for a while.
Publication Notes
Nan Chung 南川
Address: 1F, 91, Heping E Rd, Sec 3, Taipei City (台北市和平東路三段91號1樓)
Telephone: (02) 2732-5580
Open: 11:30am to 8:30pm
Average meal: NT$110 to NT$200 per person
Details: Nan Chung's original branch is located at 336 Zhongzheng Rd, Sindian Dist, New Taipei City (新北市新店區中正路336號), tel: (02) 2912-4735
Comments will be moderated. Keep comments relevant to the article. Remarks containing abusive and obscene language, personal attacks of any kind or promotion will be removed and the user banned. Final decision will be at the discretion of the Taipei Times.