Restaurant review: Sonnentor Cafe 日光大道健康廚房
The Sonnentor Cafe (日光大道健康廚房), a cafe and restaurant chain with three branches across the city, makes a great first impression with its rural chic interior and "green" attitude.
You can sip on organic coffee while admiring the shop's designer furniture, which has a DIY vibe, and oil paintings by local artists. Or shop for freshly made bread and pastries, homemade jams and essential oils.
The Xinsheng branch has a charming outdoor garden in front of its shop, as well as an in-house bookstore, stocked mostly with titles on environmental issues (a Chinese translation of Al Gore's Inconvenient Truth is displayed prominently on the shelves) and on cooking and the slow food movement, both in Chinese and English.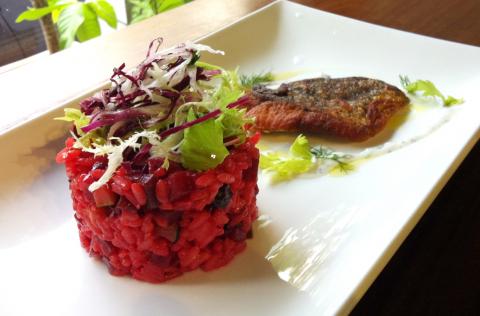 Beautiful, but boring.
Photo: David Chen, Taipei Times
A bistro with style and a conscience is something to be applauded, but unfortunately at Sonnentor, the food is mediocre and a bit overpriced.
On a lunchtime visit to the Tianmu branch, my dining companion and I were excited after reading the menu, which boasts items like organic penne rigate with garlic, river snail and bacon (NT$380), wild mushroom fettuccini with cream truffle tapenade (NT$380) and chicken fettuccini with pumpkin sauce (NT$320).
We were left underwhelmed and disappointed by the pan-fried sea bass with beetroot risotto (NT$450), despite the fact it was beautifully presented: The rice was a vibrant red color as it was cooked with diced cubes of beetroot, and artfully dressed with strands of arugula and purple lettuce.
Yet it was bland and boring from the very first bite. The "risotto" hardly resembled Italian in terms of consistency, and all I could taste was vinegar. The fish was overcooked.
The chicken fettuccini with pumpkin sauce was similarly uninspiring, and summed up our impression of the food at Sonnentor. The restaurant uses fresh ingredients of good quality, but the end result was a meal that could have been so much better.
Perhaps we would have had better luck with the dinner menu, which includes a 3oz fillet steak with porcini risotto (NT$480), pan-fried cod fish with potato gnocchi (NT$580), or the 8-ounce ribeye steak with duck foie gras green peppercorn sauce (NT$980). For an extra NT$300, you can have the set meal, which includes a choice of organic tofu mixed with potato or oyster with caviar, salad, soup and a choice of organic coffee or black tea. All lunch prices include soup, salad and coffee or tea.
Sonnentor's branch on Xinsheng South Road (新生南路) offers a different menu that consists mostly of lunch salads, which I hesitate to recommend based on my visit. I ordered a salad with "wild mushrooms, poached egg [which is actually hard-boiled] and Japanese sesame dressing" (I opted for a lemon vinaigrette since they ran out of sesame dressing).
This was another instance of the restaurant using good, fresh ingredients that didn't work well together. The bulk of the salad consisted of iceberg lettuce, which made me wonder why I was paying NT$320, which is the average price for their salads. Other choices for salad accompaniment include smoked duck breast or tuna, and all salads come with a choice of organic coffee or black tea.
Sonnentor does a decent job with its variety of fresh breads, which are baked on its premises and accompany all meals served with a tasty taro yogurt spread. You can also buy bread to take home, as well as desserts, which are hit or miss. Skip the cookies, which are rock hard and sugary.
The waitstaff is polite and clearly trained, but the service was clumsy. At the Tianmu branch, our waiter was overly eager to take our plates away. At the Xinsheng branch, the waiters were polite and left us alone, but never came to check on us.
Sonnentor's best feature is its atmosphere. Interior design fanatics will enjoy the Xinsheng branch, which is located in a renovated old apartment and sports a quirky yet comfy decor. But go for coffee or tea rather than a meal.
Publication Notes
Sonnentor Cafe 日光大道健康廚房
Address: 6, Alley 18, Ln 18, Tianyu St, Taipei City (台北市天玉街38巷18弄6號) and 7-1, Ln 22, Xinsheng S Rd, Taipei City (台北市新生南路22巷7-1號)
Telephone: (02) 2874-0208 (Tianyu); (02) 2362-1134 (Xinsheng)
Open: 8am to 10pm (Tianyu) and noon to 9pm (Xinsheng)
Average meal: NT$300
Details: Ten percent service charge, credit cards accepted
Web site: www.escents.com.tw
Comments will be moderated. Keep comments relevant to the article. Remarks containing abusive and obscene language, personal attacks of any kind or promotion will be removed and the user banned. Final decision will be at the discretion of the Taipei Times.