Book review: At last, by Edward St Aubyn
In 'At Last,' Edward St Aubyn paints a portrait of his upper-class British family members and the lives of sloth they lead
At the time of the publication of The Stranger's Child (reviewed in the Taipei Times on July 17), Alan Hollinghurst gave an interview on publisher Picador's Web site in which, among other things, he praised the novels of his near-contemporary UK novelist Edward St Aubyn. I'd never heard of him, but as I admired Hollinghurst I got hold of a copy of St Aubyn's latest book, At Last.
It transpired it was one of a sequence of novels that had begun with a trilogy, now published in one volume as Some Hope, followed by four more novels of which At Last appears to form a conclusion. All describe the same family, and St Aubyn has confirmed in interviews that this family is essentially his, with the central character, Patrick Melrose, representing his own bleak experience, though with fictional additions.
Most of the abuse Patrick suffered from his villainous, larger-than-life father is apparently covered in the earlier books. This time we just get a grotesque glimpse. He spreads out a towel on the kitchen table, sharpens a knife and announces it's time for his son's circumcision. His wife Eleanor accuses him of being drunk, something Patrick's descriptions elsewhere suggest is at least as likely to be true of her. He replies that if so it's only on a beaker of surgical spirit.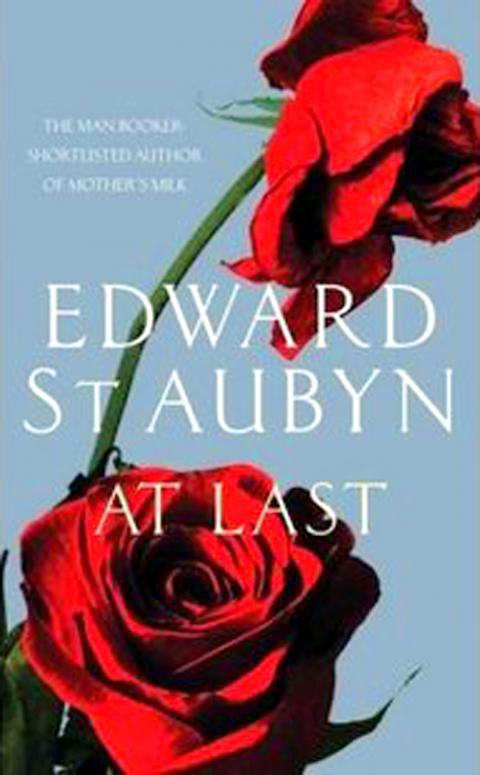 At Last, by Edward St Aubyn.
At Last describes a single day, that of Eleanor's funeral. The family assembles in the crematorium chapel, and then goes on to a get-together in an elite club. There are various confrontations, needless to say, and a number of flashbacks. But that's it, and Patrick staggers back to his attic bed-sit convinced that some sort of closure may have been achieved, and a family history of pointless abuse, violence and indolence possibly put behind him.
When journalists asked St Aubyn about the autobiographical nature of his account, he said that his family had been generally supportive but, he admits, he couldn't have brought himself to publish these books during his father's lifetime.
At Last is as much about money as abuse. The Melrose family is upper-class English, with a large house in the South of France, and American friends who are among the richest families in the US. St Aubyn's angle is that all this wealth was as much of a problem for most of his relations as their brutal and alcoholic dispositions. Their lives were spent in almost total sloth, and his mother's devotion to charitable works proves almost as problematic as outright indulgence might have been. When she gives the French house away to a new age charity, her sister sees her as being "a warning against the worthlessness of self-sacrifice when there was almost no self to sacrifice, of dealing with being lost by getting more lost."
With all this angst in the background, it's surprising that Patrick — like the author — seems to have come out of it relatively unscathed. He's shown as married, though not currently living with his family, and with two sons who are not traumatized by the past. But this also highlights what is a strange feature of the book — that it essentially consists of black humor, but is told from the standpoint of a remarkably benign, if hardly untroubled, individual.
So who is St Aubyn like as an English stylist? Ronald Firbank comes to mind, though St Aubyn is far less funny. Ivy Compton-Burnett perhaps? Maybe the closest parallel is the English novelist of the 1930s and 1940s, Henry Green. And St Aubyn is certainly of the school of Hollinghurst, but Hollinghurst works harder, paying greater attention to detail, and so his books are more complex, more vividly imagined, and much more satisfying. Perhaps the ultimate influence is Anthony Powell, the father-figure of all UK writers after him who've taken the British upper-classes as their subject-matter, Hollinghurst included.
One of this book's shortcomings is that, although it establishes characters that have comic potential, it almost routinely fails to develop full-blown comic situations. One character in particular, Nicholas, a hater of most things in the modern world, gets plenty of caustic one-liners, but is only written up fully toward the end of the book when he gets into a confrontation, and collapses, at the after-cremation party. Here at last is a scene worthy of Powell, with Nicholas in the ambulance unable to communicate but terrified of becoming an involuntary organ-donor. "They would steal his organs before he was dead ... no, not his eyes; please don't take his eyes."
The earlier St Aubyn novels appear to have gained their strength from a worm's-eye view of his obscenely privileged and decadent upper-class elders by one of their heroin-addicted off-spring. By contrast, At Last seems to suffer from the best jokes having already been told, and the most bizarre set-pieces having already been offered to view. There are some good moments — an academic philosopher publishing a book on developments in the philosophy of consciousness entitled None the Wiser, and Patrick's mother, when her son tells her of having been raped by his father, replying "Me too!" There are also some tart observations, such as that the ultra-conservative human ego "would rather kill its owner than allow him to change."
Nonetheless, the material seems to be stretched to fill the required length. Various attendees at Eleanor's funeral are presented as reading out hallowed extracts from the Bible and classical English poetry, but to see all these printed out in full makes you suspect that inspiration is beginning to flag. The first half of the book is a good deal better than the second, and the main feeling you get reading it is that you certainly want to read more of Edward St Aubyn, without actually wanting to read this particular novel over again.
Publication Notes
Publication Notes
AT LAST
By Edward St Aubyn
266 pages
Picador
Comments will be moderated. Keep comments relevant to the article. Remarks containing abusive and obscene language, personal attacks of any kind or promotion will be removed and the user banned. Final decision will be at the discretion of the Taipei Times.