Restaurant review:Tajin Moroccan Cuisine
Moroccan food has never been easy to find in Taipei. Over the past decade, the city has seen the opening and subsequent closure of both Bistro Le Casanova in Tianmu and Moroccan Restaurant (北非心情), which operated branches on Dunhua North Road and later on in Tamsui and Guandu. But a shop that opened two months ago near Tonghua Night Market (通化夜市) is keeping a flame burning for fans of this North African cuisine.
Tajin, run by Moroccan expat Hicham Samh and his partner Sandy Wu (吳宜謙), specializes in the dish of its namesake. Tajine, as it's more commonly spelled in English, is a slow simmered stew that shares the same name as the two-piece earthenware pot with a gourd-shaped lid in which it is cooked.
The restaurant offers a basic menu consisting of a half-dozen tajine dishes, in addition to several panini sandwiches and rice dishes. The decor is similarly modest: Samh and Wu designed their cafe-sized space to have a simple but tasteful Mediterranean-Arabic theme, with white walls, desert scene paintings, colored lanterns and a few imported Moroccan knick-knacks on display.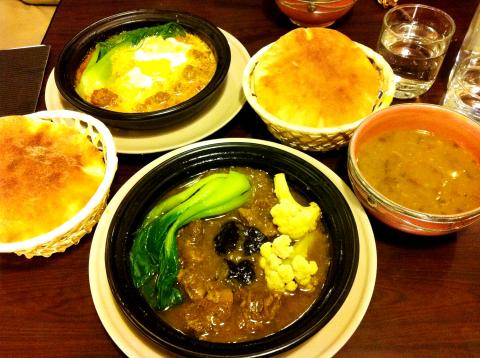 The newly opened Tajin is the only place in town serving the traditional Moroccan food.
Photo: David Chen, Taipei Times
Samh, a soft-spoken and easygoing 41-year-old native of Casablanca, says he has been an avid cook since he was a teenager, but never made it his profession until now. A resident of Taipei for 14 years, he held a variety of jobs that included teaching English and French and working at trading companies before deciding to open shop after Moroccan Restaurant closed, which left Taipei without a place serving food from his home country.
The beef with plums tajine (NT$250) won me over from the first bite. Cooked with a medley of traditionally used spices that included saffron, turmeric, ginger and cumin, the beef chunks were soft and tender and heavily accented by the plums. The dish was flavorful and rich yet not too heavy, as one might expect given the ingredients.
My dining companion ordered the kofta and cheese tajine (NT$220), also a hearty choice. The kofta meatballs are made of beef and stewed in similar spices as the beef with plums tajine, but topped with melted cheese, tomato sauce and a fried egg. This dish was less refined in flavor, but still tasty enough to keep in mind for a return trip.
All meals come with fresh and delicious pita bread (NT$20 when sold separately) that's made-to-order by a local bakery. The other tajine choices include olive chicken (NT$250), seafood (NT$270) and vegetable (NT$270). Samh is Muslim, and as such the beef and chicken are halal. Unfortunately, the restaurant doesn't serve lamb as it's hard to find a halal supply, Samh says.
Those who want couscous will have to wait until the weekend. Samh says the beef couscous dish (NT$280) is his personal favorite, but he only makes it on Saturdays and Sundays as he finds that Taiwanese customers rarely order it. Hopefully this will change as his customer base expands.
On a second visit for lunch, I had the chicken panini (NT$170), which makes for a nice light meal. The diced chicken filling, doused in a flavorful yellow curry sauce, was delicious, but I wished that they used the pita bread instead of regular white bread slices. Still, it's a very good sandwich.
The panini, also available with beef and tuna for NT$170 and cheese, egg and tomato for NT$150, won't fill you up like a chicken leg lunchbox will, so those with bigger appetites should consider a bowl of lentil soup cooked with curried spices (haira soup, NT$100). This fragrant and hearty soup is also a great accompaniment to tajine and is available as part of a set meal that includes rice pudding for dessert and mint tea (served in traditional Moroccan teaware) for an additional NT$150.
Publication Notes
Tajin Moroccan Cuisine
Address: 3, Ln 144, Keelung Rd Sec 2, Taipei City (台北市基隆路二段144巷3號)
Telephone: (02) 2732-7296
Open: Every day from 11:30 to 2pm and 5:30pm to 9pm
Average meal: NT$200 to NT$400 per person
Details: Near Tonghua Night Market, credit cards not accepted, halal friendly
Web site: tajin27327296.pixnet.net/blog or look up "Taijin Moroccan Cuisine" on Facebook
Comments will be moderated. Keep comments relevant to the article. Remarks containing abusive and obscene language, personal attacks of any kind or promotion will be removed and the user banned. Final decision will be at the discretion of the Taipei Times.